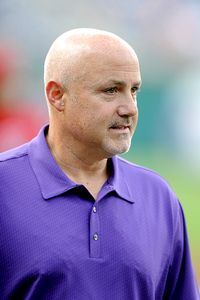 G Fiume/Getty Images
Mike Rizzo
Major League Baseball is investigating the conduct of Washington Nationals general manager Mike Rizzo in the immediate aftermath of Thursday afternoon's 1-0 loss to the New York Mets, a spokesman for the commissioner's office confirmed.
The umpiring crew complained to MLB about alleged verbal mistreatment from Rizzo after a controversial call went against the Nationals in the ninth inning Thursday.
Replays appeared to show first baseman Daniel Murphy's foot was pulled off the bag before he accepted a throw from third baseman Justin Turner on a ninth-inning grounder by Jayson Werth. However, first base ump Phil Cuzzi called Werth out. That prompted an on-field complaint from Werth and then manager Jim Riggleman, but the public portion ended with no ejections.
Mets closer Francisco Rodriguez then proceeded to record the final out to strand the would-be tying run at third base.