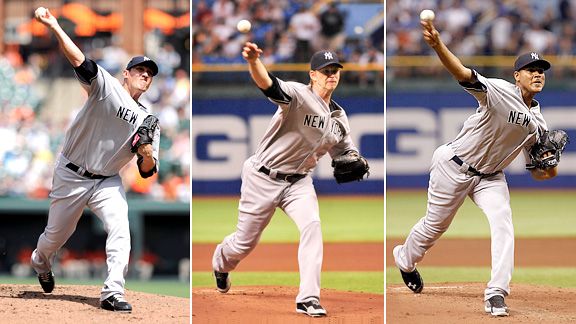 Getty Images
The Mets oppose (l to r) Freddy Garcia, A.J. Burnett and Ivan Nova this weekend.
METS (21-22, fourth place/NL East) vs. NEW YORK YANKEES (23-19, second place/AL East)
Friday: RHP R.A. Dickey (2-4, 5.03) vs. RHP Freddy Garcia (2-2, 3.40), 7:05 p.m. ET
Saturday: LHP Chris Capuano (2-0, 4.44) vs. RHP A.J. Burnett (3-5, 3.92), 7:10 p.m. ET
Sunday: RHP Mike Pelfrey (2-0, 4.44) vs. RHP Ivan Nova (3-5, 3.92), 1:05 p.m. ET
Yankees short hops
• Jorge Posada, who had the recent dust-up over his removal from the lineup, started at first base Thursday in Baltimore, with Mark Teixeira serving as DH. Posada has been taking groundballs at first base since Eric Chavez landed on the disabled list. Posada (.183, 6 HR) has now made 29 appearances (16 starts) at first base in his career.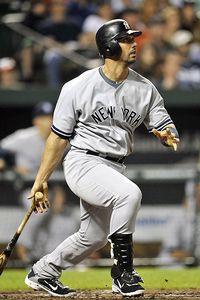 Joy R. Absalon/US Presswire
Jorge Posada asked out of the lineup last Saturday.
• Catcher Russell Martin is tied with the Dodgers' Rod Barajas and Blue Jays' J.P. Arencibia for the major league lead in homers by a catcher with seven. Martin signed a one-year, $4 million contract as a free agent.
• Teixeira had a better March/April than is customary for him, hitting six homers with 16 RBIs and 16 walks. He has slowed this month, hitting .250 with four homers in 72 at-bats.
• Second baseman Robinson Cano's selectivity at the plate has declined this season. He has struck out 27 times in 160 at-bats, after striking out 77 times in 626 at-bats a season ago.
• Derek Jeter, whose public support of Posada irked the front office, will have his own uncomfortable situation at some point when he gets deemphasized in the batting order and potentially asked to move off shortstop. For now, Jeter has 2,970 hits. Next on the MLB all-time hit list: No. 28 Sam Rice at 2,985, followed by No. 27 Roberto Clemente at 3,000.
• Chris Dickerson was beaned Wednesday. He was struck by a fastball from Mike Gonzalez in the 15th inning and suffered a concussion.
• Alex Rodriguez was due to get his ailing hip checked out again Friday.
• Left fielder Brett Gardner began the season leading off against right-handed pitching, with Jeter batting second. But Gardner's slow start sent him to the bottom of the order, with Jeter exclusively leading off and Curtis Granderson batting second. Gardner is hitting .385 in 11 games (nine starts) since May 8. That has allowed his average to climb from .212 to .266.
• Granderson (.270, 14 HR, 32 RBI) has been the most consistent performer on the Yankees since last August, which coincides with hitting coach Kevin Long revamping the center fielder's swing.
• Right fielder Nick Swisher has a $10.25 million club option for 2012, but isn't producing at a level to justify the Yankees exercising it. In addition to a limited arm, Swisher is hitting .223 with two homers.
• Mariano Rivera has blown three saves in 16 chances this season, but is 20-for-21 in his career against the Mets.
• Freddy Garcia is not a Mets fan. He made two starts with Triple-A Buffalo in 2009 when Tony Bernazard essentially released him, then told Omar Minaya that Garcia had decided to walk away. Garcia went on to go 12-6 last season with the Chicago White Sox.
• A.J. Burnett had a solid April (4-1, 3.93 ERA), which he normally does. He then imploded in his most-recent start in the sixth inning at Toronto and was charged with six runs in 5 2/3 innings. He surrendered three homers.
• Ivan Nova and Garcia beat Bartolo Colon for the final two spots in the rotation out of spring training. Now, with Phil Hughes out, Colon is in as well, although he does not face the Mets this weekend.
Matchups
Dickey vs. Yankees (career: 2-1, 2.66 ERA)
Francisco Cervelli .667, 1 RBI, 3 PA
Brett Gardner .667, 2 RBI, 1 K, 3 PA
Alex Rodriguez .625, 1 RBI, 2 K, 8 PA
Robinson Cano .333, 1 BB, 4 PA
Curtis Granderson .300, 1 RBI, 1 BB, 3 K
Mark Teixeira .167, 1 K, 6 PA
Derek Jeter .125, 3 K, 8 PA
Russell Martin .000, 2 PA
Jorge Posada .000, 1 BB, 1 K, 4 PA
Nick Swisher .000, 1 RBI, 1 BB, 2 K, 7 PA
Capuano vs. Yankees (career: 0-1, 11.25 ERA)
Alex Rodriguez 1.000, 1 HR, 3 RBI, 3 PA
Russell Martin .636, 1 HR, 7 RBI, 11 PA
Andruw Jones .333, 4 HR, 6 RBI, 1 BB, 3 K, 19 PA
Mark Teixeira .333, 3 RBI, 1 K, 6 PA
Derek Jeter .000, 1 BB, 3 PA
Pelfrey vs. Yankees (career: 2-2, 4.70 ERA)
Russell Martin .750, 1 BB, 5 PA
Curtis Granderson .500, 1 HR, 2 RBI, 1 BB, 3 PA
Nick Swisher .429, 7 PA
Brett Gardner .400, 2 K, 10 PA
Alex Rodriguez .300, 1 RBI, 2 BB, 3 K, 12 PA
Robinson Cano .273, 1 RBI, 1 BB, 12 PA
Mark Teixiera .263, 1 HR, 4 RBI, 1 BB, 2 K, 20 PA
Andruw Jones .200, 1 BB, 1 K, 7 PA
Chris Dickerson .200, 1 RBI, 1 BB, 6 PA
Jorge Posada .200, 1 BB, 2 K, 6 PA
Derek Jeter .167, 1 K, 7 PA
Francisco Cervelli .167, 1 RBI, 2 K, 6 PA
Garcia vs. Mets (career: 1-1, 2.63 ERA)
Ronny Paulino 1.000, 1 HR, 1 RBI, 1 BB, 4 PA
Carlos Beltran .452, 3 HR, 10 RBI, 3 BB, 3 K, 35 PA
Scott Hairston .400, 1 RBI, 1 BB, 2 K, 6 PA
Jose Reyes .333, 3 PA
Willie Harris .250, 3 K, 13 PA
Jason Bay .000, 1 BB, 4 K, 8 PA
Burnett vs. Mets (career: 4-6, 3.36 ERA)
Scott Hairston .667, 3 PA
Jason Bay .381, 1 HR, 5 RBI, 2 BB, 3 K, 23 PA
Carlos Beltran .263, 2 RBI, 1 BB, 3 K, 20 PA
Jose Reyes .000, 3 K, 17 PA
Daniel Murphy .000, 2 BB, 6 PA
Willie Harris .000, 2 BB, 2 K, 5 PA
Fernando Martinez .000, 1 K, 3 PA
Nova vs. Mets (career: never faced)
Last series results
Yankees won, 2-1, at Yankee Stadium, June 18-20, 2010 (AP game recaps)
Mets 4, Yankees 0: Hisanori Takahashi outpitched Javier Vazquez in their second low-scoring duel this season and the Mets extended their winning streak to eight games with a victory over the suddenly slumping Yankees. With the bases loaded in the ninth inning, Francisco Rodriguez struck out Derek Jeter and retired Nick Swisher on a foulout to end it. David Wright scored in the first with a nifty slide and made a key defensive play at third base. Angel Pagan added a two-run double in the eighth and the Mets opened the second Subway Series of the year with their third consecutive victory over the defending World Series champs. Pedro Feliciano pitched out of trouble in two late innings and Rodriguez got two outs for his 16th save in 19 chances, preserving the Mets' 12th win in 13 games. The Yankees, tied with Tampa Bay atop the AL East, were shut out for the second time in their ballpark, which opened last year. The Mets, who trail first-place Atlanta by a half-game in the NL East, improved to 13-2 in June and matched their longest winning streak of the season. They also won eight straight from April 22-30. Perhaps most surprising, this latest surge has come away from cavernous Citi Field. The Mets were 8-18 on the road before opening 7-0 on this nine-game trip for their longest road winning streak since they won a club-record nine in a row in June 2006. The Mets also are 9-1 against AL teams this year, giving them the most interleague wins in the majors. Overall they are 19-5 since May 22 the best record in baseball during that stretch. Takahashi (6-2) is a big reason why. Promoted from his long relief role to help an injury-depleted rotation, the 35-year-old rookie from Japan is 3-1 in six starts. Painting corners and keeping the Yankees off balance with an effective changeup, Takahashi yielded four hits in six innings. The left-hander escaped a bases-loaded jam in the sixth when Wright barehanded Jorge Posada's chopper and threw him out at first, prompting several fired-up Mets including Wright and Takahashi to pump their fists and scream.
Yankees 5, Mets 3: Mark Teixeira and Curtis Granderson each hit a two-run homer, Phil Hughes became the American League's second 10-game winner and the Yankees ended the Mets' eight-game winning streak. The matchup between rising star pitchers with 9-1 records was won with the long ball. Hughes gave up two early home runs to Jose Reyes, but Mike Pelfrey yielded homers after allowing the leadoff batter to reach in the third and fourth innings of his worst start in six weeks. When given the lead, Hughes (10-1) held it a hallmark of his season. The 22-year-old right-hander has not allowed an opponent to tie or take the lead once the Yankees went ahead in 12 of his 13 starts. The only time his teammates failed to give him the lead was against the Mets and Pelfrey (9-2) on May 22, his only loss. The win ended the Yankees' three-game skid and tied Hughes with another budding star, Tampa Bay's David Price, who is 10-2, for the AL lead in wins. Hughes allowed five hits and three walks in seven innings. He struck out four and threw a wild pitch. Joba Chamberlain pitched a scoreless eighth, rebounding from a poor performance against the Phillies in which he gave up three runs without getting an out. Mariano Rivera pitched a perfect ninth for his 16th save in 17 chances. The Yankees scored more runs than they had in their past three games overall (four) without the help of shortstop Derek Jeter, who was a late scratch from the lineup because of bruised heel. He was hurt running to first the previous night. With Alex Rodriguez serving as the designated hitter, the left side of the Yankees' infield was manned by 25-year-old rookie Kevin Russo at third base and 24-year-old second-year backup Ramiro Pena at shortstop. Reyes homered on the game's second pitch but the Yankees answered in the bottom half. Brett Gardner and Nick Swisher hit singles to put runners on first and third with none out before Teixeira grounded into a 4-6-3 double play, allowing Gardner to score. Reyes connected in the third after Hughes walked No. 9 batter Henry Blanco for his sixth multi-homer game. The ball just cleared the right-field wall several yards from where his first drive went out. Swisher leaped but did not get his glove over the top of the wall. Teixeira tied it with a two-run drive an out after Gardner got his second single to start the bottom of the inning, and Granderson hit a long homer to right after Pelfrey walked Posada leading off the fourth for a 5-3 margin. Pelfrey let the leadoff batter reach in five of his seven innings. He gave up five runs, the most he's allowed since giving up six to the Phillies on May 1, which ended the Mets' other eight-game winning streak this season. Reyes was retired in his final two at-bats. In the fifth, he was brought to one knee swinging at a 2-2 curveball for an inning-ending strikeout, and he grounded out to first in the eighth.
Yankees 4, Mets 0: CC Sabathia was dominant over eight innings in his rematch against Johan Santana, and Mark Teixeira hit a grand slam to help the Yankees beat the Mets to secure a Subway Series split. Sabathia, denied a shot at his first shutout of the season by a 22-minute rain delay in the eighth, allowed four hits. The Yankees won the final two games of the interleague series between crosstown rivals to even the season series at three games apiece. The win, combined with Tampa Bay's loss, moved the Yankees into sole possession of first place in the AL East for the first time since April 21. The Mets took two of three from the Yankees in Queens in May. The former Cy Young Award winners also matched up in the finale of the series at Citi Field with Santana giving up a run in 7 2/3 stellar innings to beat Sabathia, who was knocked around for six runs. But Santana faltered in the third inning this time, giving up Teixeira's fifth career grand slam. The Yankees loaded the bases with none out on three singles, two infield hits including Nick Swisher's perfect bunt that caused Santana (5-4) and second baseman Ruben Tejada to collide at first. Sabathia (8-3) twice induced double plays and struck out six in winning his fourth straight start. Mariano Rivera pitched the ninth to complete the four-hitter. Derek Jeter returned to the Yankees' lineup after missing a game because of a bruised heel and had an infield hit in the third and a double in the fifth. Santana still has not found success at the new Yankee Stadium. He gave up nine runs over three innings in one start last year, his first at the ballpark. This time, he allowed eight hits and four runs in six innings. Across the street at the old Yankee Stadium, he had a 2.05 ERA. After a five-start stretch in which he gave up just three earned runs, Santana has allowed four runs in each of his past three outings. Brett Gardner led off the third inning with a single. Jeter followed with a tapper to third that forced David Wright to make a rushed throw across his body, which pulled Ike Davis off first base. Jeter was given a hit because he appeared to have beaten the throw anyway. Swisher then pushed a perfect bunt between first and the pitcher's mound that Davis fielded before making a sideways flip toward the bag. Santana raced to cover and the ball hit off his glove as he collided with Tejada. Teixeira hit a 1-1 pitch on a high arc that bounced off the top of the left-field wall and went deep into the stands for his first slam since August 2008 for the Angels at old Yankee Stadium.