With the help of a few colleagues in Stats & Information, a few matchups and nuggets to ponder heading into Saturday night's Mets-Yankees clash.
Chris Capuano Matchup to Watch
Yankees catcher Russell Martin is 7-for-11 (.636 BA) against Capuano with four doubles. But the two haven't faced each other since 2007. Capuano has survived Martin's prowess previously. On April 3, 2007, Martin singled, doubled, and homered against him, but Capuano still managed to get the Brewers a win over the Dodgers, 4-3.
The only batter Capuano dreads facing more than Martin is former Met Damion Easley, who went 8-for-12 against him. His .667 batting average is the best among hitters with at least 10 at-bats against Capuano. The good news: Easley is now retired.
A.J. Burnett Matchup to Watch
There are two matchups of great significance to Burnett tonight.
For one, Jason Bay is 8-for-21 (.381 BA) with a home run against him. The two last met in 2009, with Bay going 4-for-8 with four RBI against Burnett.
The other is Jose Reyes, who is 0-for-17 against Burnett, though the two haven't met since 2005. Reyes is 0-for-14 against Burnett when putting the ball in play, though he did twice reach on errors.
That is both Burnett's best 0-for against a hitter and Reyes' worst 0-for against a pitcher.
Burnett has made consecutive starts against the Mets, in which he allowed no runs in seven or more innings.
The last pitcher to make three straight such starts against them was 1986 World Series nemesis Bruce Hurst, who did so for the Padres in 1992.
On Mets trying to win 2 in a row
Since the teams began playing in 1997, the Mets have won consecutive games in the same series in Yankee Stadium twice. They did it on June 24-25, 2005 and May 17-18, 2008.
On the Mets stellar pitching
The Mets have allowed two runs or fewer in four straight games ... the only team that has a longer such streak this season is the Mariners, who have allowed two runs or fewer in each of their last five games.
On the struggles of A-Rod
Over a span of 100 at-bats dating back to April 24, Alex Rodriguez is hitting .210 with three home runs and eight RBI in 25 games (24 starts).
Rodriguez's biggest issues are with right-handed pitching, which wouldn't come into play until he faces a reliever this evening. He could certainly see the likes of Pedro Beato, Jason Isringhausen or Francisco Rodriguez again.
If he does, keep an eye on what he does against fastballs up.
The heat maps below show Rodriguez's cold spots and hot spots in terms of slugging percentage against fastballs from right-handed pitchers. Blue shading indicates a cold zone. Red shading shows a hot zone.
The one on the left shows his first 14 games of the season, in which he hit five homers against fastballs from righties.
The one on the right shows him from his last 25, in which he has three homers.
It's Interesting to note in these two stretches. When Rodriguez was going good, he fouled off one of every four swings he took against a righty fastball. In this current stretch, he's fouling off half of those swings. He's making contact, but not doing any damage.
And yes, the samples are small, but the differences (1.292 slugging pct on left, .333 slugging pct on right) are great.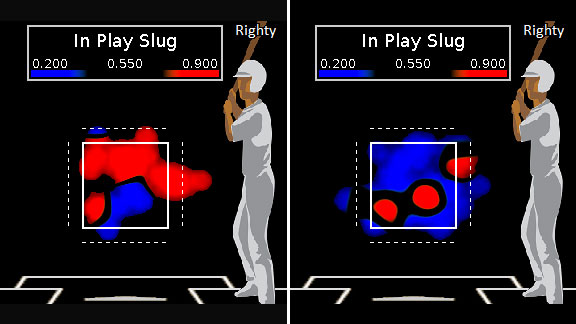 Left image: Alex Rodriguez vs righty fastballs through April 23.
Right image: Rodriguez vs righty fastballs since then.