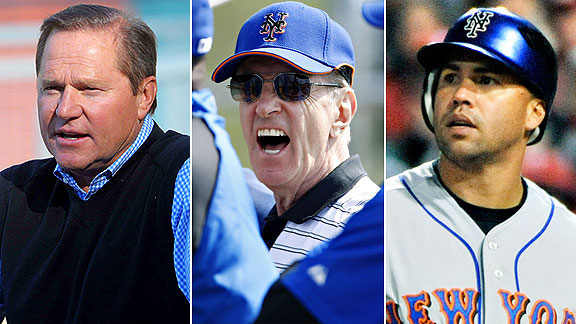 US Presswire
Scott Boras (left) says Fred Wilpon (center) would be better served if he did not speak about client Carlos Beltran (right) and other Mets publicly.
Scott Boras is not often the sympathetic figure. He takes extreme bargaining positions on behalf of his clients, and often strikes favorable deals as a result. Some sap even gave Carlos Beltran seven years, $119 million after the outfielder slugged eight homers in 12 postseason games with the Houston Astros in 2004.
On the topic of the Mets' treatment, though, Beltran and Boras clearly are victims.
For the third time in three years, Boras' client Beltran has been assailed by his employer on a matter that would have been better served staying in-house.
In January 2009, the ownership group publicly stated Beltran did not have permission to undergo surgery. No matter the reality, Boras and Beltran could have been screamed at privately. Instead, the Mets went on the record saying they were reserving their rights for potential action as a result of the procedure taking place, allegedly without their permission (which was disputed).
Then, last year, the whisper campaign started about discontent with Beltran, as well as Luis Castillo and Oliver Perez, when they skipped a voluntary -- but widely attended -- team visit to Walter Reed Army Medical Center in D.C.
Now, Beltran is mocked -- intentionally or otherwise -- in The New Yorker by Fred Wilpon for taking that infamous strike three from Adam Wainwright that ended the Mets' 2006 season in Game 7 of the NLCS. The owner also complains Beltran's skills have deteriorated and that he is only 65 to 70 percent of the player for which the Mets paid a premium.
Boras' perfectly reasonable point? How about keeping this stuff in-house for a change?
"Regarding owners, their critiques, their evaluation, certainly they're entitled to them," Boras said. "It's just that they should be kept internal to try to create a successful environment. Certainly when you have elite players at this level this year, and leading your team with the type of performance that you want, I just think it's clearly in the best interest for everyone that they should be kept internal -- for the current performance of the team and also the future interests of the team with what they may intend to do with these players as the season unfolds.
"It's not the Fred Wilpon I know," Boras added. "I think that he'll reflect back on this and certainly wish that those comments were made internally to his staff."
It's especially vital not to antagonize Boras and Beltran since they can hold up the Mets' plans to move Beltran at the trading deadline, assuming the team has faded from wild-card contention.
While Francisco Rodriguez, who may end up on the block as well, has a limited no-trade clause that includes 10 teams, Beltran chose the Mets over the Astros during that 2004-05 season because the Mets offered a full no-trade clause.
Boras reiterated the no-trade clause's importance to Beltran's signing with the Mets by saying Monday: "No doubt, it was a primary point that he wanted to make sure he got to stay in one place with his family as long as he could."
Well, that means Beltran now holds the cards.
Is it mutually beneficial for Beltran to be sent to a playoff race, as he was with the Astros after the '04 midseason trade from the Kansas City Royals? Sure. After all, that postseason performance seven years ago set up the big free-agent contract with the Mets?
But let's just say Beltran can make it difficult by either not wanting to go to a certain destination -- or not want to go at all unless the new team would add a year or two to his deal. Remember, Beltran's close friend Carlos Delgado once balked at being traded by the Toronto Blue Jays, even though it meant he would finish the season with meaningless games rather than in postseason contention with a new address.
"It's not something you really discuss with the player until the issue becomes ripe," Boras said about discussing waiving a no-trade clause now. "So I think Carlos went into the season thinking he was going to be healthy and the Mets were going to be in the thick of a race. It's still too early. I'm sure if that subject came up, it would be something to address."
Regardless, Beltran has stayed healthy. So any deal would not be limited to an American League club needing a designated hitter.
"This offseason Carlos told me the issue was not his leg that was surgically repaired," Boras said. "He said he felt just really, really strong. It's just when he got to spring training he had an issue with the opposite [left] leg. He was pain-free. He was just in a different place than he was a year ago."
In-depth appears Tuesdays during the regular season