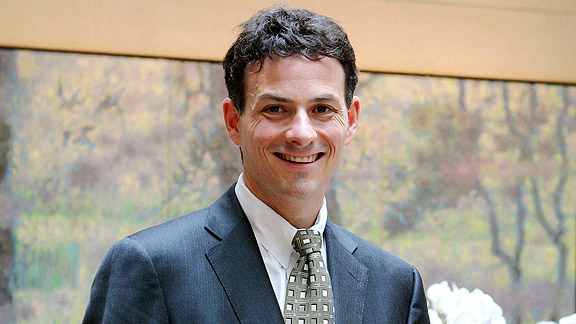 Sipa via AP Images
David Einhorn, new minority investor in the Mets.
Here's David Einhorn's quotes from conference call ...
Why buy in? "This is just something of great personal interest. I'm very excited to have this life experience. I've followed baseball all the way from my childhood. I probably watched hundreds or thousands of games all my life."
Is this risky/sound investment? "I'm comfortable with the financial terms we're working toward negotiating."
How did this come about? "I read in the newspaper in, I think, January that the team wanted to sell a minority interest. … I thought I'd look into it. So we called over to their investment bankers. It's been a very smooth process for the last several months. We're very far along as understanding the business operations and prospects."
You have been openly critical of companies such as Allied and Lehman. Are you really going to keep quiet? "First of all, the media can characterize how it does. I've always considered myself more of an investor. … We own way more things that is [sold] short. The perception out there is what it is."
Just the team? "I'm not really interested in owning a TV station."
Bigger portion of ownership down the road? "What I'm interested right now is the opportunity in front of me right now. We don't even have a completed transaction yet."
Will fans hear from you? "The Wilpons remain in control of the team. ... I think the Wilpons are the control holders of the team. I'm just looking forward to the overall experience this investment will lead to."
Will you try to turn a profit from re-selling? "I have no real plans to sell this investment. I expect to hold it for a long, long time. ... The financial rewards, they'll take care of themselves over time."
Was a Mets fan early on, then moved to Milwaukee. His best friend was Bud Selig's next door neighbor: "Eventually I was won over to the Brewers."