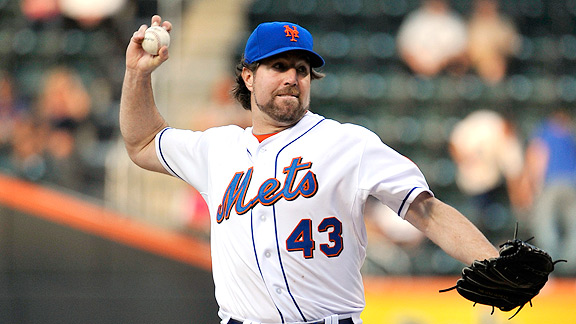 AP Photo/Kathy Kmonicek
R.A. Dickey took a scoreless effort into the eighth inning, but allowed three runs in the frame in the Mets' 5-1 loss to Pittsburgh on Tuesday.
Some people will use R.A. Dickey's plantar fascia injury as an excuse for what happened in the top of the eighth on Tuesday. Dickey isn't one of them.
"I want everyone to hear me clearly," the knuckleballer said. "My foot is a non-issue as far as the way things ended up tonight."
Things ended up with Dickey on the losing end of the Mets' 5-1 defeat against Pittsburgh.
But for most of the game, it looked like Dickey was in line to pick up his third win of the season.
Pitching with a partially torn plantar fascia in his right foot, Dickey held the Pirates scoreless through the first seven innings. But everything unraveled in the eighth.
With two outs and a runner on first, Dickey hit Pirates leadoff hitter Jose Tabata. Josh Harrison then drove in a run with a single and, following an Andrew McCutchen walk, Neil Walker drove in two with a single up the middle.
"It felt like I got kicked in the teeth," Dickey said.
The 36-year-old was then pulled for Jason Isringhausen, who got out of the eighth. Bobby Parnell allowed two unearned runs on three hits in the ninth.
Dickey said afterward that hitting Tabata was "the pitch I regret the most."
Prior to drilling Tabata, Dickey struck out a season-high 10 Pirates. He was sporting one of his best knuckleballs of the season. The pitch that hit Tabata simply got away from him.
"That's the tough things about the pitch, is it can be … mercurial," he said.
Dickey's knuckler was on-point through the first seven innings. The hobbled right-hander produced eight swinging strikeouts and the Pirates swung and missed at a season-high 20 strikes, according to ESPN Stats & Information.
"I had a good one; it was breaking in both directions," Dickey said. "In the last inning, a couple of them flattened out."
If nothing else, Dickey learned that he can tolerate the pain associated with pitching with a torn plantar fascia. He dove unsuccessfully for a popped up bunt in the top of the eighth and fielded a grounder right back at him in the top of the third. That's not to say he was pain-free on Tuesday.
"It feels like you get bit and then it dissipates. And that's the pain that you can expect," said Dickey (2-6, 4.39 ERA).
Dickey, who reached out to Giants quarterback Eli Manning for advice on playing with an injured fascia (Manning played with plantar fasciitis in 2009), better get used to it. He plans to pitch with the injury for the rest of the season.