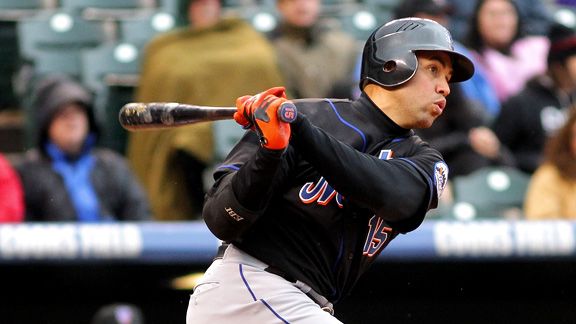 Doug Pensinger/Getty Images
The Mets need more games from Beltran like his three-homer game a couple of weeks ago.
In the first two months of the season, shortstop Jose Reyes has established himself as potentially the most coveted position player should the Mets look to make deals at the July 31 trade deadline.
It would help the Mets greatly if Carlos Beltran could establish himself as the second-most coveted player.
Unless the Mets embark on a major winning run over the next two months, it's almost a certainty that they'll be selling by the end of July. Beltran seems like a certainty.
What should we be watching for Beltran in June? Here are five things to consider.
How does he hit left-handed pitching?
In 2008 and 2009, Beltran hit .326 with 15 home runs in 264 at-bats against left-handed pitching.
So far in 2011, he's 12-for-49 with five home runs, and while the hit total isn't bothersome (one or two more hits, and he's hitting .around .300), his strikeout rate is. Beltran had a three-year run from 2006 to 2008 in which he struck out as often as he walked against southpaws.
In 2011, he has struck out 12 times in those 49 at-bats. He's walked just three times.
Carlos Beltran
Since Hitting 3 HR on May 12
How does he hit on the road?
Take out the three-homer game at Coors Field on May 12 and Beltran has done very little away from Citi Field in the first two months of this season. Beltran enters June hitting .225 in road games (20-for-89) with as many strikeouts as hits, and no home runs other than the Coors Field shots.
The Mets will play 16 road games in June -- a 10-game road trip that features three in Milwaukee, four in Pittsburgh and three in Atlanta, then later in the month three in Texas and three in Detroit as part of interleague play.
How does he do against the mistake pitch?
In looking more closely at pitch location data on Beltran, we noticed an extremely unusual issue that he's had against right-handed pitching.
Our data allows us to classify pitches by area (based on Pitch F/X), and usually a hitter's best performance comes against pitches located middle-middle (Keith Hernandez would probably call it a "mistake pitch").
Beltran is just 2-for-17 when he puts a mistake pitch from a right-hander in play. Two of the three line drives he's hit have been caught. All seven of his fly balls against those pitches have been turned into outs. Of his seven groundballs, only one has produced a hit.
Other hitters with comparable numbers from the left side against right-handers include David DeJesus, Emilio Bonifacio and Mark Kotsay. Those are hitters that Beltran was far better than when he was going good.
The typical hitter against these pitches gets a hit about one of every three times he puts the ball in play. As recently as 2009, Beltran's BABIP against mistake offerings from righties was .458. Either Beltran has run into some bad luck that has cost him three to four hits, or there's an issue Dave Hudgens needs to address.
Carlos Beltran
Since Hitting 3 HR on May 12
How does he run?
It's pretty significant that Beltran has not even attempted a stolen base this season. Unfortunately, he is not performing at a level close to the sort of baserunner he used to be either.
Consider this, courtesy of Baseball-Reference.com's baserunning stats section:
From 2005 to 2009, Beltran scored from second base on nearly two-thirds of the time when a single was hit (61-of-94). In 2011, he's scored just three times from second base on nine singles, or one-third of the time.
Is this something that can improve in a month's time? We don't profess to be experts in knee surgery recovery, but it seems unlikely.
How does he defend?
The advanced defensive metrics rated the in-his-prime Beltran as one of the best defensive center fielders in baseball, as far as turning batted balls into outs, with his speciality being the ability to glide back with ease and haul in long flies hit to some of the deepest parts of the ballpark.
The Beltran of April and May 2011 has lost a step, but he has been better than you might think. Of the 35 right fielders who have played the most innings in the major leagues, Beltran ranks ninth-best in that statistic (known as advanced plus-minus). The key will be whether he can maintain that over the next-third of the season.
Five stats that sum up May for the Mets
1: The Elias Sports Bureau reports that Jose Reyes had 40 hits in May, matching Lee Mazzilli's club record, set in 1978. Reyes finished with 15 multi-hit games, one shy of Felix Millan's record for the most in any calendar month (16 in July 1973, and July 1975).
2: Elias also checks in via Justin Turner, who had both a seven-game RBI streak and a six-game RBI streak, netting an RBI in 13 of 15 games.
Only two other rookies in major-league history had an RBI in at least 13 games over a 15-game span, and both did it more than 80 years ago: Pinky Whitney of the 1928 Phillies and Buster Chatham of the 1930 Braves (13 of 15). The shame of it for Turner is that some of those RBIs were wasted. The Mets went 7-8 in those 15 games.
3: Jason Bay had seven RBIs in 86 May at-bats, during which he hit either fourth, fifth or sixth in every game. By comparison across town, Andruw Jones had eight RBIs in 37 May at-bats. His teammate, Francisco Cervelli, had eight RBIs in 26 May at-bats.
4: The Mets closed May by not hitting a home run in their last 10 games at Citi Field, tied for the fourth-longest homerless streak in home games in club history, and the longest since a 10-gamer in 1979. The "record" of 14 games, set in 1967, is within their sites on this home stand.
5: In their first 49 games, the Mets lost a game in which they had an eighth-inning lead once. In their last five games of May, they lost games in which they had an eighth-inning lead three times. Remember the bullpen's streak of 23 1/3 scoreless innings in a nine-game stretch from May 4-13? It's been wiped out by their recent efforts -- 27 runs allowed in a 20 2/3-inning span to close the month.