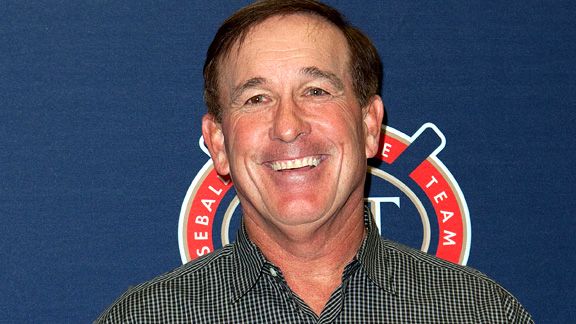 Dario Cantatore/Getty Images
Hall of Famer Gary Carter is expected to begin radiation treatment to battle brain cancer on Monday.
Gary Carter is resting comfortably at home in Florida, preparing for a cancer treatment that calls for 6½ weeks of radiation and one year of chemotherapy, his daughter wrote on a private family website Thursday morning.
Carter's daughter, Kimmy Bloemers, wrote in a journal entry that Carter's treatment will likely begin Monday.
"Doctor said they are going after these tumors aggressively," Bloemers wrote. "…. Dad is ready to battle."
Carter has been approved to take Avastin, which is in trials, the family wrote. According to the drug's web site, Avastin helps stop the growth of blood vessels that feed tumors.
Bloemers added that Carter is "happy" and "motivated" after some much-needed rest on Wednesday.
"He sounds like a completely different person. He is in fantastic spirits," she wrote.
Doctors treating Carter confirmed on Tuesday that he has glioblastoma, a form of cancer that affects the brain and central nervous system.
Doctors said surgery "is not a good option given the location of the tumor."
The 57-year-old Carter, who just completed his second season as Palm Beach Atlantic University's baseball coach, announced May 21 that an MRI had revealed four small tumors on his brain.
After being diagnosed, Carter, perhaps best known for his contributions to the Mets' 1986 World Series winning squad, said, "My wife, Sandy, and our children and family thank you for your thoughts and prayers."
Anyone interested in sending well-wishes to Carter can send them to the following address:
The Gary Carter Foundation
580 Village Blvd.
Suite 315
West Palm Beach, FL 33409
Phone: (561) 686-3088