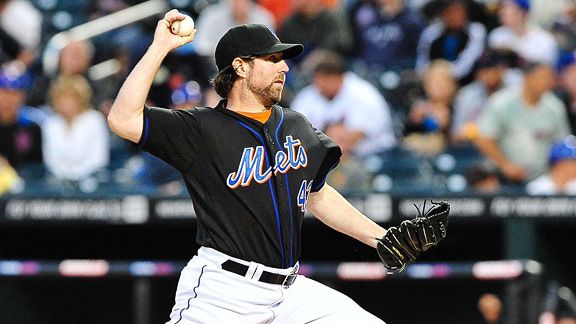 Andrew B. Fielding/US Presswire
R.A. Dickey baffled the Braves Sunday, allowing just one run on four hits to earn his third victory of the season in a 6-4 win at Citi Field.A torn plantar fascia may have affected R.A. Dickey's ability to run, but it certainly hasn't affected the 36-year-old knuckleballer's ability to pitch.
Dickey baffled the Atlanta Braves for a season-high tying eight innings on Sunday night at Citi Field -- allowing just one run on four hits -- en route to his third victory of the season.
#43 SP
New York Mets
2011 STATS
"Physically, it's just an issue that we're gonna have to work through for who knows how long," Dickey said after the Mets wrapped up a 5-5 homestand with a 6-4 win. "But it's manageable, and I know what to expect out of it, so I know how to guard against aggravating it."
Since May 20 -- a span of four starts -- Dickey is 2-1 with a 1.85 ERA (five earned runs in 24 1/3 innings).
"I've always been pretty consistent in my belief that I was pretty close all along," said Dickey, who was 1-5 with a 5.08 ERA in his first nine starts. "That's what's fantastic about what I do. So many people can speculate on who I am and what I do, but I get to write my own story. I knew all along that I was pretty close and hopefully I can continue to do that."
Dickey (3-6, 4.04 ERA) struck out just three on Sunday night -- seven less than he fanned during a career-high 10-strikeout performance in his last start against Pittsburgh on May 31.
Not that it mattered.
Dickey took a shutout into the top of the seventh inning, but Brian McCann broke it up by belting a solo home run to right-center field.
"Eight innings, one run, I'll take that the rest of the year," said Dickey, who noted that he threw more sinkers than he usually does in the early innings, before going to his bread-and-butter pitch late. "I didn't have the best feel. [My knuckler] was moving quite a bit, but it wasn't the one that I had last week, where it felt perfect. I was battling a little bit, getting on the side a couple times, but outside of that I felt pretty good with it."
The eight-inning outing was Dickey's longest since April 20, when he also went eight against Houston.
"Here's a guy whose foot is killing him and he is so focused on doing all of the other things right that his foot doesn't bother him," said Terry Collins, who also praised Dickey's control (114 pitches, 79 strikes). "And yet his concentration is much better and the knuckleball is just working."