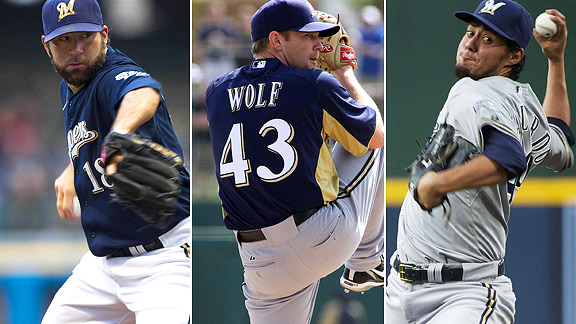 US Presswire
The Mets are due to face (l to r) Shaun Marcum, Randy Wolf and Yovani Gallardo during a midweek series in Milwaukee, which has the best home record in baseball.
METS (28-31, fourth place/NL East) vs. MILWAUKEE BREWERS (33-26*, second place/NL Central)
Tuesday: LHP Chris Capuano (3-6, 5.19) vs. RHP Shaun Marcum (6-2, 2.78), 8:10 p.m. ET
Wednesday: RHP Mike Pelfrey (3-4, 5.56) vs. LHP Randy Wolf (4-4, 3.69), 8:10 p.m. ET
Thursday: LHP Jon Niese (4-5, 3.75) vs. RHP Yovani Gallardo (8-2, 3.72), 8:10 p.m. ET
*not including Monday night vs. Marlins
Brewers short hops
• Right-hander Yovani Gallardo is tied with Pittsburgh's Kevin Correia and Philadelphia's Roy Halladay for the National League lead in wins with eight. Gallardo has won six starts in a row, the first Brewers right-hander to do so since Cal Eldred won 10 straight in 1992. Left-hander Manny Parra had a streak of six straight wins in 2008. Gallardo has a 1.32 ERA during his six-game spurt, and has not allowed more than two runs in any of those starts. Gallardo's streak began when he took a no-hit bid into the eighth inning in St. Louis on May 7, which was broken up by Cardinals rookie Daniel Descalso.
• Left fielder Ryan Braun signed a five-year extension, through 2020, on April 21. He will receive $105 million from 2016-2020, with a mutual option for 2021. Braun is on track to start a fourth straight All-Star game. He has started all but one game this year for the Brewers. Coming off the bench in his lone non-start Saturday -- the rest was prompted by a sore left shoulder -- Braun delivered a pinch-hit two-run homer in the ninth off Marlins closer Leo Nunez to rally Milwaukee to a 6-5 win.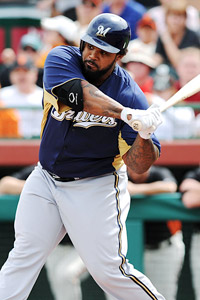 Christopher Hanewinckel/US Presswire
Prince Fielder is due to be a free agent after the season.
• The Brewers are 21-7 at Miller Park, a franchise record for the opening 28 games of a season, and have won eight of nine home series. Milwaukee was sitting at 16-21 after a 13-6 loss to San Diego on May 11. Now, entering Monday, they had won 17 of their last 22.
• Manager Ron Roenicke was hired Nov. 4, succeeding Ken Macha. Roenicke previously served under Mike Scioscia as Angels bench coach from 2006-10 and third base coach from 2000-05. Roenicke has shown an aggressive side, upping the Brewers' steal and squeeze-bunt attempts as compared with Macha. Roenicke also has employed a five-man infield on three occasions, including Sunday in Miami. The Brewers under Roenicke employ more defensive shifts than any team in the National League, relying heavily on spray charts of where opposing hitters put balls in play to position fielders.
• Right-hander Shaun Marcum was acquired from the Toronto Blue Jays on Dec. 6 for infield prospect Brett Lawrie. After allowing four runs (three earned) in 4 2/3 innings at Cincinnati in his Brewers debut on April 2, Marcum has tossed at least six innings in each of his ensuing 11 starts.
• First baseman Prince Fielder, a free-agent-to-be after the season and a Scott Boras client, set a franchise record for April RBIs with 26, passing the 24 by Greg Vaughn in 1996 and Jeromy Burnitz in 1998. Fielder is tied for third in the NL with 13 homers, trailing only Cincinnati's Jay Bruce (17) and Los Angeles' Matt Kemp (16). Fielder ranks fourth in the league in RBI with 45.
• Right fielder Corey Hart produced a three-homer, seven-RBI game on May 23 against Washington. Both outputs matched franchise records. The other Brewers to drive in that many runs in a game: Ted Kubiak (1970), Jose Hernandez (2001), Richie Sexson (2002) and Damian Miller (2007). Hart had started the season slowly, missing spring training and the first three weeks of the season with a left oblique strain. He came back too soon and struggled, but is hitting .368 with five homers and 13 RBIs in 10 games from that outburst against the Nats through Sunday.
• Left-hander Randy Wolf is 6-0 in his past 10 starts against the Mets. He is bidding to become the first pitcher to beat the Mets with five different teams. He already has wins against the Mets with the Phillies, Padres, Astros and Dodgers.
• Ex-Met reliever Sean Green was optioned to Triple-A Nashville on May 5 after posting a 5.40 ERA in 14 relief appearances.
• Ex-Met Carlos Gomez produced his first career inside-the-park homer May 28, against San Francisco. Gomez was a centerpiece prospect shipped by the Mets to the Twins, along with Philip Humber, in the Johan Santana deal. But Gomez, a free swinger, only has a .280 on-base percentage this season, with 13 walks in 191 plate appearances. Fellow center fielder Nyjer Morgan, who was acquired from the Washington Nationals for Lenny Dykstra's son Cutter at the end of spring training, is hitting .356 with a .406 on-base percentage. Although Roenicke is not calling it a platoon, Morgan is starting against right-hander pitchers, with Gomez relegated to facing southpaws, likely including Chris Capuano and Jon Niese in this series. Morgan is a career .203 hitter versus left-handed pitching, as opposed to a .311 hitter against righties. Morgan has made a pair of trips to the disabled list this season -- for a bruised right quadriceps suffered in a plate collision against Pittsburgh, then with a fractured left middle finger injured while bunting.
• Closer John Axford has converted his last 13 save opportunities, and is 16-for-18 for the season. But Axford has allowed a baserunner in 22 of his 28 appearances, including 10 straight. He walked the bases loaded Friday before converting a save against the Marlins. Axford's 24 saves last season (in 27 chances) were a Brewers rookie record.
• Left-handed reliever Zach Braddock was activated from the disabled list Saturday after dealing with a sleep disorder. The exhaustion had sapped Braddock's velocity and his ability to recover from appearances.
• Third baseman Casey McGehee (.238, 4 HR, 24 RBI) and shortstop Yuniesky Betancourt (.232, 3 HR, 20 RBI) have been in season-long funks at the plate and also have underwhelmed in the field.
Matchups
Capuano vs. Brewers (career: never faced)
Craig Counsell .500, 2 RBI, 2 K, 7 PA
Carlos Gomez .500, 2 PA
Mark Kotsay .000, 2 PA
Pelfrey vs. Brewers (career: 1-1, 3.15 ERA)
Craig Counsell .400, 1 BB, 6 PA
Ryan Braun .333, 3 PA
Prince Fielder .286, 1 RBI, 1 BB, 1 K, 9 PA
Wil Nieves .214, 1 RBI, 1 K, 14 PA
Nyjer Morgan .176, 1 RBI, 2 BB, 2 K, 20 PA
Corey Hart .143, 1 HR, 1 RBI, 1 K, 7 PA
Mark Kotsay .000, 1 BB, 7 PA
Rickie Weeks .000, 1 K, 4 PA
Casey McGehee .000, 2 BB, 3 PA
Niese vs. Brewers (career: 0-0, 17.47 ERA)
Jonathan Lucroy 1.000, 1 RBI, 2 PA
Rickie Weeks .800, 1 HR, 1 RBI, 5 PA
Nyjer Morgan .500, 1 RBI, 1 BB, 9 PA
Casey McGehee .500, 2 PA
Ryan Braun .333, 1 BB, 4 PA
Prince Fielder .250, 1 RBI, 1 K, 4 PA
Corey Hart .250, 1 RBI, 2 K
Marcum vs. Mets (career: never faced)
Jason Bay .333, 1 BB, 1 K, 4 PA
Scott Hairston .333, 3 PA
Willie Harris 1 BB, 1 PA
Wolf vs. Mets (career: 12-5, 3.27 ERA)
Ruben Tejada .667, 3 PA
Jason Bay .500, 1 HR, 2 RBI, 2 BB, 1 K, 12 PA
Angel Pagan .500, 1 K, 8 PA
Ronny Paulino .500, 1 BB, 2 K, 5 PA
Carlos Beltran .324, 3 HR, 9 RBI, 4 BB, 2 K, 38 PA
Scott Hairston .308, 1 HR, 3 RBI, 3 K, 13 PA
Jose Reyes .282, 2 HR, 3 RBI, 5 RBI, 4 K, 44 PA
Nick Evans .100, 1 BB, 2 K, 11 PA
Josh Thole .000, 3 PA
Daniel Murphy .000, 1 K, 2 PA
Gallardo vs. Mets (career: 1-1, 2.84 ERA)
Jose Reyes .500, 1 RBI, 1 K, 10 PA
Nick Evans .500, 1 BB, 1 K, 3 PA
Scott Hairston .333, 2 RBI, 1 K, 6 PA
Carlos Beltran .333, 2 K, 3 PA
Willie Harris .286, 2 BB, 2 K, 9 PA
Ronny Paulino .167, 3 RBI, 2 K, 13 PA
Angel Pagan .143, 3 K, 7 PA
Jason Bay .125, 1 BB, 3 K, 9 PA
Daniel Murphy .000, 2 K, 3 PA
Ruben Tejada .000, 2 PA
Last series results
Brewers won, 3-1, at Citi Field, Sept. 28-30, 2010 (AP game recaps)
Mets 4, Brewers 3: Light-hitting rookie Ruben Tejada laced a two-run double in the ninth inning off closer John Axford, rallying the New York Mets. David Wright had a two-run homer and the Mets opened their final home stand of the season with their third consecutive win. Corey Hart homered for Milwaukee and Randy Wolf pitched seven strong innings. Lorenzo Cain hit an RBI double. Axford (8-2) struck out Wright to escape an eighth-inning jam, but Ike Davis opened the ninth with a double off the base of the right-center fence. Josh Thole blooped a one-out single that put runners at the corners and Tejada drove the next pitch up the left-center alley for his third hit, and second double, of the game. Pinch-runner Luis Castillo scored from first and the Mets rushed toward second base to mob Tejada, who raised his batting average from .199 to .210. Elmer Dessens (4-2) worked a perfect ninth inning for the win. Carlos Beltran was removed in the sixth because of discomfort in his right knee, the same one that was operated on in January, forcing him to miss the first half of the season. One night after the teams were rained out, they played without interruption following a dreary afternoon that included tornado warnings in the area. With the score tied at 2, late substitute Joe Inglett hit a leadoff double in the eighth against Mets starter Mike Pelfrey and advanced to third on Hart's groundout to the right side. Pedro Feliciano entered to face slugger Prince Fielder, who chopped an RBI grounder to shortstop against a drawn-in infield that left Jose Reyes with only one play, at first base. The husky Fielder also made a dynamic, diving grab of Pelfrey's foul bunt in the third. Thole made a similar play on Wolf's foul bunt in the fifth. Wolf allowed four hits and struck out four, shutting down the Mets yet again. Lucas Duda entered to play left in the sixth and bat in Beltran's No. 3 spot, with Jesus Feliciano shifting from right to center and Nick Evans going from left to right. Duda fisted a soft single over second baseman Rickie Weeks with two outs in the sixth and Wright followed with his 27th homer, tying it at 2. Casey McGehee drew a two-out walk in the fourth and scored easily from first when Cain doubled to deep left-center. Hart homered to center on Pelfrey's first pitch in the sixth, his 31st of the season. Feliciano kept the game scoreless in the third, throwing out George Kottaras at the plate on Inglett's two-out single to right.
Brewers 8, Mets 7
Brewers 3, Mets 1: Dave Bush pitched three-hit ball into the seventh inning and helped his own cause with an RBI single, Ryan Braun hit a two-run double and the Milwaukee Brewers held on for a 3-1 victory over the New York Mets to complete a doubleheader sweep. Prince Fielder's RBI single and Carlos Gomez's hustle in the eighth inning of the first game rallied the Brewers for an 8-7 win after they squandered a six-run lead. Trevor Hoffman pitched the ninth inning of the second game for his first save since notching No. 600 on Sept. 7. The all-time saves leader was perfect for 601, his 10th of the season in 15 chances. After New York tied a franchise record by using eight pitchers in a nine-inning game in the opener of the twi-night doubleheader, knuckleballer R.A. Dickey (11-9) gave up six hits in seven baffling innings. The Mets used 12 pitchers in all, with three making an appearance in both games. Gomez had very diffferent experiences on the basepaths in the two games. In the opener he helped tie it by walking, stealing and advancing to third on rookie catcher Mike Nickeas' errant throw. He scored on Corey hart's tapper off Manny Acosta (3-2) between the mound and third base to tie it at 7 with two outs in the eighth. Reckless in the nightcap, Gomez had three hits but was thrown out twice on the bases. First he was caught at the back end of a 5-3-3-5 double play when he tried to sneak to third on a groundout by Braun. He singled leading off the sixth, but was caught in a rundown trying to steal. The Brewers scored their first run in the second game when Alicedes Escobar tripled leading off the third and scored an out later on Bush's single to right. Braun had a two-run double off Sean Green after Pedro Feliciano gave up a hit and hit a batter to start the eighth. Feliciano gave up the tying run in the opener and two runs in the finale. His two appearances gave him 91 for the season. Bush (8-14) allowed a single to Angel Pagan with one out in the first then didn't give up another hit until Dickey singled with two outs in the fifth. Jose Reyes, who had a triple and two doubles in the opener, followed with a hit but Pagan grounded out to end the threat. Bush was pulled after allowing a leadoff walk in the seventh. Just several hundred fans were in the stands at Citi Field for the high-scoring early innings of the opener of the doubleheader made necessary by a rainout. The teams combined for 20 hits and 13 runs in the first four innings. The Brewers scored six times in the third, knocking out Jon Niese in his shortest outing since May 16, when he went two innings against Florida.
Brewers 9, Mets 2: Casey McGehee got to 100 RBIs in the ninth inning on one of several sloppy plays by the Mets and Corey Hart reached 100 RBIs two batters later. Chris Narveson matched a season high with nine strikeouts and Lorenzo Cain hit a two-run double after All-Star shortstop Jose Reyes dropped a routine popup. The loss ensured the Mets will finish with a second straight losing season. New York (77-82) struck out 13 times. With runners at first and third and one out in the second, Alicides Escobar hit a hard, high chopper off third baseman David Wright's glove for a hit that drove in Milwaukee's first run against Dillon Gee (2-2). Matt Lucroy followed with an RBI grounder. In the fifth, Hart hit a two-out pop fly and Reyes barely had to move to settle under it. But the ball hit off his glove and fell to the infield dirt for an error. Cain's double made it 4-1. The boos for Reyes escalated after he struck out leading off the bottom half of the fifth. The Mets cut it to 4-2 in the seventh on Josh Thole's RBI double. But in the ninth, it all fell apart for New York. Reliever Sean Green walked pinch-hitter Chris Dickerson with one out and then hit Rickie Weeks with a pitch. After Ryan Braun singled in a run, McGehee, batting in the No. 3 hole for a shot at his 100th RBI, hit a tapper in front of home plate. Thole, the catcher, threw it wide of first for an error allowing Weeks to scamper home. Ike Davis made a poor throw home to allow the runners to advance to second and third. McGehee could be seen on the replay smiling and mouthing to his dugout: "Was it a hit?" Hart and Cain had RBI hits, with Hart driving in Braun for his 100th run, and Manny Acosta walked Lucroy with the bases loaded for another run.