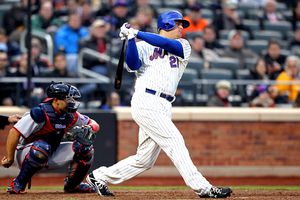 Al Bello/Getty Images
Lucas Duda has homered in seven of his past 14 games with Triple-A Buffalo.
Mets officials are considering promoting Lucas Duda from Triple-A Buffalo.
Duda homered again Thursday for Buffalo, giving him seven homers in 14 games since he missed three weeks with a back injury. He has an eight-game hitting streak with the Bisons.
Not only is left fielder Jason Bay in an 0-for-23 rut and out of the lineup at least through Friday, the Mets can find playing time for Duda at first base -- actually, likely more so there.
The thinking is that Justin Turner, unaccustomed to this much consistent playing time at the major league level, is showing signs of wearing down at third base. Turner is 0-for-7 in this series, and hitting .220 in his past 10 games. So Daniel Murphy can see some action at the hot corner, opening first base for Duda.
Neither David Wright (back) nor Ike Davis (ankle) is expected back before mid-July.
Duda opened the season on the major league roster with Bay on the DL, and also made an appearance for two days early last month when Bay went on paternity leave. He was 2-for-20 with two walks.