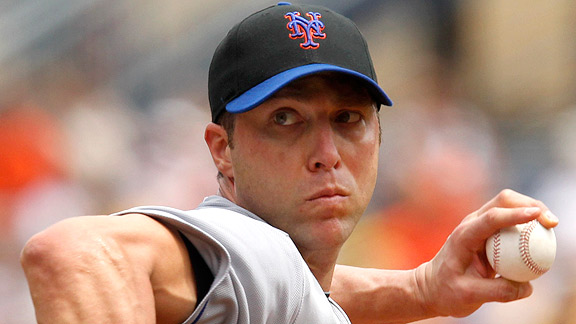 AP Photo/Gene J. Puskar
Chris Capuano's seven scoreless innings Sunday continued a solid string of starts by Mets pitchers.
Chris Capuano's seven scoreless innings in a 7-0 win against the Pittsburgh Pirates on Sunday marked his longest run-free performance in more than four years. The last occurrence: when Capuano tossed eight scoreless innings against the Washington Nationals on May 7, 2007, as a member of the Milwaukee Brewers, before the second Tommy John surgery of his career prompted him to miss the following two seasons.
Capuano's performance has been anything but atypical for Mets starting pitchers these days. In the Mets' last 17 games, the starting pitchers' collective ERA is 2.53 (32 earned runs in 113 2/3 innings). That's the lowest in the majors over that span. The rotation members have allowed three runs or fewer in 15 of those starts, even though the Mets are only 9-8 during that span.
"When we lost Chris Young, you just kind of think, 'Hopefully this guy hangs in there,'" Terry Collins said, referring to Capuano, who also had an injury history.
Said pitching coach Dan Warthen: "Over the last three weeks, I think we've done what we were supposed to do and what we expected from all of these guys going into the season. They're throwing strikes. They're moving the ball around. They're changing speeds. I'm very happy with their game preparations. So let's hope that we can keep going for the next 97 ballgames."
Capuano said one key for him is getting back enough velocity post-surgery to have a better speed differential between his fastball and changeup. During pitch Nos. 61-75 on Sunday, Capuano's fastball averaged 89 mph and his changeup averaged 78 mph, according to Inside Edge data, for a difference of 11 mph.
"I've got my velocity up to a level where I feel like my changeup is effective off of that fastball," Capuano said.
Added Collins about the starting pitching of late: "You want to know how we're hanging in there? They are doing tremendous. They are keeping us in games. They are giving us a chance. They have been absolutely great. I can't say too many good things about them right now. They are pitching just crazy. It's really amazing."