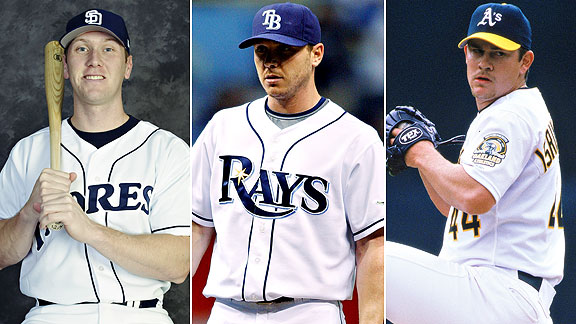 Getty Images
Jason Bay, Scott Kazmir and Jason Isringhausen were all traded by the Mets as young players for established veterans at July 31 trade deadlines.
Jose Reyes may now be likely to remain a Met at the trading deadline, but Carlos Beltran is equally as likely to be shopped, assuming the Mets do not make a continued push toward wild-card contention. With that in mind, ESPN Stats & Information has compiled an extensive look at the trading deadline in recent years. Here's what they say:
TOP THINGS TO KNOW
1. The Major League Baseball trade deadline is 4 p.m. ET on July 31.
2. There were an average of nine trades per deadline on July 31 from 2003 to 2009.
3. Some of the biggest names in the game have been traded on July 31 in the past five seasons. Greg Maddux (Cubs to Dodgers in '06), Mark Teixeira (Rangers to Braves in '07), Manny Ramirez/Jason Bay (Red Sox/Dodgers/Pirates in '08), and Cliff Lee (Indians to Phillies in '09) were all traded on deadline day.
PROSPECTS END UP BLOSSIMING
Of particular interest to the Mets as sellers, it's worth noting that the prospects/young players coming back in these trades sometimes do end up as household names in their own right years later. Remember when the Mets sent Double-A player Jason Bay to the San Diego Padres for Steve Reed in 2002? Or when Jason Isringhausen went to Oakland? Or when Scott Kazmir went to Tampa Bay? (Never mind of the last one.)
Here's a look at prospects who now are well-known, but may not have been when they were dealt, and the veteran player for whom they were traded:
Prospect/Traded by/Veteran player acquired
Jason Bay, NYM, Steve Reed
Keith Foulke, SF, Wilson Alvarez
Freddy Garcia, HOU, Randy Johnson
Danny Graves, CLE, John Smiley
Carlos Guillen, HOU, Randy Johnson
Jason Isringhausen, NYM, Billy Taylor
Scott Kazmir, NYM, Victor Zambrano
Derek Lowe, SEA, Heathcliff Slocumb
Freddy Sanchez, BOS, Jeff Suppan
Sammy Sosa, TEX, Harold Baines
Jason Varitek, SEA, Heathcliff Slocumb
RECENT SUCCESSFUL DEADLINE ACQUISITIONS
Cliff Lee, 2009, 7-4, 3.39 ERA; 4-0 in postseason for PHL
Victor Martinez, 2009, .336 BA, 8 HR, 41 RBI in 56 games for BOS
Scott Rolen, 2009, CIN had first division title in 15 years following season
Manny Ramirez, 2008, .396 BA, 17 HR, 53 RBI in 53 games for LAD
Mark Teixeira, 2008, .358 BA, 13 HR, 42 RBI in 54 games for LAA
Jason Bay, 2008, .293 BA, 37 RBI, in 49 games for BOS
Kenny Lofton, 2007, .375 BA for CLE in LDS, HR vs BOS in ALCS
Scott Hairston, 2007, .287 BA, 8 HR in 31 games for SD*
Kyle Lohse, 2007, 3-0 in 11 starts for PHI
Mark Teixeira, 2007, .317 BA, 17 HR, 56 RBI in 54 G for ATL*
Sean Casey, 2006, .432 BA in postseason
Geoff Blum, 2005, Hit GW HR in Game 3 of WS
Dave Roberts, 2004, Key SB in Game 4 of ALCS
Aaron Boone, 2003, Hit HR to beat BOS in ALCS
Will Clark, 2000, .345 BA; STL wins NL Central
Randy Johnson, 1998, 10-1, 1.28 ERA; HOU wins NL Central
* Team did not make postseason
RECENT UNSUCCESSFUL DEADLINE ACQUISITIONS
Jarrod Washburn, 2009, 1-3, 7.33 ERA in 8 starts with DET
Ivan Rodriguez, 2008, .219, 2 HR, 3 RBI in 33 games with NYY
Eric Gagne, 2007, 6.75 ERA, 3 blown SV with BOS
Julio Lugo, 2006, .219 BA in 49 G with LAD
Jeff Suppan, 2003, 3-4, 5.57 ERA with BOS
Sidney Ponson, 2003, 3-6, 3.71 ERA with SF
Heathcliff Slocum, 1997, 0-4, 4.13 ERA with SEA
"In-depth" appears Tuesdays during the regular season