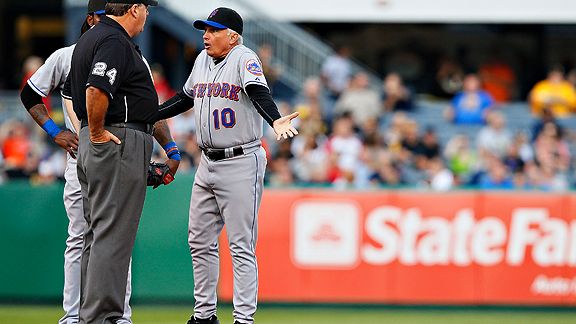 Jared Wickerham/Getty Images
Terry Collins argues after Jose Reyes is ruled to have obstructed with Jose Tabata.
Jose Reyes still was in disbelief about the first-inning obstruction call against him after the Mets had lost to the Pirates, 3-1, on Monday.
Second base ump Jerry Layne ruled Jose Tabata had to slow and change direction while going first-to-third in the first inning on Xavier Paul's single.
No contact needs to occur for obstruction to be called.
"The umpire said I was in the way of the runner," Reyes said. "I don't know. I've never seen nothing like that. The guy didn't even touch me."
Reyes said he was watching Angel Pagan and beginning to line up for a throw to third base. The shortstop said he did notice Tabata have to step out of the way.
"A little bit," Reyes said. "He continued to run. Nothing slowed him down there."
The call proved big because Pagan had thrown out Tabata at third base. Tabata had started to walk toward the dugout when umpires told him to return to third base. He then scored on Neil Walker's single for the game's opening run.
"In that case, it just so happened, I watched Tabata the whole way," said Terry Collins, who took over for Reyes arguing with Layne after the call. "[Tabata] was trying to decoy the outfielder. He wasn't running that hard to second, and then took off to third. I just said, look, for me, if he thought he was obstructed, he wouldn't have just walked off third base when we tagged him out."
Mike Pelfrey, though, told Reyes he thought there was obstruction.
"I even told Jose in the dugout I thought it was the right call," Pelfrey said. "But I came back and watched the video and it's kind of hard to tell. From my angle, because I was going to back up third, it looked like he had to change his direction and come in a little bit."