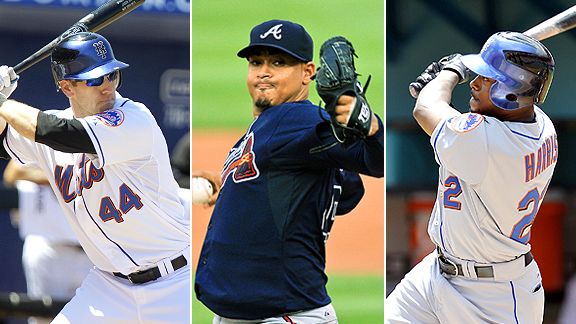 Getty Images, AP Photo
Terry Collins liked the chances of Willie Harris (right) succeeding against Jair Jurrjens (center) better than the chances of Jason Bay (left).
Jason Bay summed up sitting the series opener in Atlanta by saying he does not exactly have a leg to stand on.
Bay had been left out of the lineup Thursday in Milwaukee and Friday in Pittsburgh, ostensibly to work on his swing in the cage and regroup. But after three days back in the lineup -- during which he went 2-for-10 with a walk, RBI and five strikeouts -- Bay is again out, with Willie Harris starting in left field.
"I'm a realist. I'm not playing that well," Bay said. "That's just the reality of it. Had I been out there hitting .500, I think I'd have a little more reason to have a little more say. It's the way it is."
Said Terry Collins: "I'm sure he's annoyed. He's a pro. This guy is a great player. And I'm sure he's frustrated with having to have a conversation with me about, 'Hey, look, I've got to get Willie a game tonight.'"
Collins portrayed the decision as little more than an attempt to load the lineup with left-handed hitters against Jair Jurrjens, who has the top ERA in the majors at 1.82. Lefty batters are hitting .258 this season against Jurrjens, with righty batters hitting .213. Harris happens to be 7-for-14.
The manager said the alternative was to use Harris at third base and Daniel Murphy at first base, but that would require sitting Lucas Duda for a third straight day, which he was not inclined to do. Collins said he was trying to keep Duda sharp, especially with interleague play coming up, to guard against what happened when Fernando Martinez wilted on the bench and then was not sharp to DH at Yankee Stadium.
"With Jurrjens, it's just a little bit different case," Collins said. "I mean, this guy can really dominate you. The only success that I've seen against this guy was with some left-handed hitters. So I just said, 'You know what? I'm going to run my left-hand hitters in there tonight.'"
Still, Collins said about Wednesday's lineup: "I don't know what tomorrow is going to bring. I really don't."
Bay is hitting .207 with two homers and 11 RBIs in 150 at-bats this season. Bay called watching the series opener in Atlanta "the reality of where we're at."
Asked if he read into sitting again that a shift had taken place in Collins' thinking about how he might be used going forward, Bay responded: "I just work here."
That was not exactly popping off, which Bay recalled doing once in his career, out of frustration with the direction in Pittsburgh.
He said at a FanFest before 2008 spring training: "I think that, for a championship-quality team, you need to make more moves. And I'm not talking about the .500 team we can be. I don't think anyone in this room is going to tell you we're a championship-quality team."
Recalled Bay: "Yeah, that was a bad idea. That was clearly not my intent. All I said was it's year in, year out of the same stuff. I just said we have a couple of new managers and coaches, but the same players. And apparently that was popping off. I had a meeting with the owner and the president the next day -- not to reprimand me, just to make sure I didn't believe it. 'Hey, we're going in this direction.' They basically wanted to squash it because they didn't want other guys thinking it was OK."
Bay lightheartedly recalled about the meeting, which included team president Frank Coonelly: "Honestly, he chews on staples. That's the truth.
"And then I was traded that year," Bay said, "which was happening anyway."