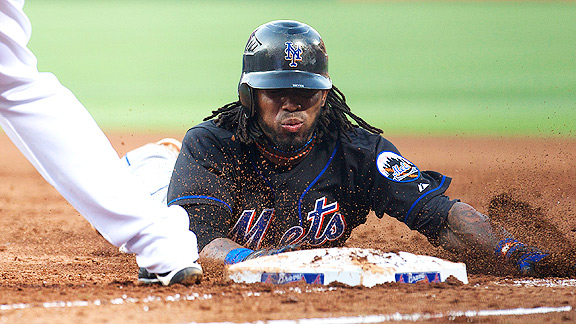 Dale Zanine/US Presswire
Jose Reyes dives back into first base, and into a satured infield dirt, during Tuesday's game.
The case is closed on water-gate, according to Terry Collins.
Collins said he could not definitively assert the Braves purposely over-wetted the infield on Tuesday in an attempt to slow down Jose Reyes. But Collins added that he did not think there was a safety hazard in the series opener and noted teams try to tailor the field to their strengths all the time.
The Mets even do it at home, Collins said, noting how the grass is grown "just a shade longer" at Citi Field because the Mets have sinkerball pitchers.
"Anybody see the dirt in front of home plate in Pittsburgh?" Collins asked.
Collins then noted it was extra thick.
"Why?" Collins continued. "Because they've got four sinkerballers going. If they were high fastball hitters with blazing speed, that sucker would have been as hard as this desk. You alter the field according to your team. These [Braves] guys do not steal bases. They're not a big base-stealing team. [Jordan] Schafer is about the only guy. They're a fly-ball hitting team. They're not a groundball hitting team. So the field was overly wet. I don't know what to say, except I'd like to move the fences back when we play against [Florida slugger Mike] Stanton, but we can't."
For the record, Braves manager Fredi Gonzalez told reporters Wednesday there was no gamesmanship involved. He noted that had there been anything purposeful, the overly wet area would have been concentrated near first base and not the entire infield, including where Reyes slipped at shortstop fielding a grounder.
"There was only one guy that was slipping and not everybody else," Gonzalez said. "There was nothing intentional. There was no gamesmanship there whatsoever."
The Braves also irked the Mets by scheduling a rainout makeup on April 16, a day after that series' opener was washed away, in order to take advantage of the Mets' depleted nature. The Mets also complained to Major League Baseball that time -- to no avail -- because they had played a doubleheader two days earlier against Colorado and had two more trips to Atlanta during the season.
Asked about the apparently inordinate gamesmanship, Collins said: "I haven't been here long enough to know the history."
Collins added that the whole issue is decades-old, citing his trips to Wrigley Field two decades ago, when the grass was overwhelmingly long.
"We hid a ball in Wrigley Field one night," Collins said. "We laid a ball in the outfield and covered it with grass and didn't find it until the sixth inning."
Collins also noted bench coach Ken Oberkfell was a member of the St. Louis Cardinals from 1977-84, during a period when that club employed four players a season that swiped 30-plus bases.
"Ask Obie about all those Cardinals teams with all that blazing speed they had when they went into some of those places," Collins said, referring to them running into wet infields when they went on the road. "So that's just part of the game. … We all know that a lot of times you alter your field to benefit your own team. That's no big deal."
Reyes, by the way, wears plastic spikes rather than metal, and said he is not comfortable switching.
Collins added that he's actually more upset with nighttime games on getaway days. Because the Mets' series finale in Atlanta is at 7:10 p.m., they won't get home until 3 in the morning Friday. Similarly, Collins said, the Mets have been arriving in cities during road trips at 3 or 4 a.m., when an afternoon finale in the previous city would have made it exponentially easier.