Terry Collins said his limit was a 25- or 30-minute rain delay after which he would not let a pitcher return to the mound. So Dillon Gee's outing ended after four scoreless innings Wednesday, and the bullpen carried the Mets the rest of the way in a 4-0 victory against the Atlanta Braves at Turner Field. The official delay before the start of the fifth inning was 71 minutes.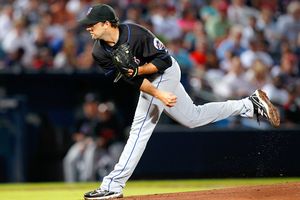 Kevin C. Cox/Getty Images
Dillon Gee was pulled after four innings thanks to a 77-minute rain delay.
"I was hoping that it wouldn't last that long, but as soon as we came in here, they pretty much told me that it was supposed to be longer and more than likely I wasn't going to go back out," Gee said.
Said Collins: "[Pitching coach] Dan [Warthen] came in during the rain delay and said, 'Well, what do you want to do?' I said, 'Well, I can't put him back out there.' And he said, 'Boy, that's too bad. Tonight's his best stuff he's had all year.'"
Gee, who was in position to improve to 8-0 with the Mets leading 3-0 at the time of the delay, agreed.
"That's probably the best I've felt all year so far," Gee said.
Still, Gee concluded: "The main goal is for us to win, and we did." In fact, the Mets are now 10-0 in Gee's starts this season.
Gee, who remained 7-0 with the no-decision because he did not complete the required five innings for a victory, will bid Tuesday against Oakland to become the second pitcher in franchise history to have his first eight decisions -- all as a starter -- be wins. Dwight Gooden in 1988 also opened 8-0. The franchise record, including relief outings, is Terry Leach at 10-0 in 1987.
D.J. Carrasco and Bobby Parnell each contributed two scoreless relief innings, and Parnell was awarded the win by the official scorer. Carrasco wished Gee could have gotten the credit.
"It's almost unfortunate," Carrasco said. "He should probably get the win."