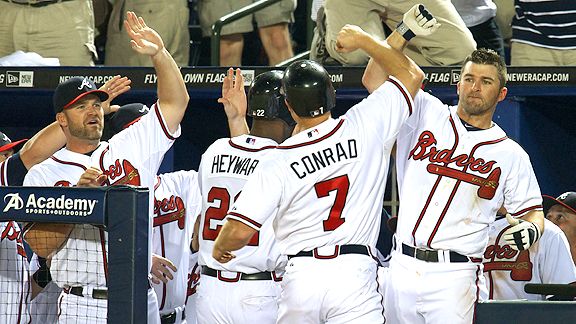 Dale Zanine/US Presswire
Brooks Conrad celebrates with Dan Uggla after hitting a game-tying two-run homer that snapped Francisco Rodriguez's save streak at 19 conversions.
Francisco Rodriguez's streak of 19 straight converted saves came to a crashing halt Thursday, as the Mets were two outs from a sweep at Turner Field. In a three-pitch span with one out, K-Rod surrendered a single to Jason Heyward, then a game-tying two-run homer to Brooks Conrad. D.J. Carrasco balked in the winning run in Atlanta's 9-8, 10-inning win the following inning.
"Every time you do not get it done, always you're frustrated and it's tough to swallow it," Rodriguez said. "There's no excuse. I didn't execute it. And that cost us the game. That's the type of game you have to turn the page and make sure to have a short memory and be ready for tomorrow night."
#75 RP
New York Mets
2011 STATS
Rodriguez's blown save snapped his longest string of conversions since his record-setting 62-save season in 2008 with the Angels, when he saved 25 straight from April 14-June 15 that year.
A large percentage of the Braves' recent run production has been via the long ball. But Rodriguez was determined not to fall behind 2-0 against Conrad as the potential tying run with a two-run lead. So he put a fastball over the plate.
All three of the homers surrendered by K-Rod this season have come against the Braves this month -- by Eric Hinske and Diory Hernandez at Citi Field and Conrad on Thursday night.
Rodriguez was bidding for his 20th save, which would have matched San Francisco's Brian Wilson for the major league lead.
"Those type of offenses like that, you have to be on top of your game," K-Rod said. "You cannot miss location. And that's what happened. When you don't make the pitches in the right spot, they're going to make you pay. That was a situation where I didn't want to fall behind 2-0. After that I might start messing around with the off-speed. But he jumped right away and he connected with the ball well."
Said Terry Collins: "This is a tough one to lose. We played our butts off to get back in the game [from a 6-2 deficit]. Our bullpen did a great job. We get to the guy we want to get to. It's just the way it goes."