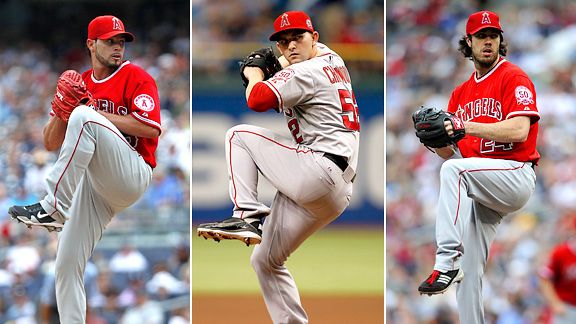 Getty Images
The Mets face Joel Pineiro (left), Dan Haren (right) and rookie Tyler Chatwood (center) this weekend as interleague play resumes.
METS (34-35, third place/NL East) vs. LOS ANGELES ANGELS (33-37, third place/AL West)
Friday: LHP Chris Capuano (5-6, 4.40) vs. RHP Joel Pineiro (2-3, 4.04), 7:10 p.m. ET
Saturday: RHP Mike Pelfrey (3-5, 5.11) vs. RHP Dan Haren (6-4, 2.54), 7:10 p.m. ET
Sunday: LHP Jon Niese (6-5, 3.46) vs. RHP Tyler Chatwood (3-4, 4.20), 1:10 p.m. ET
Angels short hops
• The Angels released ex-Mets prospect Scott Kazmir and ate the remaining $14.5 million owed. Kazmir, 27, had been 0-5 and had allowed 30 runs in 15 1/3 innings with Triple-A Salt Lake. Kazmir had been acquired from the Tampa Bay Rays on Aug. 29, 2009 for Sean Rodriguez and minor leaguers Alex Torres and Matt Sweeney. The Angels faced a June 22 deadline to either promote Kazmir or release him.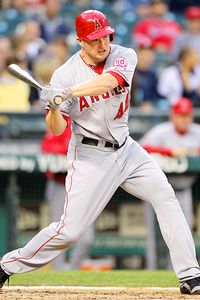 Otto Greule Jr/Getty Images
Rookie first baseman Mark Trumbo leads the American League in homers.
• Rookie right-hander Tyler Chatwood, 21, quickly succeeded Kazmir in the rotation -- making his major league debut April 11 -- after logging one inning at Salt Lake. Chatwood ranks second in the majors in inducing groundball double plays with 15. Teammate Joel Pineiro has induced 14.
• Pineiro makes his seventh attempt at reaching 100 career wins in Friday's series opener, and the Puerto Rico-born right-hander finds it meaningful the latest opportunity will come in New York, given the large population from his native island. Pineiro is 0-3 with three no-decisions in trying to reach the milestone victory. Pineiro might have additional motivation: Via friend Alex Cora, then a Met, Pineiro was told he would be getting a healthy offer from the Mets as a free agent. Ultimately, Omar Minaya had his hands tied financially by ownership and it did not come.
• Rookie closer Jordan Walden can light up a radar gun, exceeding 100 mph. His 15 saves trail only Atlanta's Craig Kimbrel (18) among rookies. St. Louis' Eduardo Sanchez ranks third with five.
• Right fielder Torii Hunter is 1-for-his-last-21 as his average has dipped to .225. Hunter has struggled with runners in scoring position, hitting an identical .225 in those situations. He also leads the majors in grounding into double plays with 18.
• First baseman Mark Trumbo ranks second among major league rookies in homers with 11, one behind Washington's Danny Espinosa. Trumbo was forced into the starting role when Kendry Morales had surgery to repair a broken ankle in March and the Angels were left without a fallback option. Trumbo led the minors in homers in 2010 with 36 at Salt Lake. He also had 122 RBIs.
• Lightning-quick center fielder Peter Bourjos has been labeled the American League's top defensive center fielder. He does have offensive deficiencies, including only three homers while striking out 67 times and walking 16 times in 255 plate appearances -- translating into a .306 on-base percentage.
• Third baseman Alberto Callaspo (.285, 3 HR, 28 RBI) is nursing a hamstring injury that has not landed him on the disabled list, but has kept him out of the lineup since leaving in the seventh inning last Saturday. Howie Kendrick, who returned from the DL earlier this month, has started the past four games at second base, freeing Maicer Izturis to see action at the hot corner in place of Callaspo. However, Izturis (sore foot) requires rest himself, so Andrew Romine was promoted and has started the past two games at third base.
• Left fielder Vernon Wells' average still sits at .193, but the ex-Blue Jay did have a two-homer game Monday. Wells has performed better since returning from a strained groin muscle that prompted him to miss most of May. Toronto picked up only $5 million owed to Wells, so the Angels are responsible for $81 million over four seasons, through 2014. A Gold Glove winner from 2004-06, Wells has not been the defensive player the Angels had hoped.
• Designated hitter Bobby Abreu likely will not see much time at Citi Field, especially with the Mets scheduled to start two southpaws in the series. Abreu could start in left field against Mike Pelfrey on Saturday, with Wells sliding to center field.
• Ex-Met Hisanori Takahashi (1-1, 4.08 ERA) is barely being used after signing a two-year, $8 million contract. After a superb spring training, Takahashi has not taken to a lefty specialist role. He has appeared in only four games this month -- the past three times for two-inning stints with the Angels trailing.
• The rookie contingent with the Angels that is being heavily leaned on also includes catcher Hank Conger, who splits time behind the plate with Jeff Mathis.
Matchups
Capuano vs. Angels (career: never faced)
Torii Hunter .417, 1 HR, 5 RBI, 1 BB, 3 K
Bobby Abreu .375, 1 BB, 3 K, 9 PA
Pelfrey vs. Angels (career: 1-0, 9.00 ERA)
Maicer Izturis 1.000, 1 BB, 3 PA
Howie Kendrick .667, 1 RBI, 3 PA
Torii Hunter .500, 1 RBI, 3 PA
Jeff Mathis .333, 1 RBI, 3 PA
Russell Branyan .333, 1 K, 3 PA
Bobby Abreu .000, 1 BB, 3 PA
Alberto Callapso .000, 2 PA
Niese vs. Angels (career: never faced)
Pineiro vs. Mets (career: 3-0, 4.15 ERA)
Scott Hairston .600, 1 K, 5 PA
Ronny Paulino .600, 5 PA
Jose Reyes .583, 1 HR, 1 RBI, 1 BB, 2 K, 13 PA
Angel Pagan .500, 1 RBI, 3 PA
Jason Bay .455, 1 HR, 3 RBI, 1 BB, 2 K, 12 PA
Carlos Beltran .313, 2 RBI, 1 BB, 3 K, 17 PA
Daniel Murphy .273, 2 RBI, 11 PA
Willie Harris .071, 1 BB, 4 K, 16 PA
Haren vs. Mets (career: 1-0, 3.89 ERA)
Angel Pagan .667, 1 HR, 2 RBI, 1 BB, 7 PA
Carlos Beltran .333, 1 HR, 2 RBI, 1 BB, 6 PA
Daniel Murphy .333, 1 HR, 1 RBI, 3 PA
Willie Harris .333, 2 K, 3 PA
Scott Hairston .250, 1 RBI, 2 K, 12 PA
Jose Reyes .154, 2 RBI, 1 BB, 2 K, 15 PA
Jason Bay .143, 1 HR, 1 RBI, 1 BB, 3 K, 9 PA
Ronny Paulino .000, 3 PA
Josh Thole .000, 1 PA
Chatwood vs. Mets (career: never faced)
Last series results
Mets won, 2-1, at Angel Stadium of Anaheim, June 16-18, 2008 (AP game recaps)
Mets 9, Angels 6: With embattled manager Willie Randolph some 3,000 miles from Shea Stadium and his many detractors, the Mets came through for him in the opener of a key road trip. Carlos Beltran homered twice, Mike Pelfrey won for the first time in 11 starts and the Mets beat the Angels. However, Randolph then was fired back at the team's hotel in Costa Mesa, Calif. Pelfrey (3-6) allowed six runs, eight hits and two walks in six-plus innings. He did not strike out a batter in his first regular-season start against an AL team. The right-hander, coming off three consecutive no-decisions following six straight defeats, won for the first time since beating Washington 6-0 on April 15 at Shea. Last season he went eight straight starts during one stretch without a victory before beating Atlanta on Sept. 1. The Mets scored in each of the first three innings against Jered Weaver (6-7). He allowed six runs and eight hits over 6 1/3 innings, striking out five. Two of the runs charged to Weaver came during a four-run seventh that extended New York's lead to 8-3. Luis Castillo greeted rookie Jose Arredondo with a two-run single, David Wright followed with an RBI double and Wright scored on an error by first baseman Casey Kotchman. The AL West-leading Angels narrowed the gap to 8-6 with three runs in the bottom half. Jeff Mathis chased Pelfrey with an RBI single, and Pedro Feliciano gave up run-scoring singles to Chone Figgins and Garret Anderson before Aaron Heilman struck out Vladimir Guerrero and Torii Hunter with the potential tying runs on base. Duaner Sanchez pitched a perfect eighth and Wagner earned his 15th save in 20 chances and his second in two days after blowing three consecutive opportunities. The Angels put two on in the ninth, but Figgins was doubled off second base on Anderson's liner to shortstop, ending the game. Serving as a DH for the first time this season, Beltran drove a 1-0 pitch into the first row above the 18-foot wall in right-center to cap a two-run first. He homered again with two outs in the third, hitting the next pitch he saw from Weaver to left-center for his 10th of the season and a 4-1 lead. It marked the 23rd multi-homer game and first this season for the four-time All-Star, who underwent arthroscopic surgery on both knees last October to relieve tendinitis. Seven of Beltran's 246 regular-season home runs have come as a DH. He had some experience in that role with Kansas City but was not used in that capacity last season. The Angels got RBI singles from Guerrero and Howie Kendrick in the fourth, but ran themselves into two outs during the rally.
Angels 6, Mets 1: John Lackey scattered six hits over seven-plus innings to lead the Angels to a victory that spoiled Jerry Manuel's debut as Mets manager. Manuel was promoted from bench coach after Willie Randolph was fired at 3 a.m. ET. In a matchup of staff aces, Lackey (4-1) outpitched Johan Santana (7-5). The Angels' right-hander, whose 2008 debut was delayed by a strained biceps, shut out the Mets after giving up a run in the first inning. He struck out seven in 7 2/3 innings and walked one -- the last batter he faced. Scot Shields pitched 1 1/3 hitless innings to earn his second save. Santana gave up five runs (four earned) on eight hits in six innings. He struck out five and walked two. After New York scratched out a run in the first inning, the Angels responded with three in their half. Torii Hunter doubled home a pair of runs with two outs, then scored from second on a fielding error by first baseman Carlos Delgado. Casey Kotchman singled home another run for Los Angeles in the third, also with two outs. Jeff Mathis' solo home run in the sixth made it 5-1, and Los Angeles tacked on another run in the eighth. Randolph was fired after New York had won its second in a row, in the series opener in Anaheim. General manager Omar Minaya caught a flight to the West Coast during the day, told Randolph at the team hotel that he was dismissed, and asked Manuel to take the job. Minaya also made coaching changes, cutting loose first base coach Tom Nieto and pitching coach Rick Peterson. Ken Oberkfell, the manager of their Triple-A New Orleans club, and the pitching coach there, Dan Warthen, replaced them. The game got off to an inauspicious start for the Mets, who went on to lose for the eighth time in 12 games. Shortstop Jose Reyes left in the first inning, when he led off with a single and felt stiffness in his left hamstring while running to first base. He was replaced by a pinch runner, but not before Manuel threatened to "cut him" while demanding the resistant Reyes leave the game as a precaution. Damion Easley came on as a pinch-runner and later scored on a double-play grounder.
Mets 5, Angels 4 (10 innings): Almost 4½ years passed between Jerry Manuel's 500th victory as a big league manager and his 501st. David Wright singled home the tying run with two outs in the ninth inning against All-Star closer Francisco Rodriguez and Damion Easley homered in the 10th to give the Mets a win. The former AL Manager of the Year clapped his hands in the dugout to celebrate when Billy Wagner closed out this win. Wright lined a 2-1 slider to left field for his team-high 54th RBI after Jose Reyes singled for his third hit of the game and advanced on a wild pitch. The blown save was the second in 30 opportunities this season for Rodriguez, and snapped his franchise-record streak of 25 consecutive conversions. His only other blown save was on April 7 against Cleveland, when he inherited a 2-1 lead from starter Joe Saunders and gave up back-to-back RBI doubles to Victor Martinez and Jhonny Peralta. Easley connected with two outs off Justin Speier (0-4), hitting a drive into the left-field bullpen for his second home run of the season. The home run was the seventh allowed by Speier in 28 innings. Mets relievers allowed one hit over the final four innings. Wagner, whose recent slump of three straight blown saves hastened Willie Randolph's departure, pitched a perfect 10th for his 16th save. Duaner Sanchez (3-0) pitched a perfect ninth inning for the victory. Reyes, who threw his batting helmet when Manuel pulled him the previous night with a leg injury in the first inning, scored all three times he earned his way on base. Mets left-hander Oliver Perez gave up four runs and nine hits in six innings. Carlos Delgado, the Mets' regular first baseman, made only his third start as a designated hitter since leaving Toronto as a free agent after the 2004 season. He homered to center field leading off the fourth to increase New York's lead to 3-0. The Mets used their 49th different starting lineup, with Easley at second base and newly acquired Trot Nixon in left field.