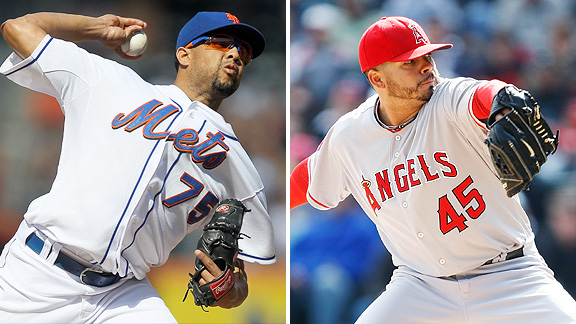 Getty Images
When Francisco Rodriguez left the Angels for the Mets after his record-breaking 62-save season in 2008, he left both some extra fastball oomph and his best breaking ball behind in Anaheim.
Those are the two biggest differences between the Rodriguez who starred for the Angels and the Rodriguez who has had some good moments for the Mets (his streak of 19 straight save chances converted ended Thursday), but has frustrated enough times to be bothersome, both on and off the field.
Rodriguez -- whose Mets host the Angels this weekend -- has pitched in each of the last three games in Atlanta. The two runs he yielded Thursday bumped his ERA to 9.53 and his WHIP to 1.76 in his last 10 appearances, though the four prior to Thursday night's were scoreless outings.
The 2011 version of Rodriguez is not the pitcher the Angels were used to during his great run that began in 2002. For one thing, he's been much more reliant on his fastball, throwing it two-thirds of the time, despite Pitch F/X technology charting it at an average of 89.5 mph, down four-to-five mph from his best days.
The difference in pitch speed has made it tougher for Rodriguez to have sustained success, as opponents have reached base in 40 percent of their plate appearances eding with a fastball. This season, Rodriguez has already given up 21 hits with the fastball (he gave up 28 in 2010), including both the single to Jason Heyward and game-tying homer to Brooks Conrad in the ninth inning on Thursday night.
During Rodriguez's Angels days, he'd throw the fastball at about a 50-50 split with his other pitches, revving it up to 94 to 95 mph regularly. Since the start of last season, Rodriguez has hit 95 mph on Pitch F/X technology just once -- against Heyward last Aug. 3.
When Rodriguez was at his best, he could count on his breaking ball as an out pitch. It isn't as effective as it used to be.
Fangraphs.com calculates the "run value" for every pitch thrown in the major leagues. In basic terms, this stat measures how much more a pitcher got out of his pitches than the major league average. Getting outs in tough situations or consistently getting ahead in the count helps a pitcher's run value. Giving up hits and walks, or constantly falling behind in the count hurts it.
In every season he pitched for the Angels, Rodriguez had a positive run value for his breaking pitches (curve and slider). In each of the three seasons, he's pitched for the Mets, that pitch has had a negative run value.
The transition to greater reliance on the changeup began near the end of Rodriguez's tenure and that pitch has been his most effective one for the Mets. In fact, our pitch performance data has him with 21 strikeouts with that pitch this season, one fewer than he had in all of 2010.
Though there have been brief periods of brilliance for Rodriguez during his Mets tenure, it would be deceptive to say that he's lived up to the reputation he brought with him three seasons ago. Consider this simple stat.
There are 15 pitchers who have had at least 50 saves since 2009, whose save percentage ranks higher than Rodriguez's 84.9 percent as a Met. But Rodriguez is currently making the second-most ($11.5 million) of any reliever in baseball.