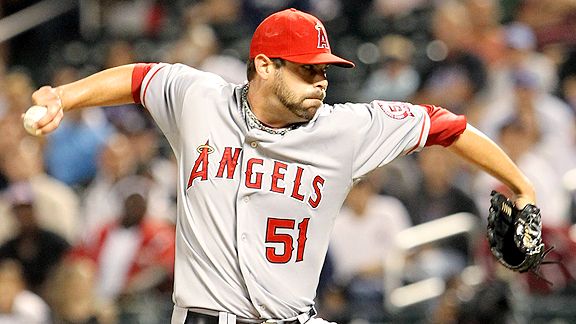 Anthony Gruppuso/US Presswire
Angels rookie closer Jordan Walden converted his ninth consecutive save on Friday night against the Mets.
Down one run in the ninth, the Mets found themselves in perfect position to tie things up against the Angels: Rookie closer on the mound. First two runners reach on walks. Citi Field crowd –- or what's left of it –- on its feet. Three-four-five hitters due up.
"We put ourselves in a good situation," Justin Turner said.
But the Mets couldn't turn that 'good situation' into a win. And there are two simple reasons for that: Jordan Walden's 100 mph fastball and Jordan Walden's crippling slider.
#51 RP
Los Angeles Angels
2011 STATS
Walden, the Angels' rookie closer, featured both pitches prominently in successive strikeouts of Carlos Beltran, Daniel Murphy and Angel Pagan to end the Angels' 4-3 win on Friday night.
"(We) didn't get 'em tonight. If that situation comes up again, I'd put all my money on those three guys to get it done," Turner said.
Though the way Walden threw the ball on Friday, that didn't seem like such a safe bet.
After walking Jose Reyes and Turner (in an eight-pitch battle) to open the inning, Walden buckled down.
He fooled Beltran with two sliders to open the at-bat and got him to chase a third after flashing a 98 mph heater. Beltran said afterward it was tough to see the ball out of Walden's hand due to his "funky motion."
That same motion -- along with a few more 98 mph heaters -- was enough to set down Murphy and Pagan.
Pagan went down swinging at Walden's 80 mph slider -- one of the toughest pitches to hit in baseball right now -- after seeing three 98 mph fastballs.
"You have no idea how difficult that is," Pagan said after the game. "That was the hardest pitch of the night."
Walden has saved nine straight games and has 16 saves in 19 chances. He routinely hits 100 mph on the radar gun. After what he did to the Mets on Friday night, they're probably happy that he pitches in the American League.
"You just have to tip your hat to him," Turner said.