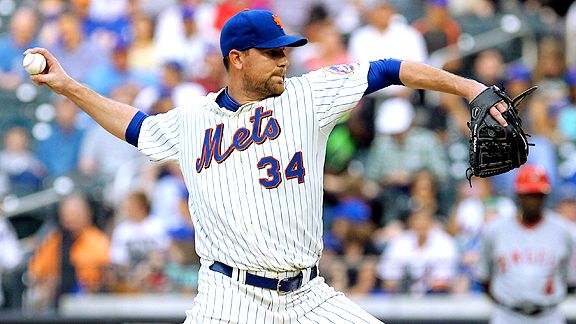 Michael L. Stein/US Presswire
Mike Pelfrey pitched his first complete game since 2008 on Saturday night.
Mike Pelfrey finished off his first complete-game victory since Aug. 25, 2008 on Saturday night -- and he had manger Terry Collins to thank for the opportunity.
"I came in (after the eighth inning) and made eye contact with him and said 'I'm good,'" said Pelfrey after earning his first win since May 10. "He said, 'Are you sure?' and I said, '100 percent, I'm good.' And he said, 'OK then, go get 'em.' I thanked him at the end of the line when I was going through (after the game). I said, 'Thanks for the opportunity and I appreciate it.' Luckily, it worked out."
#34 SP
New York Mets
2011 STATS
Sure did. As Collins said, the Mets got exactly the type of outing they were looking for from their current ace -- their first nine-inning complete game of the season. And it only took 71 tries.
Pelfrey went the distance and allowed just one run on five hits as the Mets beat the Angels, 6-1, at Citi Field to snap a two-game losing streak and move within a game of the .500 mark (35-36).
"It's fun to start what you finish," said Pelfrey, who threw a season-high 123 pitches (83 for strikes), one short of his career-high of 124 on Aug. 27, 2010 against Houston. "It doesn't happen as much as it did in the past, but it's fun to go out there and finish what you start."
Collins didn't hesitate to allow Pelfrey to finish what he started because his 27-year-old right-hander had thrown just 153 pitches in his previous two starts and will have an extra off day before his next outing.
"There was another game where Pelf was pitching well that he wanted to finish and I said, 'No that's enough,'" Collins said. "But this particular time we've got an extra day before he pitches again, so I wasn't as concerned about pitch count or workload going in, because we had the extra day. And by god he deserved as well as he pitched to go out there in the ninth inning."
Pelfrey (4-5) came into Saturday with an 0-2 record and a 4.42 ERA in his past six starts, but retired the first nine batters he faced and took a shutout into the sixth inning before Mark Trumbo ended it with a pinch-hit solo home run.
"It all started with fastball command that was good," said Pelfrey, who struck out five and walked none to pick up his third career complete-game win. "I thought I established the inside part of the plate. They had a lot of lefties in the lineup, and then I was able to throw my secondary pitches for strikes. My curveball was pretty good today, which is pretty rare."
Pelfrey, who threw his curveball an estimated 12 times on Saturday night, has now allowed just five earned runs in his past 22 innings (2.05 ERA), and is certainly anchoring the Mets' patchwork rotation -- a rotation that has been splendid in its past 23 games (sporting a major-league best 2.46 ERA).
"We didn't get off to the start we wanted, but we're playing pretty well," Pelfrey said. "We're a lot better than a .500 team, and I think at the end of the year it's gonna show. I think we've been playing good. We've been playing in a lot of close games, but I think we'll end up pulling them out and turning this thing around."