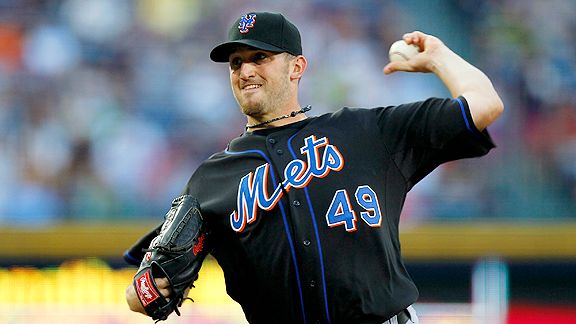 Kevin C. Cox/Getty Images
Left-hander Jonathon Niese has three wins in his last four starts.
How often have Mets' starters tossed back-to-back complete games while allowing one earned run or less?
Not often at all.
In fact, it's happened just twice in the last 10 seasons.
Can they make it three times on Sunday?
With the way Jonathon Niese has been pitching lately, it certainly seems possible.
#49 SP
New York Mets
2011 STATS
Niese has been phenomenal in his last four starts, going 3-0 with a 1.61 ERA. He'll look to keep it going in his Sunday start against the Angels, a night after Mike Pelfrey held Los Angeles to one run in a complete-game win.
The key to Niese's recent success, according to Terry Collins, has been his curveball.
But Niese believes all of his pitches -- cutter, fastball, changeup -- have contributed.
"I feel confident right now," said Niese, who has five wins in his last seven starts. "All in all I feel comfortable."
Which has made opposing hitters increasingly uncomfortable.
Niese is setting career-lows in opponent batting average (.249) and WHIP (1.31) this season. He is averaging seven strike outs per nine innings and his home runs allowed -- which were an issue last season -- are down to 0.71.
"He's starting to have confidence in his stuff. Early in the season, I really felt that he relied on his fastball a lot of the time," Collins said of Niese's 1-4 April.
Pitching coach Dan Warthen said that Niese (6-5, 3.46 ERA) has thrown his curveball with a greater frequency in recent starts. He added that Niese no longer telegraphs the curve with his arm angle, which was an issue early in his career.
According to the pitching coach, Niese has thrown his curve for strikes roughly 70 percent of the time this season.
"I think that's what's really helped him get it going the last few starts," Collins said.
Against the Brewers on June 9, Niese's off-speed stuff was on point. The lefty allowed three hits and one run in 7 2/3 innings. Collins said it was "about as good as you can pitch."
To keep things rolling, Niese will try to keep it simple on Sunday.
Which means keeping Angels hitters uncomfortable with his curveball.
"If it's executed well, I think it's a tough pitch to hit," Niese said of the curve. "Right now, it's pretty good."