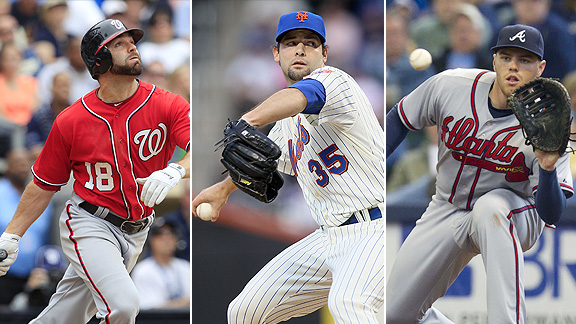 AP Photos
Danny Espinosa (left) sizzled during the Nationals eight-game winning streak, while Dillon Gee is off to a 7-0 start and Atlanta's Freddie Freeman (right) has been solid since a slow April.
FAST STARTERS
Here are the best starts to a season in the majors since 2006. Dillon Gee would join that list if he improves to 8-0 Tuesday against Oakland.
Dillon Gee again attempts to go to 8-0 on Tuesday, against the Oakland Athletics at Citi Field. He was forced to depart his last start, in Atlanta, with a lead after four innings because of a 71-minute rain delay and received a no-decision.
Here's a look at other NL Rookie of the Year candidates:
• Danny Espinosa's average may only be .237, but the Nationals second baseman has rookie highs with 13 homers and 43 RBIs. During Washington's past nine games, which included an eight-game winning streak that was snapped Sunday, Espinosa hit .342 with three homers and 10 RBIs.
• Atanta's Craig Kimbrel already has the NL rookie record for saves before the All-Star break with 19. But Kimbrel went 11 days without a save chance before notching one Sunday against the Texas Rangers. During that gap, Jonny Venters was 2-for-2 in save chances. Venters' 22-inning scorless streak ended in the series finale against the Mets.
• Justin Turner has dipped to .277 with two homers and 30 RBIs through 155 at-bats, although he has six RBIs in his past seven games.
• After posting consecutive scoreless efforts upon entering the Diamondbacks' rotation in mid-May, and then another set of back-to-back scoreless starts to open this month, Josh Collementer has slowed down. In his past two starts, he has allowed eight runs in 12 innings and has been tagged with consecutive losses. Overall, he is 4-3 with a 2.09 ERA.
• Atlanta first baseman Freddie Freeman is hitting .271 with seven homers and 27 RBIs in 247 at-bats. Since hitting .217 in April, Freeman has a .303 average in a 41-game span.
• Cubs second baseman Darwin Barney is hitting .294 with one homer and 25 RBIs in 248 at-bats.
• Nationals catcher Wilson Ramos is hitting .251 with five homers and 19 RBIs in 171 at-bats.