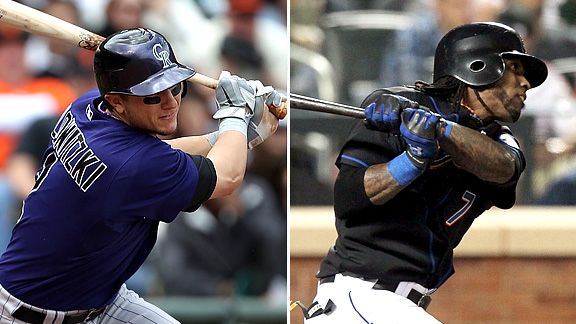 Getty Images
Troy Tulowitzki still leads Jose Reyes in All-Star voting at shortstop, but Reyes made up ground in the past week.
Jose Reyes is making a run at Troy Tulowitzki's NL-leading vote total for the starting nod in the All-Star Game. Reyes has moved within 413,171 votes of Colorado's Tulowitzki. A week ago, the gap was 586,956.
Tulowitzki leads major league shortstops with 13 homers and 46 RBIs, while Reyes leads the National League with 12 triples and a .341 average.
The All-Star Game is July 12 at Arizona. Online voting on team web sites runs through June 30.
Here are the totals at the three positions where Mets rank:
Shortstop
Troy Tulowitzki, Rockies, 2,385,991
Jose Reyes, Mets, 1,972,820
Jimmy Rollins, Phillies, 1,354,896
Alex Gonzalez, Braves, 928,992
Yuniesky Betancourt, Brewers, 860,163
Third base
Placido Polanco, Phillies, 2,599,925
Chipper Jones, Braves, 1,558,895
Pablo Sandoval, Giants, 1,302,098
David Wright, Mets, 1,228,710
Scott Rolen, Reds, 1,102,626
Outfield
Ryan Braun, Brewers, 3,034,057
Lance Berkman, Cardinals, 2,562,428
Matt Holliday, Cardinals, 2,390,118
Matt Kemp, Dodgers, 2,062,667
Andre Ethier, Dodgers, 1,889,298
Jay Bruce, Reds, 1,681,613
Shane Victorino, Phillies, 1,357,115
Carlos Beltran, Mets, 1,261,308
Jason Heyward, Braves, 1,059,581
Raul Ibañez, Phillies, 982,046