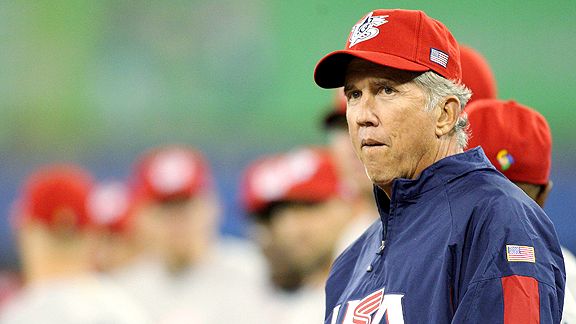 Luc Leclerc/US Presswire
Davey Johnson is taking over as Nats skipper.
Davey Johnson, who managed the Mets to the 1986 World Series title, is returning to manage the Washington Nationals, ESPNChicago.com's Nick Friedell reports. Johnson has been a senior adviser for that ballclub. Johnson, 68, last managed in 2000 with the Los Angeles Dodgers.
With the resignations of Florida's Edwin Rodriguez and Washington's Jim Riggleman, Terry Collins is now tied with Atlanta's Fredi Gonzalez for the second-longest tenure with their current team in the division, trailing only Philadelphia's Charlie Manuel.
As for ages, Jack McKeon tops the group at 80, followed by Johnson at 68, Manuel at 67, Collins at 62 and Gonzalez at 47.
"It's hard to fathom," Collins said with a laugh about his long tenure among division managers.