Back at the Mets' January minicamp in Port St. Lucie, Fla., Jerry Manuel suggested Daniel Murphy one day could have a Mark DeRosa-type career -- getting significant at-bats during the course of the season by being competent at several positions.
That plan is now on a fast track.
Murphy's knee injury during the final week of spring training, coupled with Mike Jacobs' struggles at the plate in an interim role, led to the promotion of rookie first baseman Ike Davis to the major league team. Now, Davis is not going to be dislodged from the position. So once Murphy completes a rehab assignment that could begin next weekend, he will be assigned to Triple-A Buffalo to get comfortable at positions throughout the infield and outfield, including second base and left field.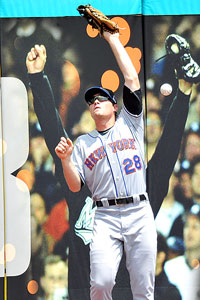 Daniel Murphy
"My situation is to play quality baseball wherever they send me," Murphy said Sunday, when he visited the Mets before their series finale against the Florida Marlins at Sun Life Stadium. "That's all I can control. From talking with the front office, I'm going to do my rehab assignment. I'm going to Buffalo for however long they want me to stay there. And then when the team is ready, and they feel like I can help them win, I'll be ready for the call.
"I've played the outfield. I've played second base before. I've played first base. I've played third. So it won't be completely new to me wherever they send me. It will just be consistent reps and trying to get more comfortable at whatever position they let me play."
Murphy, who strained medial collateral ligament in his right knee against the St. Louis Cardinals in Grapefruit League play, played seven innings at first base, hit and ran the bases during extended spring training games on Friday and Saturday at the Mets' Florida complex. He hopes to play nine innings the next two days and begin sliding on a mat. By the end of the week, he hopes to begin an official rehab assignment with Class A St. Lucie.
As for Murphy's transition to other positions, Washington Nationals hitting coach Rick Eckstein doesn't expect any issue. Eckstein was the infield coach on the Arizona Fall League team on which Murphy played second base after the 2008 regular season.
"He didn't have a lot of time there, because the Fall League is a short season. But Daniel is a player who has a real tough mentality -- a bulldog mentality," Eckstein said. "He's got a work ethic that's second to none. He's been on the infield in college as a third baseman. And then he switched over to first base here with New York. So he's seen the ground balls from both sides of the infield -- left side and right side. I can see him being OK over there. He's a hard worker. He's going to grind it out. To learn the nuances and the technicalities at second base to be an everyday guy is going to take some work. He doesn't shy away from that at all."
DeRosa, who landed in San Francisco as a relatively stable left fielder with his latest contract, has started games at six positions during what's been a successful and lucrative career. He was pushed aside from shortstop with the Atlanta Braves when Rafael Furcal made the team in 2000. Yet DeRosa still managed to average 262 at-bats a season from 2002-04 with the Braves by starting at the corner outfield spots, second base and third base as well as by seeing limited action at shortstop.
"For me, it was Rafael Furcal burst on the scene and it was either start moving around or go back to Richmond. Anyone who tells you they'd rather play every day in Triple-A is an idiot," DeRosa said. "I don't think it was difficult. My desire was to stay in the big leagues and be productive and give myself more chances at a shot at playing every day. For me, I always tried to look big picture. There are 29 other teams out there. You don't necessarily have to stay with the team you come up with."
Regarding Murphy, DeRosa added: "I don't know what his background is as far as what positions he's played in the past. I remember seeing him the first time and saying, 'He must have been an unbelievable high school football player.' You can tell he's put together. He's a gamer. You can tell. He's got that little 'it' factor to him, so I don't think he'll have a problem moving around."
DeRosa pointed to ex-Met Ty Wigginton, who has a similar hard-nosed mentality to Murphy, as another example of a success story. Wigginton was pushed aside at third base by the promotion of David Wright. Like DeRosa, Wigginton has appeared at six positions in the majors -- everywhere but pitcher, catcher and center field.
"I felt like my value increased," DeRosa said. "I felt like I gave coaches an opportunity to tweak their rosters a little different. I always say the same thing: If you're hitting, they'll find a spot for you. I'm sure he realizes that. If he comes back from the DL and gets a spot start here, or gets a start in the outfield and gets a couple of knocks and a homer, I'm sure Jerry will find a spot in that lineup for him."