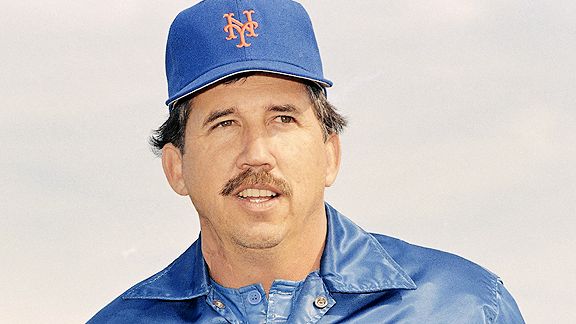 AP Photo/Rusty Kennedy
Davey Johnson, seen here in spring training, 1987, returns to the field as a major league manager for the Nationals tonight.
Mark Simon reminisces about Mets history each week in his "Remember When We Met" posts.
The 1984 Mets media guide stands out to me more than others in my collection of Mets books primarily because of the distinctiveness of its cover.
I was nine years old, sitting on a New York City subway, reading the media guide over the shoulder of the person next to me. Turns out he was a Mets batboy. Right when my father and I were about to exit the train, the batboy gave me his copy of the book. He thought I would enjoy it.
The front page features the newest Mets manager, Davey Johnson, sitting at a computer, hand resting on chin, pondering the likes of a roster that included Darryl Strawberry, Keith Hernandez, and Jesse Orosco.
I'm guessing that Johnson has read his fair share of media guides. He was ahead of his time in terms of his preparation—a rare player and manager in the 1980s who had studied computer programming and was well-schooled in Earl Weaver's philosophies, some of which bear a strong resemblance to current sabermetrics.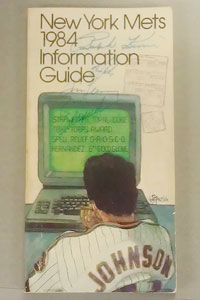 The 1984 Mets Media Guide
The thing I remember most about Johnson's tenure as Mets manager: It was rare that you ever heard the words "he was outmanaged today." Johnson succeeded as Mets manager because he understood the intellectual and the emotional components of running a team.
The story others most like to tell about Johnson is how after the Mets wrecked the interior of an airplane celebrating on their flight home from the 1986 NLCS, Johnson ripped up the bill that had been sent to the team right in front of his players. Listen to the stories of that season and his former players will tell you they would have walked through a wall for him at that point. They would go on to win the World Series.
Twenty-seven years later, time and Davey Johnson have caught up with each other. He's managing his first game as Nationals skipper tonight against the Angels, in an era in which baseball and mathematics are more reliant on each other than ever before. I look forward to seeing how Johnson has prepared himself for such a situation.
I best remember Johnson for the attributes that made him a winner. What's your favorite recollection of Johnson as Mets manager?
Share your thoughts in the comments section.