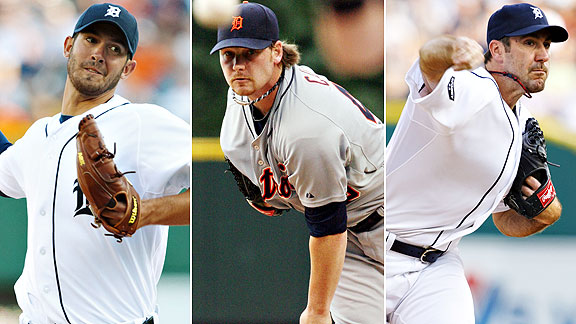 US Presswire
The Mets face (l to r) Rick Porcello, Phil Coke and Justin Verlander during a midweek series at Detroit.
METS (39-39, fourth place/NL East) vs. DETROIT TIGERS (43-36, first place/AL Central)
Tuesday: RHP R.A. Dickey (3-7, 3.76) vs. RHP Rick Porcello (6-5, 4.50), 7:05 p.m. ET
Wednesday: LHP Chris Capuano (6-7, 3.99) vs. LHP Phil Coke (1-7, 4.32), 7:05 p.m. ET
Thursday: RHP Mike Pelfrey (4-6, 4.78) vs. RHP Justin Verlander (10-3, 2.38), 1:05 p.m. ET
Tigers short hops
• Right-hander Justin Verlander is 8-0 with a 1.56 ERA and .155 opponent batting average in his past 10 starts, and 6-0 with a 0.72 ERA in his past six starts. Verlander was the second overall pick in the 2004 draft out of Old Dominion. The Mets selected Philip Humber third overall out of Rice. In Verlander's most-recent outing, he tossed eight scoreless innings against Arizona and struck out a career-high 14 batters while hitting 100 mph late in the appearance.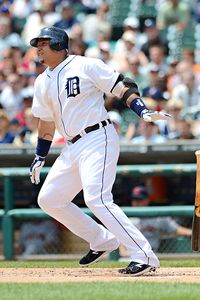 Mark Cunningham/Getty Images
Miguel Cabrera ranks third in the AL in batting at .332.
• The Tigers retired the late Sparky Anderson's No. 11 Sunday. Anderson, who has the most managerial wins in franchise history, was 1,331-1,248 from 1979 to 1995 with Detroit. He died on Nov. 4, 2010 at age 76. His number had never been assigned to someone else after his departure. The retirement ceremony took place before a game against the Diamondbacks, allowing Arizona manager Kirk Gibson and bench coach Alan Trammell -- both renowned ex-Tigers -- to participate.
• Designated hitter Victor Martinez (.336) and first baseman Miguel Cabrera (.332) rank second and third, respectively, in the American League in batting average, trailing only Boston's Adrian Gonzalez (.361). Cabrera still has an outstanding misdemeanor charge pending involving his spring-training arrest on suspicion of driving under the influence in Fort Pierce, Fla. Ex-Met Raul Gonzalez was hired to serve as Cabrera's companion and mentor.
• Third baseman Brandon Inge returned Friday after missing three weeks with mononucleosis.
• Right fielder Magglio Ordonez (.186, 2 HR, 8 RBI, 129 ABs) returned June 13 after missing more than a month with weakness in his surgically repaired right ankle.
• Outfielder Brennan Boesch is hitting .402 with six homers and 13 RBIs in his past 23 games (22 starts) since June 3.
• Closer Jose Valverde is 18-for-18 in save chances. He has made 12 straight scoreless appearances, spanning 11 1/3 innings.
• Right-hander Rick Porcello was the 27th overall pick in the 2007 draft out of Seton Hall Prep in West Orange, N.J. He has allowed 14 runs (11 earned) on 17 hits and three walks and lasted a combined 7 2/3 innings in his past two outings.
• Left-hander Phil Coke is 0-5 in his past 11 starts. His lone win this season came April 14 at Oakland. Coke was acquired from the Yankees with Austin Jackson on Dec. 9, 2009 in a three-team deal that also involved Arizona and included Curtis Granderson, Max Scherzer, Edwin Jackson and Ian Kennedy. Austin Jackson's 91 strikeouts rank second in the AL, trailing only Adam Dunn's 100 with the Chicago White Sox.
• Carlos Guillen, who had last appeared in a major league game on Aug. 16, 2010 at Yankee Stadium, began a rehab assignment Monday with Lakeland in the Florida State League. Guillen, 35, underwent microfracture surgery on his left knee in September.
• Catcher Alex Avila leads American League catchers with a .304 average and 45 RBIs.
Matchups
Dickey vs. Tigers (career: 3-2, 4.02 ERA)
Ryan Raburn .667, 1 RBI, 3 PA
Victor Martinez .500, 1 BB, 3 PA
Ramon Santiago .333, 1 BB, 3 K, 12 PA
Alex Avila .333, 3 PA
Miguel Cabrera .308, 1 HR, 1 RBI, 1 BB, 14 PA
Brandon Inge .294, 1 HR, 2 RBI, 3 K, 17 PA
Magglio Ordonez .278, 1 HR, 2 RBI, 1 BB, 3 K, 20 PA
Jhonny Peralta .125, 1 RBI, 2 K, 8 PA
Brennan Boesch .000, 1 BB, 3 PA
Capuano vs. Tigers (career: 1-0, 3.86 ERA)
Jhonny Peralta .667, 1 K, 3 PA
Miguel Cabrera .368, 2 HR, 4 RBI, 8 K, 19 PA
Victor Martinez .333, 1 K, 3 PA
Brandon Inge .000, 3 K, 4 PA
Magglio Ordonez .000, 3 PA
Ramon Santiago .000, 2 PA
Pelfrey vs. Tigers (career: never faced)
Miguel Cabrera .333, 3 BB, 9 PA
Porcello vs. Mets (career: never faced)
Jason Bay .500, 1 HR, 2 RBI, 1 K
Scott Hairston .000, 1 K, 3 PA
Coke vs. Mets (career: 0-0, 0.00 ERA)
Daniel Murphy 1.000, 1 PA
Willie Harris .000, 1 K, 2 PA
Jason Bay .000, 1 K, 2 PA
Verlander vs. Mets (career: 0-1, 22.50 ERA)
Ruben Tejada 1.000, 1 PA
Angel Pagan .500, 1 RBI, 2 PA
Jose Reyes .500, 2 PA
Jason Bay .250, 1 RBI, 2 BB, 3 K, 6 PA
Willie Harris .167, 2 K, 6 PA
Scott Hairston .000, 1 BB, 3 PA
Last series results
Mets won, 2-1, at Citi Field, June 22-24, 2010 (AP game recaps)
Mets 14, Tigers 6: Angel Pagan finished a homer shy of the cycle and had four RBIs, David Wright reached base five times and scored three runs, and the Mets routed the Tigers. Ike Davis had two hits and two RBIs in the third inning as the Mets batted around for seven runs, getting help from Jay Sborz, who became the first pitcher in eight years to hit the first two batters in his big league debut. Sborz was pitching in relief of Justin Verlander (8-5), who did not return to the mound after a 58-minute rain delay that began after he allowed an RBI double to Jason Bay in the third inning that gave New York a 3-0 lead. Detroit walked seven (one intentionally), hit two batters with pitches and allowed Jose Reyes to reach on a third strike that went to the backstop for a wild pitch. Pagan tied a career high with four hits. Wright had two singles, an RBI double, a sacrifice fly and two walks (one intentional). Reyes scored three runs and had three hits, and every position player except Rod Barajas drove in a run as the Mets set a season best for runs. Jon Niese did not allow a hit for the first three innings but sat 90 minutes between pitches thanks to the rain delay and struggled in the fourth, giving up a two-run homer to Brennan Boesch that went over the 415-foot sign in right-center. Niese labored in the fifth, too. Mets manager Jerry Manuel gave the left-hander every chance to earn his fourth straight win, but lifted him once he walked Brandon Inge to load the bases with two outs. Fernando Nieve (2-3) gave up an RBI single to Boesch in 2 1/3 innings and struck out four in a row. In the third, Davis singled before the rain arrived, then greeted reliever Brad Thomas with a two-run double in the inning that started at 8:06 p.m. and ended at 9:34 p.m. After the tarp was removed, Sborz, called up from Triple-A Toledo, hit Barajas with a pitch to load the bases and then plunked Jeff Francoeur to force in a run. Sborz's big league debut was over about as quickly as it started. He got just two outs, one on a diving stop by Inge, who tagged third base with his glove for a forceout, and a strikeout when Niese bunted foul for strike three. Sborz gave up five runs while getting just two outs. Justin Miller of the Toronto Blue Jays was the last pitcher to hit the first two batters in his big league debut. He did it on April 12, 2002, against Tampa Bay, according to STATS LLC. After being lifted, Sborz shook his head in the dugout. Verlander, who also allowed five runs, came over for a word.
Mets 5, Tigers 0: After eight innings, R.A. Dickey was only getting better. He'd only thrown 97 pitches and had retired his last 13 batters. He told Mets manager Jerry Manuel he wanted to finish the job, too. It was about the only thing Dickey didn't do. Francisco Rodriguez came on to get some much-needed work and finish off the Mets' win over Detroit. The Mets got an early solo homer from Jose Reyes and an RBI double from David Wright to send them on their way to their 21st win in 28 games, lifting them to 11 games above .500. Dickey (6-0) allowed four hits and two walks. He missed out on his second complete-game shutout -- he blanked the Tigers in 2003 -- only because Rodriguez hadn't pitched in a while and Manuel wanted to get him work. Dickey won for the sixth time in seven starts. K-Rod pitched a tidy ninth, working around the single he allowed to Miguel Cabrera, who went 0-for-3 against Dickey. Manuel emphasized that it was a difficult decision to pull Dickey, prompted in part because Rodriguez had indicated before the game that he would need to pitch. Dickey even worked a four-pitch walk off reliever Joel Zumaya in the seventh and wound up scoring. Angel Pagan, who finished a homer shy of the cycle and had four RBIs the night before, was lifted for a pinch-hitter in the seventh. Manuel said Pagan had spasms in his right side. Reyes led off the first inning with a triple and later singled, missing a cycle for himself by a double. He came around to score on Wright's double in the third, giving the Mets a 1-0 lead. Jeremy Bonderman (3-5) allowed four runs and seven hits before leaving in the seventh, after 70 pitches, without getting an out. He didn't speak to the media after the game, but reliever Phil Coke hinted Bonderman may have rather stayed in the game longer, too.
Tigers 6, Mets 5: Armando Galarraga won for the first time since his near-perfect game, Phil Coke struck out David Wright in a key spot and the Detroit Tigers held off the Mets. Magglio Ordonez and Ryan Raburn homered as the Tigers built a 6-1 lead through five innings and managed to avert a sweep. Detroit had been winless in interleague play at New York -- three losses at Shea Stadium and two at Citi Field. Galarraga (3-1) drew polite applause when he was announced before the game, fans still appreciating his show of sportsmanship after an umpire's missed call deprived him of perfection on June 2. The right-hander had received no-decisions in all three starts since. Galarraga held the Mets hitless until Jesus Feliciano's liner fooled left fielder Brennan Boesch and sailed over the rookie for a leadoff double in the fourth. Wright hit an RBI double in the sixth and made a headfirst dive home on Jason Bay's single to get the Mets within 6-4. Eddie Bonine relieved Galarraga to begin the seventh and Chris Carter's RBI single made it 6-5. Coke took over and Feliciano chopped an infield single that loaded the bases with one out. That brought up Wright, the NL RBI leader. After Coke threw two balls, Wright swung at the next five pitches -- two misses, two fouls and then strike three. Coke retired Ike Davis on a long fly to center field to preserve the one-run edge. The Mets threatened again in the eighth with a pair of two-out singles off Joel Zumaya. Carter sliced a drive to left and Boesch, having a tough day in the field, made a running catch toward the line. Boesch doubled in the ninth for his third hit and Don Kelly took over as a defensive replacement in the bottom half. Jose Valverde closed for his 17th straight save, striking out Wright to end it.