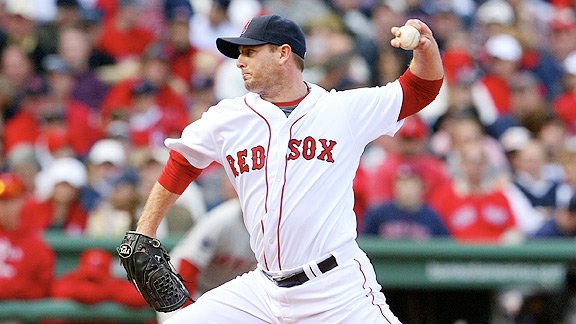 Jim Rogash/Getty Images
The Mets traded Billy Wagner to the Red Sox in August 2009, an example of how July 31 is not a hard deadline for trades.
With the Mets at .500 and 4½ games off the National League wild-card lead, certainly there can be no talk of dismantling at the trading deadline just yet. Frankly, though, July 31 is not much of a deadline for the Mets anyway -- other than regarding Jose Reyes.
Trades can, and often do, happen in August.
Generally, the only difference is that a player must clear waivers in order for his original team to have the option of dealing him anywhere during August. In July, a trade does not involve waivers.
For instance, if the Mets hold Carlos Beltran at the July 31 non-waiver trade deadline and then subsequently want to trade him because they have faded from contention, Beltran would secretly be placed on waivers.
If Beltran is claimed, the Mets have three options:
• Pull him back, which would prevent Beltran from being traded anywhere.
• Let the claiming team have Beltran and receive nothing in return other than the salary relief.
• Try to swing a trade with the claiming team. (If no trade can be worked out, Beltran then is pulled back and cannot be traded anywhere else.)
However, the far more likely scenario is that Francisco Rodriguez and Beltran would clear waivers in August and then could be traded to any of the 29 other teams. The players would need only to be traded before Sept. 1 in order to be eligible for the new team's playoff roster.
Why is it more likely than not that Beltran and K-Rod would clear waivers?
Well, because any team that puts in a claim on either of those players -- either out of genuine interest or to block a rival from getting them -- risks the Mets just dumping the contract on the claiming team.
An example: Say, hypothetically, Beltran is claimed by the Braves, because Atlanta desperately does not want the right fielder landing with the Phillies. Well, that is an awfully big financial gamble on the Braves' part simply to prevent the Mets from having the option of dealing Beltran to Philadelphia. If the Mets just let the claim go through, say on Aug. 10, without pulling Beltran back, Atlanta would be on the hook for the remaining 27.3 percent of Beltran's contract -- more than $5 million.
Similarly with K-Rod, not only would a claiming team be on the hook for the remaining portion of the closer's $11.5 million salary, it also would become responsible for the $17.5 million vesting option for 2012 if K-Rod finished a total of 55 games between the two teams. Or, the new team would be responsible for the entire $3.5 million buyout if K-Rod did not vest.
With rare exceptions, those financial gambles are simply too large.
(Reyes, obviously, would be too appealing to slip through waivers, so July 31 is a hard deadline for him.)
That is not to suggest such claiming maneuvers never happen. The Yankees, in early August of 2000, ended up stuck with Jose Canseco and his nearly $1 million remaining salary that season even though they had no interest in him. The claim was made presumably to block Canseco from getting to Oakland. Rather than pull back Canseco off waivers and hold him for the rest of the year, Tampa Bay simply let the claim go through and received the salary relief by handing Canseco over to the Yankees.
The Red Sox and Mets ended up doing business in August two years ago regarding Billy Wagner, after Boston put in a claim on the closer.
That ended up being a trade for appearance sake, with the Mets getting Chris Carter in return.
Had Red Sox GM Theo Epstein played chicken with the Mets and not offered any player in return, the Mets likely would have dumped Wagner on Boston anyway for the $3.3 million salary relief (including the buyout of Wagner's option for the 2010 season). After all, if the Mets had pulled back Wagner from waivers, they could not have traded him elsewhere later that month and instead would have had to pay Wagner that $3.3 million sum while out of contention.
The amount of money Boston took on was an atypically large amount. And it would seem unlikely to play out again with a claim on Beltran.
Boston put in the claim not only to get Wagner's services, but to pick up two draft picks by offering Wagner arbitration after the 2009 season and then watching him sign elsewhere. In Beltran's case, he reportedly is contractually prohibited from being offered arbitration, withdrawing that enticement in case a big-market club had designs on pulling off a maneuver like that again.
"In-depth" appears Tuesdays during the regular season