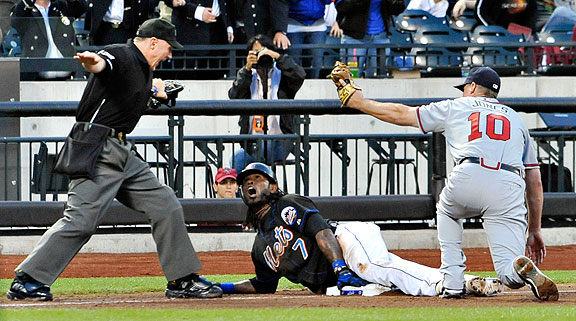 AP Photo/Kathy Kmonicek
The Jose Reyes triple has been a familiar and enjoyable sight for Mets fans this season
If you were watching Baseball Tonight on Monday, you would have heard a bold prediction from John Kruk on Jose Reyes.
When asked if Reyes would become the second player in the modern era to hit 30 triples in a season, Kruk cited Reyes' health, speed, the ballpark in which he plays, and the financial incentive of free agency as reasons to say yes.
"Why not?" he asked host Karl Ravech.
Most Triples in MLB
2011 Season
Kruk and some Mets fans, who have discussed the topic in other stories on the web and on internet message boards are in agreement. They think Reyes, who has 14 triples, has a legitimate chance to reach a mark only met in the last 112 years by Chief Wilson who set the major league record with 36 for the 1912 Pirates.
A check of Baseball-Reference.com Reyes joined Rod Carew (1977 Twins) and Curtis Granderson (2007 Tigers) as the only players since the end of World War II to reach 14 triples this quickly (78 team games).
A colleague of mine in Stats & Information, Ben Keeperman and I were discussing the subject, and he checked in with the Elias Sports Bureau on another piece of Reyes triples trivia.
With 14 triples, Reyes has four more triples than the Mets leader has in home runs (Carlos Beltran has 10 homers).
The last player to have more triples than any teammate's home run total was Twins shortstop Cristian Guzman, in 2000. He hit 20 that season, one more than the Twins leading homer hitter (Jacque Jones, 19). Reyes may finish with more triples than the Mets homer leader even if he gets traded away by July 31.
Comerica Park in Detroit is actually the perfect place for Reyes to add to his triples total because of its spacious outfield. There have been 23 triples hit at Comerica Park this season, the second-most in any ballpark in the majors (Kauffman Stadium in Kansas City has 28).
ESPN.com's Park Factors ranks Comerica as the second-friendliest triples park in the majors this season, because the rate of triples in Tigers home games to Tigers road games is nearly three-to-one (23-to-8). That's partly due to the Tigers version of Reyes, outfielder Austin Jackson, who has six triples this season, five at home.
In 2005, we suggested that Comerica Park, the site of that year's Home Run Derby, host a Triples Derby instead. Current Tigers third baseman Brandon Inge was one of the few who didn't laugh at the idea. His words made for good advice for Reyes.
"What I picture are hitting line drives, back towards the pitcher," said Inge, who now has 26 of his 37 career triples at Comerica Park, at the time. "If I do that, I end up hitting line drives to the gaps. It's such a huge outfield here that if I put the ball in the gap, the first thing I think is 'triple.' In fact, any time I hit a ball here, I'm thinking triple. There are catty corners where the ball can take a weird hop and bounce around.
"If you think 'double' here, you're underachieving."
How many triples will Jose Reyes hit this season?
Share your thoughts on his triples total in the comments section.