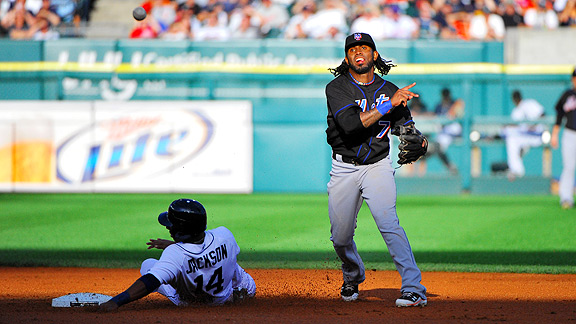 Steven King/Icon SMI
Jose Reyes turns a double play against the Tigers. At the plate, he reached base in all five plate appearances.
Jose Reyes is the last Met to hit for the cycle. And after hits in his first four at-bats on Tuesday, including a single, double and triple, he was aiming to repeat the feat in his fifth plate appearance. Instead, he walked. And manager Terry Collins pulled him for a pinch-runner from the lopsided game.
"In the last AB, I tried," Reyes said. "I was looking for something in. That pitcher never came in -- everything away. I'll take a walk any time."
Reyes has now had consecutive four-hit games. He was the last Met to do that, too.
"In interleague in Toronto," Reyes recalled. "It feels good. Every time you get four hits you have to feel good."
As for being pulled by Collins, Reyes said: "He just told me he was going to give me a couple of innings off. I didn't complain about it. I just said, 'I'll take it.'"
The Tigers estimated Reyes had swung at 153 pitches in the past two weeks and missed only three.
"He's got a real hot hand right now," Tigers manager Jim Leyland said. "He has that star status. He's dynamic -- an eye-catcher. He's having a real big year at the right time."