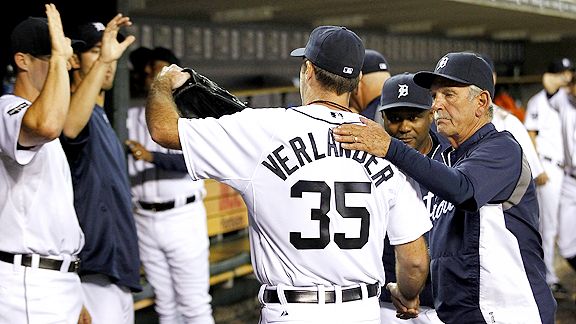 Leon Halip/Getty Images
The Tigers' stopper has had a June for the ages.A few statistical notes of interest on the Mets' matchup with Justin Verlander, as they go for the sweep of the Tigers on Thursday afternoon in Detroit ...
They're facing the best in the business
Verlander is having an all-time sort of month, with a 5-0 record and 0.86 ERA in June. (Remember, his no-hitter came in May in Toronto.) In 42 innings, Verlander has struck out 48 and walked only four. It's an interesting debate as to who has been better this month -- Verlander or Phillies lefty Cliff Lee.
Lee may have the better June ERA -- 0.21, to go along with a 5-0 mark and three straight shutouts, but advanced pitching metrics such as FIP (Fielding Independent Pitching), which value strikeouts and walks more highly, give the edge to Verlander and his 12-1 strikeout-to-walk rate.
If Verlander were to win AND keep his ERA for the month below 1.00, he'd be the first with a 6-0 month and a sub-1.00 ERA in a calendar month since a pitcher very familiar to Mets fans –- Kenny Rogers -- did so for the Rangers when he went 6-0 with an 0.98 ERA in May 2005.
Daniel Murphy is Due
ESPN Stats & Information's pitch performance data, culled via Inside Edge and Pitch F/X, showed something interesting on hot-hitting first baseman Daniel Murphy.
Murphy has swung at 25 pitches from right-handers this season that registered 95 mph or faster by Pitch F/X's tracking. Murphy has fouled off 18 of those 25 pitches. He's only missed one. The other six times Murphy made contact on something 95-plus from a righty, he made an out -- most recently a sacrifice fly against Rangers starter Alexi Ogando on Saturday.
That high a foul ball rate (72 percent) is indicative that Murphy's timing is just an eye-blink off the sort of contact that would produce some solid line drives. ESPN baseball analyst Doug Glanville said such a rate is likely indicative of a "slow top hand." Mets hitting coach Dave Hudgens told Adam Rubin: "I think when a guy fouls the ball straight back, he's just missing a little bit -- maybe just underneath the ball a little bit."
Murphy doesn't have the best history against pitches of this speed. He'll see plenty of them from Verlander, whose average fastball velocity of 95 mph is the fastest of any starting pitcher in the majors. Murphy is just 2-for-25 when he puts the ball in play against a 95-plus pitch from a righty, dating back to the start of the 2009. The average hitter gets hits on about 30 percent of the time when he puts pitches of such speed into play.
Jose Reyes won't have any fear of such a pitch. He's only missed once on 24 swings against such heat this season. He's 6-for-15 when putting a 95-plus pitch (from a lefty or righty) into play this season.
The Mets are Hot
The Mets have scored at least eight runs in their last four games, matching the best such streak in club history. Three of the other four Mets teams to post such a run made the postseason –- 1969, 2000 and 2006. The only one that didn't was the 1998 squad, eliminated on the final day of the regular season.
Stat of the Day
The Mets have 14 triples this month, matching the mark for most triples in a calendar month, previously set in July 1979.