The Mets went 4-2 on their road trip to Texas and Detroit. The two losses were charged to Mike Pelfrey. And he willingly acknowledged that fact after the Mets fell short of a series sweep with a 5-2 loss to the Tigers on Thursday afternoon.
"You're happy we had a good road trip," Pelfrey said. "We won two series from two very good teams. But I want to get in on the winning, too. We went 4-2, and I pitched the two games we lost. So that's tough from that standpoint."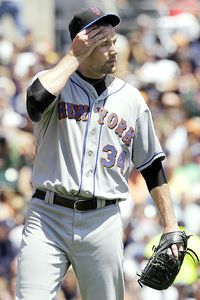 AP Photo/Paul Sancya
Mike Pelfrey was charged with both losses on the road trip.
Pelfrey was charged with five runs (four earned) on eight hits while matching a career-high with five walks against the Tigers. His pitch count was quickly driven up, and he finished with 109 pitches in 4 2/3 innings.
"My command was bad against the Rangers, and it was worse today," Pelfrey said. "Fastball command was not good at all. What made the outing decent in Texas, after giving up the first three (runs in the first inning), I had a good slider after that. I can't say I had a good secondary pitch today, either. That's tough, especially when you're going up against a lineup like that."
Pelfrey is now 4-7 with a 4.92 ERA this season.
"It's not where I wanted to be," he said. "It's not what I envisioned. It's not what I planned. I have to have a lot better second half. Obviously I thought that May and June was a lot better than April. April was bad. But I thought the last two months have been better. But this was a bad road trip for me."
One of the runs that scored when Pelfrey was pitching was unearned, when Angel Pagan threw wide of third base on Ramon Santiago's third-inning single to right-center, allowing a second run to score on the play. Pagan's throw was ill-advised since Jhonny Peralta had third base easily anyway, but Pelfrey took responsibility for not backing up the play. He said he initially was going to back up the plate, but decided that was not going to be needed and froze.
"I immediately went to go back up home," Pelfrey said. "I didn't get there. I kind of stopped because I said, 'Hey, there's not a play at home.' I looked, and by that time that ball was already going (toward this base). But that's on me. I should have been there. I didn't even get to home. I kind of let up when I saw the ball wasn't going to be at home. I let up. That's on me more than anybody."