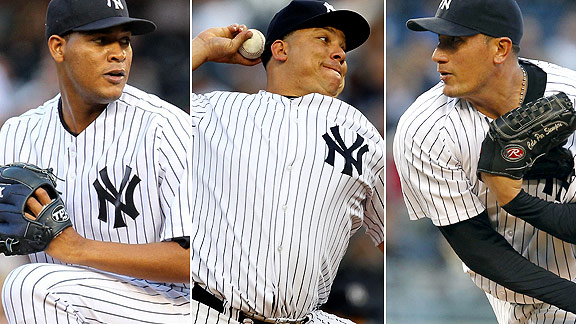 US Presswire/Getty Images
The Mets face (l to r) Ivan Nova, Bartolo Colon and Freddy Garcia this weekend at Citi Field.
METS (41-40, third place/NL East) vs. NEW YORK YANKEES (48-31, first place/AL East)
Friday: LHP Jon Niese (7-6, 3.67) vs. RHP Ivan Nova (7-4, 4.26), 7:10 p.m. ET
Saturday: RHP Dillon Gee (8-1, 3.32) vs. RHP Bartolo Colon (5-3, 3.10), 4:10 p.m. ET
Sunday: RHP R.A. Dickey (4-7, 3.77) vs. RHP Freddy Garcia (7-6, 3.28), 1:10 p.m. ET
Yankees short hops
• The Yankees come into Queens having won five consecutive Interleague Series. The American League East-leading Bronx Bombers are 1-8 against the Red Sox, but 47-22 against everyone else.
• Derek Jeter's quest for 3,000 hits likely will resume Monday in Cleveland, meaning he will miss the Subway Series. Jeter, who has been out since June 13 with a calf injury, will play a pair of rehab games at Double-A Trenton this weekend. The Yankees captain is six hits shy of becoming the 28th player to join the 3,000-hit club. Eduardo Nunez has started at shortstop in Jeter's absence. Nunez has made nine errors and has an .892 fielding percentage through 26 games (21 starts) at the position.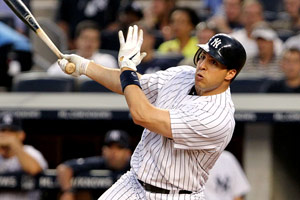 Anthony Gruppuso/US Presswire
Mark Teixeira produced his 300th career homer Thursday.
• Since he opted out of the lineup after being asked to bat ninth on May 14 against Boston, Jorge Posada is hitting .326 with three home runs and 12 RBIs. In that span, he's raised his average from .162 to .240. Posada probably is the odd-man out of the lineup in the National League ballpark with no designated hitter, unless Joe Girardi gives him one game at first base.
• After trading Sergio Mitre on the eve of the season, the Yankees reacquired the right-handed reliever for cash Wednesday. Mitre, a Yankee the previous two seasons, had been 0-1 with a 3.27 ERA in 33 innings spanning 22 innings for Milwaukee this season.
• Right fielder Nick Swisher is hitting .320 since May 27, which has allowed him to raise his batting average from .204 to .251. Swisher also has eight homers and 24 RBIs during that span.
• Right-hander David Robertson began the season as the Yankees' sixth-inning guy, but injuries to Rafael Soriano and Joba Chamberlain (season-ending Tommy John surgery) pushed Robertson into the setup role, and he's flourished ever since. Robertson, who boasts a 1.11 ERA, leads all relievers in strikeouts with 52.
• Mariano Rivera, who has converted 21 of his first 24 save opportunities in 2011, has yet to allow a run at home this season (20 innings). On the road, however, the 41-year-old has a 4.76 ERA (six earned runs in 11 1/13 innings).
• Left-handed specialist Boone Logan has struggled to get left-handed hitters out this season (.265), but ever since he received a pep talk from Alex Rodriguez in Cincinnati, he hasn't allowed a run in his last four appearances (three innings, four strikeouts).
• First baseman Mark Teixeira belted his 25th homer Thursday, off Milwaukee's Randy Wolf, to move one ahead of Toronto's Jose Bautista for the major league lead. It was the 300th long ball of Teixeira's career, a level A-Rod and fellow teammate Andruw Jones also have achieved. Teixeira is on pace for 51 homers this season. His career-high in that department is 43, which he hit with Texas back in 2003. Teixeira also ranks second in the American League in RBIS with 63, trailing only Boston's Adrian Gonzalez (71).
• A-Rod hasn't homered since June 11, but his offensive production hasn't suffered. Over his last 15 games (14 starts), he is batting .377 with 14 RBIs. The 35-year-old has also played great defense at third base, where he has committed only four errors.
• Brett Gardner, who moved up to the leadoff spot in Jeter's absence, is batting .333 in his last 24 games (20 starts), raising his average from .244 to .274 in the process. However, Gardner has struggled to steal bases -- at least until Thursday, when he swiped a pair. He has stolen 19 bags, but also been caught 10 times.
• Center fielder Curtis Granderson hasn't homered in his past 13 games, and is hitting just .238 over that span.
• Bartolo Colon and Freddy Garcia, both signed to minor-league deals in the offseason, have been the Bombers' unsung heroes. Garcia, who will start Sunday against the Mets, is 7-6 with a 3.28 ERA, while Colon, who is slated to return on Saturday versus the Amazin's, is 5-3 with a 3.10 ERA. The 38-year-old Colon has been out since June 12 with a hamstring injury.
• Catcher Russell Martin snapped a homerless streak of 68 at-bats when he went deep on Wednesday night against Milwaukee. Martin is hitting just .230 this season, but leads the AL All-Star voting at catcher.
• In his last 12 starts, rookie Ivan Nova, who will face the Mets on Friday, is 6-2.
• In his first 78 games in 2010, second baseman Robinson Cano hit .353 with 16 home runs and 54 RBIs. In his first 78 games in 2011, Cano hit .289 with 14 homers and 49 RBIs.
• CC Sabathia, who does not appear in the series, became the majors' first 10-game winner. He tied Chien-Ming Wang in becoming the fastest Yankee pitcher in the last 30 years to reach 50 wins -- 85 starts.
• Last June, A.J. Burnett was 0-5 with an 11.35 ERA. This June, Burnett finished 3-3 with a 4.15 ERA.
Matchups
Niese vs. Yankees (career: never faced)
Gee vs. Yankees (career: never faced)
Dickey vs. Yankees (career: 3-1, 2.39)
Francisco Cervelli .667, 1 RBI, 3 PA
Alex Rodriguez .545, 1 RBI, 2 K, 11 PA
Brett Gardner .400, 2 RBI, 1 K, 5 PA
Russell Martin .250, 1 BB, 5 PA
Curtis Granderson .231, 1 RBI, 1 BB, 3 K, 14 PA
Mark Teixeira .222, 1 HR, 1 RBI, 2 K, 9 PA
Robinson Cano .167, 1 BB, 1 K, 7 PA
Nick Swisher .000, 1 RBI, 1 BB, 4 K, 10 PA
Jorge Posada .000, 2 BB, 2 K, 7 PA
Ramiro Pena .000, 1 PA
Nova vs. Mets (career: 0-0, 4.05 ERA)
Willie Harris 1.000, 1 RBI, 3 PA
Fernando Martinez .667, 1 K, 3 PA
Jason Bay .667, 3 PA
Jason Pridie .500, 1 RBI, 1 BB, 3 PA
Ronny Paulino .333, 1 RBI, 3 PA
Daniel Murphy .250, 4 PA
Carlos Beltran .250, 1 K, 4 PA
Jose Reyes .000, 4 PA
Justin Turner.000, 3 PA
Colon vs. Mets (career: 4-5, 6.07 ERA)
Jose Reyes .667, 1 RBI, 3 PA
Willie Harris .500, 1 BB, 3 PA
Carlos Beltran .316, 4 HR, 7 RBI, 5 BB, 10 K, 43 PA
Jason Bay .000, 2 K, 3 PA
Garcia vs. Mets (career: 1-2, 2.61 ERA)
Ronny Paulino 1.000, 1 HR, 1 RBI, 1 BB, 4 PA
Justin Turner 1.000, 1 RBI, 3 PA
Carlos Beltran .438, 3 HR, 10 RBI, 5 BB, 3 K, 38 PA
Scott Hairston .400, 1 RBI, 1 BB, 2 K, 6 PA
Daniel Murphy .333, 1 HR, 1 RBI, 3 PA
Fernando Martinez .333, 3 PA
Willie Harris .250, 3 K, 13 PA
Jose Reyes .143, 7 PA
Jason Bay .000, 1 BB, 4 K, 11 PA
Ruben Tejada .000, 1 K, 3 PA
Josh Thole .000, 3 PA
Jason Pridie .000, 1 K, 3 PA
Last series results
Yankees won, 2-1, at Yankee Stadium, May 20-22 (AP game recaps)
Mets 2, Yankees 1: R.A. Dickey regained command of his knuckleball and confounded the Yankees for six innings, Daniel Murphy homered and a youthful Mets lineup won the Subway Series opener in front of a surprisingly lackluster New York crowd. Justin Turner had three hits, including a tying double off Freddy Garcia (2-4) to give him an RBI in six straight games. Jose Reyes made a run-saving play at shortstop and Francisco Rodriguez converted his 15th save in a row for the resurgent Mets (22-22), winners of 10 of 14. Mark Teixeira homered for the Yankees, who have lost six straight at home for the first time since 2003. K-Rod, pitching in the Mets' fifth consecutive game, worked a 1-2-3 ninth. The bullpen put up three perfect innings in relief of Dickey (2-5), who delivered the latest strong outing after New York threw consecutive shutouts against Washington. Dickey had not won in eight starts, since his first outing this season on April 3. He held the Yankees to four hits and a run. One pitch after Teixeira sent a shard of his bat flying toward second base on a foul ball, he lofted a third-inning drive that made it into the first row of seats in Yankee Stadium's short right field, just over the glove of a leaping Carlos Beltran. Filling in for Wright at third base, Turner sliced a run-scoring double to right in the fourth. He nearly had his 12th RBI over the six-game stretch in the sixth but his second double bounced into the stands, keeping the runner at third. Reyes made up for two frustrating plays in the fifth with a diving stop deep behind second base and a strong throw to deny Alex Rodriguez a two-out RBI single. Reyes swung his arm in anger after Derek Jeter beat out an infield hit to deep shortstop. That play came after Brett Gardner reached leading off when first base umpire Jeff Kellogg ruled Reyes' throw pulled Murphy off the bag for an error. A night after benefiting from an apparent bad call at first base that aided their 1-0 victory, replays showed Murphy was on the base and Gardner should have been out. No matter, Dickey retired Curtis Granderson on a pop to shallow right field and Teixeira struck out before Reyes' play that made the Yankees 1-for-7 with runners in scoring position to that point. They finished 1-for-10. Murphy led off the sixth with a liner into the right-field seats for a 2-1 lead.
Yankees 7, Mets 3: Mark Teixeira homered for the third straight game, Alex Rodriguez also connected and the Yankees went deep four times to back A.J. Burnett in a victory over the Mets. Russell Martin and Curtis Granderson also homered as the Yankees evened the Subway Series at one apiece and snapped a six-game skid at home -- their longest since 2003. The Yankees have scored a whopping 52.2 percent of their 226 runs on homers this season. Trotting around the bases four times, they won a game in which they did not strand a runner for the first time since April 26, 1988, against Kansas City. Derek Jeter had two hits, scored twice and got his 326th career stolen base, tying Hall of Famer Rickey Henderson for the Yankees record. All four Yankees homers came off Chris Capuano (3-5), who allowed only 11 runs in his previous five starts. Burnett (5-3) shook off a rough start and bounced back from a disappointing outing, when he squandered a four-run lead at Tampa Bay and took a loss that left the Yankees with a six-game slide. This time, he fell behind 2-0 in the first inning but pitched into the seventh. Drafted by the Mets in 1995 and traded to Florida in a 1998 package for Al Leiter, Burnett yielded three runs and six hits in 6 1/3 innings against his former club. David Robertson entered with runners at the corners in the seventh, but struck out Carlos Beltran and retired Jason Bay on a popup. Joba Chamberlain needed nine pitches to get through a perfect eighth and Luis Ayala worked a 1-2-3 ninth.
Yankees 9, Mets 3: Once again, a team intentionally walked Mark Teixeira to pitch to Alex Rodriguez. Once again, A-Rod came up with a big hit, even though this one didn't travel very far. After Derek Jeter tied the score with a two-run single, Rodriguez followed Teixeira's walk with a 55-foot, six-hop single that put the Yankees ahead during an eight-run seventh inning that led them over the Mets. Back in first place in the AL East, the Yankees took two of three from their crosstown rival. The Mets led 3-1 heading into the seventh. Curtis Granderson's 16th homer put the Yankees ahead in the first against Mike Pelfrey (3-4), but the Mets plowed ahead in the second when Willie Harris and Jason Pridie hit run-scoring singles around Ronny Paulino's RBI comebacker. While Ivan Nova allowed 11 hits in 6 2/3 innings, all but the last was a single. Brett Gardner singled between Pelfrey's legs and into center leading off the seventh, Chris Dickerson walked and Francisco Cervelli was hit on a shoulder with a pitch when he squared to bunt. Jeter, who had been 3-for-24 this year with runners in scoring position and less than two outs, grounded the next pitch up the middle, just to the side of Pelfrey's glove at the mound and past diving shortstop Jose Reyes behind second. Two runs scored on the single, just the second time since Aug. 11 that Jeter tied the score or put the Yankees ahead from the seventh inning on. Tim Byrdak relieved, Granderson sacrificed and the Mets walked Teixeira, a move that usually backfires when A-Rod is up next. This time was no different. Rodriguez reached outside for the first pitch from Pedro Beato. While third baseman Willie Harris picked up the slow roller, he had no play as A-Rod reached and Gardner sprinted home. Rodriguez is 7-for-13 (.538) with three homers and 23 RBIs in 18 career plate appearances following intentional walks, including 6-for-8 with 19 RBIs following intentional walks to Teixeira. Both A-Rod and Teixeira were aware of the statistic, which was flashed on the scoreboard. Robinson Cano singled to right for a 5-3 lead, and, after Jorge Posada took a called third strike, Gardner hit a two-run double off Pat Misch. Chris Dickerson, starting in place of slumping right fielder Nick Swisher, blooped a two-run single to left that capped the Yankees' biggest inning of the season. The Yankees sent 13 batters to plate, and their Nos. 7-9 hitters reached twice apiece in the inning.