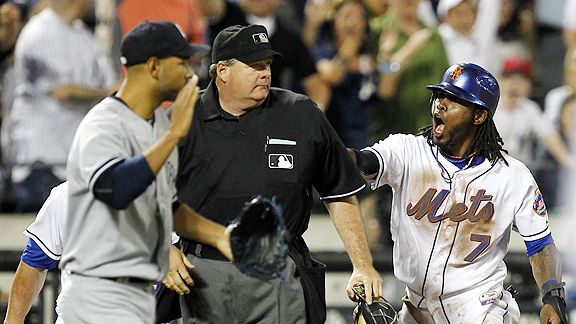 Noah K. Murray/The Star-Ledger/US Presswire
Jose Reyes gives an earful to ump Jerry Layne after a controversial out call at third base.
Here are quotes to a pool reporter from plate umpire Jerry Layne, who called out Jose Reyes in the seventh inning on a tag apparently missed by Alex Rodriguez. Layne may have been partly screened because he was rotating to cover third base on the play.
Your comments on play at third base?
"You see what it is," Layne said. "It was a close play at third base, and I'm not going to comment about the ejection. I had him tagging him, you know, on the side by the belt/buttocks are for an out."
The Mets argued that A-Rod missed the tag?
"Yes."
You clearly saw a tag?
"I called what I saw."
That was your call?
"That was my call, yeah."
Meanwhile, Terry Collins said he had no problem with Reyes' aggressiveness, which took a runner off the bases for Carlos Beltran.
"His instincts said he should go to third," Collins said. "Sometimes you can't corral a guy who plays like that. I have no problem with it. None whatsoever. He's done that all year for us, and nine out of 10 he's safe and created runs. And that energy picks the club up. It probably would have been a little different situation if it had been somebody else."