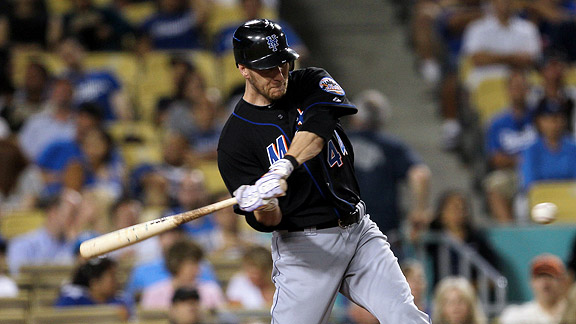 Stephen Dunn/Getty Images
Jason Bay had his third two-homer game as a Met on Tuesday night at Dodger Stadium.
Minus Jose Reyes, who has a strained left hamstring, the Mets sure could use a lift from Jason Bay. They got it Tuesday night in a 6-0 win at Dodger Stadium, with Bay slugging two homers and producing four RBIs.
Bay now is hitting .347 (25-for-72) in his past 18 games. It marked his 16th career multi-homer game.
"You struggle and you struggle, and sometimes you doubt yourself," Bay said. "Then you have games like tonight and you remember you're still the same guy. You are that guy. Sometimes I think you lose sight of that through an extended struggle. Like I've told you guys all along, I feel like I'm that same guy. It's just trying to be him, trying to just get out there and just do the things that I'm doing. I'm not trying to do any more. … I just want to be me. And I feel like I'm getting there."
All six of the Mets' runs came via the long ball -- on a two-run homer by Carlos Beltran in the fifth and a solo shot in the sixth by Bay off Ted Lilly, then on a three-run eighth-inning shot by Bay off reliever Blake Hawksworth.
"That's the first time I think in a long time that's happened to us," Terry Collins said about the Mets using exclusively the long ball to produce runs.
In fact, the last time the Mets scored six or more runs, with all the runs being driven in via homers, came on May 4, 2009 in a 6-4 win at Atlanta. That day, Beltran had a pair of two-run homers and David Wright had a two-run shot as well, according to ESPN Stats & Information.
Specifically about Bay, Collins said: "When you read into Jason Bay's history, when he gets going, he can carry you for a while. With our situation with Jose out now, to have Jason Bay swinging the bat the way he is in the middle of the lineup, I'll tell you, that adds a huge lift to our offense."
"Now I feel like I'm being more of a hitter instead of a swinger," Bay said, before reassessing the choice of the word "swinger" with a chuckle.