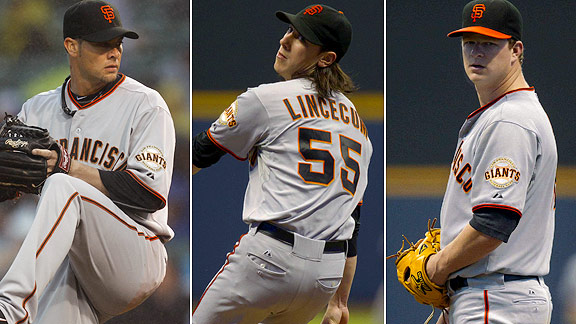 US Presswire
The Mets face (l to r) Ryan Vogelsong, Tim Lincecum and Matt Cain in San Francisco to close the first half.
METS (45-43, third place/NL East) vs. SAN FRANCISCO GIANTS (50-39, first place/NL West)
Friday: RHP R.A. Dickey (4-7, 3.68) vs. RHP Ryan Vogelsong (6-1, 2.13), 10:15 p.m. ET
Saturday: LHP Chris Capuano (8-7, 4.19) vs. RHP Tim Lincecum (6-7, 3.14), 9:05 p.m. ET
Sunday: RHP Mike Pelfrey (5-7, 4.64) vs. RHP Matt Cain (7-5, 3.22), 8:05 p.m. ET, ESPN
Giants short hops
• The Giants have four All-Star pitchers -- Brian Wilson, Tim Lincecum, Matt Cain and Ryan Vogelsong -- the most pitchers ever to represent the franchise. San Francisco last had four All-Stars in 1993, with Barry Bonds, Robby Thompson, John Burkett and Rod Beck. That team, under Dusty Baker, won 103 games.
• Wilson, who will serve as the National League closer, was selected by the players. NL skipper Bruce Bochy tabbed the other three pitchers, all of whom start against the Mets this weekend. Bochy received flak in Pittsburgh for selecting Carlos Beltran over Andrew McCutchen, although McCutchen actually may fill Jose Reyes' roster spot. Florida Marlins manager Jack McKeon also criticized the exclusion of his pitcher, Anibal Sanchez. Bochy also managed the NL All-Stars in 1999, a year after getting swept by the Yankees in the World Series with the San Diego Padres.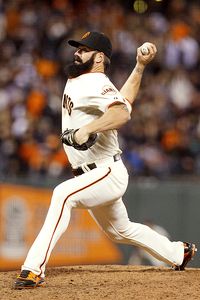 Jason O. Watson/US Presswire
Closer Brian Wilson blew saves on consecutive days last week.
• Vogelsong became the first player in 65 years to be absent from the majors for four full seasons, then earn an All-Star bid in his first season back. The last: Mickey Harris, who missed the 1942 to '45 seasons while serving in the Air Force during World War II. Since he last appeared in the majors with Pittsburgh in 2006 as a reliever, Vogelsong had undergone Tommy John surgery, pitched in Japan and Venezuela, and in the minors. He originally was promoted in mid-April as a reliever, then stepped into the rotation when Barry Zito was injured.
• Cain will not be active for the All-Star Game because he pitches the final game before the break. He went 4-0 with a 1.65 ERA in six June starts. In his final outing last month, Cain became the fifth Giant to record 1,000 strikeouts, joining Juan Marichal, Gaylord Perry, Jason Schmidt and Lincecum. Cain allowed five runs in seven innings against the Padres on Tuesday, during an outing that was passable until he hung a slider to Cameron Maybin in the sixth for a two-out, two-run triple.
• Lincecum had a rough three-start stretch in early June, allowing 16 earned runs in 15 1/3 innings. However, the Freak has appeared to right himself. Unlike last August, when Lincecum was not in proper throwing shape and his fastball sagged to 89 mph, this swoon had more to do with bad pitch locations.
• Wilson blew saves on consecutive days last week, but nonetheless has converted 25 of 29 chances this season. The latter of those recent blown saves came at Detroit when Wilson inherited runners at first and third in the eighth inning and surrendered an RBI single to Magglio Ordonez.
• Zito, whom the Mets will not face, is 3-0 with a 1.29 ERA since returning from the disabled list. That means Jonathan Sanchez, currently on the DL, likely will be the odd-man out of the rotation when he is activated. There is not a lot of room in the bullpen, either. Zito is in the midst of a seven-year, $123 million deal that runs through 2013.
• After a woeful start at the plate and at shortstop, Miguel Tejada has heated up production-wise and may have found a home at second base. Tejada produced his 12th grand slam Saturday. Only Alex Rodriguez, Carlos Lee and Jason Giambi have more among active players. In his past nine games, Tejada is hitting .375 with two homers and six RBIs. Tejada had never manned second base before starting at the position Tuesday and Wednesday. He has looked solid and may now serve as the primary player there for the Giants. Tejada has not yet been required to pivot at second base with a runner blindly bearing down. The Giants became desperate for a second baseman because Freddy Sanchez is out with a separated shoulder and Mike Fontenot's groin injury continues to nag him during a rehab assignment. San Francisco even took a shot at Bill Hall, who was released by the Houston Astros. Hall is in danger of being dumped because of poor production (.158 in 38 at-bats with San Francisco). More immediately Hall has to deal with seven stitches to his lower leg and a probable DL trip after being spiked Thursday by Jason Bartlett.
• Third baseman Pablo Sandoval has resumed strong production since returning from the disabled list and is the only bona fide bat in San Francisco's lineup. In 23 games since being activated following a six-week absence, Sandoval has hit .293 with three homers and 13 RBIs. He is a completely different player than a year ago, when he produced a .263 average and 13 homers in 563 at-bats. Thinner and more agile, he is staying back on pitches at the plate, although Sandoval remains a free swinger. Case in point: He delivered a two-run double Thursday on a pitch virtually at ground level.
• Left-handed reliever Jeremy Affeldt suffered a freak, and relatively mild, injury Tuesday: He tweaked a calf muscle celebrating a win with teammates.
• Bochy has had a chore keeping as many as six outfielders happy with playing time. Right fielder Nate Schierholtz and center fielder Andres Torres see the primary action at those positions, along with Aaron Rowand or Cody Ross in left field. Rowand has picked up his offensive production, in part by limiting a tendency to chase sliders off the plate. The ex-Marlin Ross' playing time has been limited of late by a leg injury. Pat Burrell largely is the odd-man out, only getting starts occasionally against left-handed pitching. Burrell's career numbers against the Mets: 42 homers and 106 RBIs in 547 at-bats.
• With Buster Posey lost to a series left leg injury suffered in a May 25 plate collision against the Marlins, San Francisco is using a pair of fringe catchers behind the plate: Eli Whiteside (.225) and Chris Stewart (.179).
• First baseman Brandon Belt (broken wrist) was activated from the disabled list and optioned to Triple-A Fresno.
• The Giants are the subject of a "Hard Knocks"-style Showtime documentary.
Matchups
Dickey vs. Giants (career: 0-1, 4.85)
Nate Schierholtz .400, 1 RBI, 1 BB, 6 PA
Cody Ross .333, 1 RBI, 1 BB, 2 K, 10 PA
Aaron Rowand .333, 1 RBI, 9 PA
Bill Hall .333, 1 HR, 2 RBI, 2 K, 6 PA
Pablo Sandoval .333, 1 RBI, 1 K, 3 PA
Emmanuel Burriss .333, 1 RBI, 3 PA
Miguel Tejada .182, 1 BB, 1 K, 12 PA
Aubrey Huff .111, 9 PA
Pat Burrell .000, 1 K, 1 PA
Capuano vs. Giants (career: 1-4, 5.31 ERA)
Pablo Sandoval 1.000, 1 PA
Aubrey Huff .714, 1 BB, 1 K, 8 PA
Bill Hall .667, 1 K, 3 PA
Cody Ross .429, 1 HR, 2 RBI, 3 K, 7 PA
Pat Burrell .364, 1 HR, 3 RBI, 1 BB, 4 K, 12 PA
Miguel Tejada .333, 1 BB, 1 K, 4 PA
Nate Schierholtz .333, 1 K, 3 PA
Aaron Rowand .200, 2 K, 5 PA
Chris Stewart .000, 2 PA
Andres Torres .000, 1 PA
Eli Whiteside .000, 1 PA
Pelfrey vs. Giants (career: 2-1, 2.04 ERA)
Bill Hall .667, 1 RBI, 3 PA
Eli Whiteside .429, 1 BB, 1 K, 9 PA
Aubrey Huff .333, 1 K, 12 PA
Cody Ross .304, 5 RBI, 3 K, 26 PA
Pat Burrell .250, 2 BB, 2 K, 10 PA
Emmanuel Burriss .250, 1 K, 4 PA
Aaron Rowand .235, 2 RBI, 17 PA
Pablo Sandoval .200, 2 K, 10 PA
Miguel Tejada .111, 1 RBI, 1 BB, 1 K, 11 PA
Nate Schierholtz .000, 1 BB, 1 K, 10 PA
Vogelsong vs. Mets (career: 1-0, 4.15 ERA)
Josh Thole 1.000, 2 PA
Scott Hairston .667, 1 K, 3 PA
Carlos Beltran .400, 1 HR, 3 RBI, 1 BB, 1 K, 6 PA
Daniel Murphy .000, 1 BB, 3 PA
Lucas Duda .000, 2 K, 2 PA
Jason Pridie .000, 2 PA
Lincecum vs. Mets (career: 2-1, 3.07 ERA)
Ronny Paulino .667, 3 PA
Carlos Beltran .462, 1 HR, 4 RBI, 4 BB, 1 K, 17 PA
Daniel Murphy .400, 1 RBI, 1 K, 5 PA
Josh Thole .333, 1 K, 3 PA
Ruben Tejada .333, 3 PA
Jason Bay .286, 2 BB, 4 K, 9 PA
Willie Harris .231, 3 K, 13 PA
Angel Pagan .143, 1 K, 7 PA
Scott Hairston .111, 2 BB, 4 K, 11 PA
Jason Pridie .000, 1 BB, 1 K, 3 PA
Cain vs. Mets (career: 4-3, 4.03 ERA)
Jason Bay .571, 1 RBI, 3 BB, 10 PA
Carlos Beltran .462, 4 RBI, 1 BB, 1 K, 14 PA
Willie Harris .308, 1 RBI, 1 BB, 3 K, 15 PA
Daniel Murphy .250, 1 RBI, 1 BB, 6 PA
Scott Hairston .200, 1 HR, 2 RBI, 4 BB, 6 K, 20 PA
Ronny Paulino .143, 2 K, 7 PA
Angel Pagan .000, 1 BB, 2 K, 6 PA
Ruben Tejada .000, 1 K, 3 PA
Last series results
Giants won, 2-1, at Citi Field, May 3-5 (AP game recaps)
Giants 7, Mets 6 (10 innings): Josh Thole grounded into an inning-ending double play with the bases loaded in the ninth and Aubrey Huff ended an 0-for-20 slide with a leadoff homer in the 10th. Nate Schierholtz homered for the Giants, who snapped out of their offensive slumber and touched up New York knuckleballer R.A. Dickey for six runs in six innings. The defending World Series champions, shut out three times in their previous six games, entered with the second-worst offense in the National League. Javier Lopez (1-0) and Francisco Rodriguez escaped dicey jams in the ninth before Huff sent a 2-0 pitch from Taylor Buchholz (1-1) off the facing of the right-field overhang for his third home run. Before that, Huff was in a 3-for-37 rut with one RBI during that stretch. He entered the game batting .190. Brian Wilson got three outs to earn his ninth save in 10 chances. Carlos Beltran hit a three-run homer and Ike Davis a two-run shot for the Mets off Ryan Vogelsong, a winner last week at Pittsburgh in his first major league start since 2004. The 33-year-old journeyman was a brief respite for the Mets while facing Roy Halladay, Cliff Lee and Tim Lincecum in a four-game stretch. New York had the bases loaded in the bottom of the ninth, but Thole grounded into a 1-2-3 double play against Lopez to end the inning. The Mets went 2-for-12 with runners in scoring position. They are hitting .228 in those situations this season, including .107 (3-for-28) over the last two games. San Francisco scored four times in the third to take a 4-3 lead, getting RBI singles from Vogelsong and Aaron Rowand before Mike Fontenot's two-run single capped the rally. Schierholtz's homer put the Giants up 6-5 in the sixth, but Jose Reyes tied it in the bottom half with a broken-bat RBI single over a drawn-in infield. Reyes drew three walks, one intentional, after coming into the game with eight this season. He finished 3-for-3 with a stolen base.
Giants 2, Mets 0: With a boisterous bunch of orange-and-black clad fans in the crowd and weather conditions similar to home, Tim Lincecum knew the formula was right for a special night. Lincecum struck out 12 to surpass Christy Mathewson for most double-digit strikeout games in Giants history and Pat Burrell hit a tiebreaking single against his favorite opponent, lifting San Francisco over the Mets. Lincecum (3-3) gave up five hits in seven innings, throwing 127 pitches for his most since Aug. 28, 2009. He struck out his final five batters. Four Giants relievers completed the six-hitter, with Brian Wilson working a perfect ninth for his 10th save. Mike Fontenot added an insurance run with an RBI single off Chris Capuano (2-3) in the seventh and Aubrey Huff had three more hits to lift his average over .200. The defending World Series champions won two in a row for the first time since April 18-19 and have won just five of their last 13 games. The Mets struck out 16 times, a season high for a nine-inning game, and were 1-for-9 with runners in scoring position. New York faced a Cy Young winner for the third time in four games, going up against Roy Halladay and Cliff Lee the previous series in Philadelphia. Lincecum was the most dominant. The Freak needed 26 pitches to get through the first inning, yielding a one-out double to Daniel Murphy. But he didn't allow a runner to reach third until the sixth. Lincecum has three double-digit strikeout games this year and 29 for his career. Mathewson played all but one of his games for the New York Giants from 1900-1916. After giving Lincecum one run of support in his last two outings -- both losses -- the Giants were scoreless until Burrell's RBI single. Burrell has always hit well against New York. He has 42 homers and 106 RBIs against the Mets, best off any opponent. This time he hurt the Mets with a simple single. Fontenot led off the sixth with a walk and Huff followed a strikeout with his third hit of the game and fourth in four at-bats before Burrell's hit put them ahead. Capuano intentionally walked Miguel Tejada with two outs to load the bases. But Lincecum bounced back to the mound to end the threat. Lincecum gave up a leadoff double to Carlos Beltran and a single to Ike Davis in the bottom of the sixth, but got Ronny Paulino to pop foul. Freddy Sanchez made the catch on the warning track beyond the Mets dugout and then bounced up to make a perfect throw that held Beltran at third. The right-hander then struck out two to end the inning and fanned the side in the seventh to end his night. Capuano gave up eight hits and two runs in 6 1/3 innings.
Mets 5, Giants 2: Expected to be an ace, Mike Pelfrey pitched that way against the Giants. The fact that the defending World Series champions trotted out a limited lineup, well, no matter to the New York Mets. Pelfrey stayed strong into the eighth inning, Carlos Beltran homered and the Mets averted a Giants sweep with a win. Pelfrey (2-3), supposed to anchor the Mets' rotation while injured Johan Santana recovers this year, began the day with a 7.39 ERA. This outing was smoother from the start. He gave up one earned run and four hits in 7 2/3 innings. San Francisco loaded the bases with one out in the ninth against Francisco Rodriguez, but Miguel Tejada struck out and pinch-hitter Buster Posey grounded out. Rodriguez got four outs and hung on for his seventh save. Jose Reyes lined a two-run triple and the Mets took advantage of more wildness from Jonathan Sanchez (2-2) to win for the second time in seven games. The Giants were trying to sweep the Mets for the first time since 2002. But they also were finishing up a stretch where they played 16 of 19 games on the road. Posey and Pat Burrell did not start and Freddy Sanchez sat with a sore right thumb. Minus several other injured players, the Giants slipped back under .500 at 15-16. Mike Fontenot homered with two outs in the fourth for San Francisco's first hit. The Giants' fill-in No. 3 hitter sent a drive into the second deck in right field. An inning earlier, Mets second baseman Chin-lung Hu missed Ike Davis by nearly 10 feet on a routine throw. Known for his shaky control, Sanchez walked six while giving up five runs and five hits in five innings. Beltran hit a two-run homer in the fifth for a 5-2 lead. The Mets scored three times in the second, taking advantage when Sanchez couldn't find the strike zone and San Francisco outfielders couldn't corral the ball. Jason Bay, fresh off the paternity leave list, opened with a double that bounced from the glove of diving left fielder Cody Ross. Davis followed with a looper that fell a step in front of Ross for a single. Ronny Paulino's double-play grounder scored a run and Sanchez walked Scott Hairston -- batting .176 this season -- and Pelfrey, a career .090 hitter. Reyes followed with a liner that skipped just beyond center fielder Aaron Rowand for a two-run triple and a 3-0 lead.