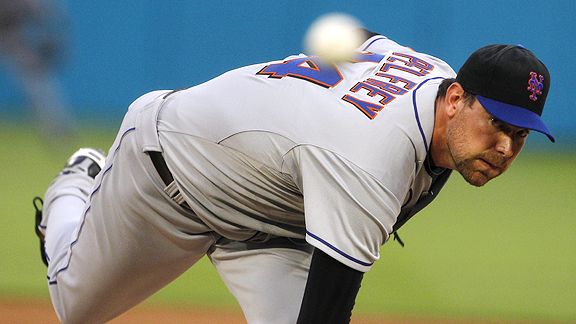 AP Photo/Lynne Sladky
When Mike Pelfrey makes this pitch, the result is often determined by whether he's at home or on the road.
The thing that frustrates Mets fans the most about Mike Pelfrey could be seen in the 3-2 pitch he threw to Austin Jackson in the bottom of the first inning in Pelfrey's start against the Tigers on June 30.
Pelfrey's fastball was up-and-in, nearly hitting Jackson in the head. It couldn't have been anywhere close to his intended target. The fan watching the telecast on TV could see Pelfrey muttering to himself, his plans for that at-bat having gone awry.
With little margin for error, the Mets facing Tigers ace Justin Verlander, and Pelfrey in just a tiny bit of trouble, Pelfrey did what Pelfrey has done throughout his Mets career. He struggled.
But yet the Mets fan keeps watching because of what happened in his next start against the Dodgers. Reunited with the catcher with whom he's had the most success, Ronny Paulino in place of Josh Thole, Pelfrey threw six scoreless innings of two-hit ball.
Mike Pelfrey
2011 Season
It is this inconsistency that has defined Pelfrey's Mets career, which continues with a start against the Giants tonight on Sunday Night Baseball. The last time Pelfrey pitched in San Francisco was on May 17, 2009, on Sunday Night Baseball, he had a balking breakdown, committing three in a loss.
"I'm a fan of Mike Pelfrey because of the talent he brings to the mound, but I feel frustrated for him, because I think he can be significantly better," said ESPN baseball analyst Orel Hershiser, who will call the game along with Dave O'Brien and Bobby Valentine. "I like when he's so aggressive, he forgets there's a hitter at the plate, and he's convicted to make the best pitch possible. When he's going bad, I see a pitcher who has too much hope and not enough commitment."
So where does Pelfrey stand heading into his final start prior to the All-Star Break? It comes down to another aspect of inconsistency, onewe wrote about earlier this season. He's a completely different pitcher when he's at home in the comforts of Citi Field than when he's on the road, out of his comfort zone. This isn't a one-year thing. It's a career-long issue.
Some pitchers just happen to be like that. We did a project recently for Baseball Tonight and found the case to be similar for Oakland Athletics starter Trevor Cahill. ESPN analyst and former pitcher Mark Mulder surmised that some of the things that Cahill could get away with in his spacious home park, he couldn't get away with elsewhere.
Pelfrey has the same issue. Let me show you what I mean, using the pitch performance data we cull from Pitch F-X (a multi-camera in-ballpark system that tracks pitches) and Inside Edge (a video scouting service).
We're going to look at Pelfrey's home and road performance with two specific pitch criteria:
--When Pelfrey throws a fastball
-- When the pitch location is in the middle-third of the strike zone vertically or higher.
That's typically a pitch that can get outs, but it also prone to being driven a long way. A typical hitter will tend to get a lot of his extra-base hits against those pitches, which we'll call "drivable fastballs" for the purpose of this piece. The average major league hitter hits only .187 when hitting a fly ball against a drivable pitch-- but he slugs .573.
Opp vs Pelfrey's Drivable Fastball
When Ball in Play Classified as Fly Ball
Because of Citi Field's large dimensions, Pelfrey is able to completely minimize the damage that hitters do against his drivable fastballs when he's pitching there.
Take a look at the chart on the right
When opponents hit a drivable pitch that our system tags as a fly ball, they can't get a hit. Since allowing a home run to Mike Fontenot of the Giants on May 5, Pelfrey has yielded 22 fly balls on drivable fastballs in his home ballpark. All of them have been turned into outs.
But when Pelfrey throws that same pitch on the road, it gets crushed (see the .944 slugging percentage). Victor Martinez started the Tigers three-run outburst in the third inning with a double against a drivable fastball, a pitch on which Pelfrey has yielded home runs recently to the likes of Prince Fielder, Brandon Wood, and Adrian Beltre.
The other issue for Pelfrey is the frequency with which he throws these pitches. The drivable fastball accounts for 72 percent of Pelfrey's fastballs thrown at home, 77 percent on the road. That's a difference of two-to-three pitches per start, enough to account for the performance issues if one of those fastballs is indeed driven.
The good news for Pelfrey tonight: He's pitching in AT&T Park, which probably resembles Citi Field more closely than any park in baseball. If he can just pretend he's pitching there, tonight's telecast might be the kind of watchable performance that Hershiser, and Mets fans enjoy.