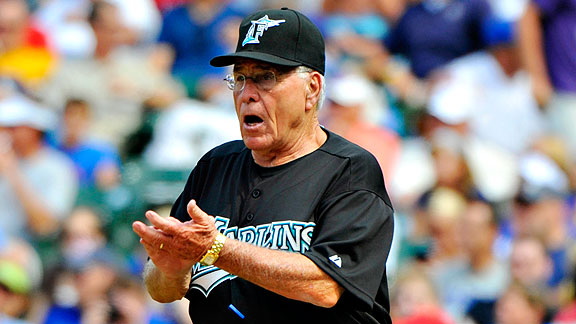 Rob Grabowski/US Presswire
Jack McKeon is the second-oldest manager in major league history at age 80, trailing only Connie Mack.
METS (47-47, third place/NL East) vs. FLORIDA MARLINS (46-49, fifth place/NL East)
Monday: LHP Chris Capuano (8-8, 4.12) vs. RHP Clay Hensley (0-2, 3.60), 7:10 p.m. ET
Marlins short hops
• Clay Hensley will be activated from the disabled list and make his first major league start since July 24, 2008, when he pitched for the San Diego Padres at Pittsburgh. Hensley had landed on the DL June 3 with a sprained right shoulder, two days after making his 20th relief appearance of the season and suffering the loss at Arizona. He is 13-15 with a 4.35 ERA in 40 career starts, all with San Diego. Hensley will continue in Josh Johnson's rotation spot until the ace returns from a shoulder injury. Johnson last pitched in the wet game at Citi Field that preceded the rainout that prompted this makeup game. Hensley is at least the fourth candidate to get a shot at filling Johnson's role, after Jay Buente, Brad Hand and Elih Villanueva did not pass muster. The Marlins also tried a couple of bullpen days, when the entire relief corps pitches in. Hensley was in position to start for the Marlins out of spring training last year, but Florida acquired Nate Robertson from Detroit on March 30, 2010.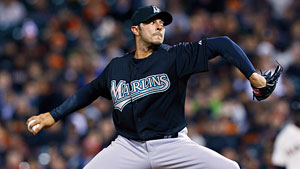 Jason O. Watson/US Presswire
Clay Hensley returns from the disabled list and makes his first start in three years.
• The Marlins acquired outfielder Mike Cameron from the Boston Red Sox on July 5 for a player to be named or cash to serve as a veteran outfield presence. Cameron is earning $7.25 million this season, but Florida only is responsible for the prorated portion of the major league minimum. Cameron hit .149 with three homers in 105 at-bats for the Red Sox. He has started his Marlins career in a 3-for-20 rut with a homer and three RBIs. Cameron has returned to center field, after primarily manning right field this season with Boston.
• At 80 years old, Jack McKeon is the second oldest manager in major league history. Only Connie Mack managed at an older age, presiding over the Philadelphia Athletics in 1950 at age 87. McKeon succeeded Edwin Rodriguez, who resigned June 19.
• Right fielder Mike Stanton has 20 homers in 318 at-bats this season, and 42 for his major league career. Only three active major league players had more homers before their 22nd birthday: Alex Rodriguez (56), Andruw Jones (55) and Miguel Cabrera (48). Adrian Beltre also had 42. Stanton does not turn 22 until Nov. 8.
• Shortstop Hanley Ramirez has heated up since a June 21 move to the cleanup spot. In 22 games since that point, Ramirez is hitting .378 with five homers and 24 RBIs. Ramirez notched his 1,000th career hit Friday. Only two other players have produced 1,000 hits as a Marlin -- Luis Castillo (1,273) and Jeff Conine (1,005). Ramirez is now tied with Conine for second on the Marlins' all-time hit list.
• Emilio Bonifacio is hitting .420 (21-for-50) with nine steals in July while manning third base. Bonifacio has a 16-game hitting streak.
Matchups
Capuano vs. Marlins (career: 4-2, 3.16)
Gaby Sanchez .750, 2 RBI, 5 PA
Mike Stanton .500, 2 PA
Mike Cameron .429, 2 HR, 4 RBI, 3 BB, 3 K, 11 PA
Logan Morrison .333, 1 BB, 4 PA
Anibal Sanchez .333, 3 PA
Omar Infante .250, 1 K, 4 PA
Wes Helms .143, 1 RBI, 1 K, 8 PA
Hanley Ramirez .083, 2 K, 12 PA
Chris Hatcher .000, 1 K, 2 PA
Hensley vs. Mets (career: 1-2, 4.38 ERA)
Daniel Murphy 1.000, 1 RBI, 1 PA
Willie Harris .500, 4 PA
Jason Bay .429, 1 HR, 2 RBI, 2 K, 8 PA
Angel Pagan .286, 1 RBI, 1 BB, 8 PA
Carlos Beltran .250, 1 RBI, 1 BB, 2 K, 9 PA
Josh Thole .000, 1 PA
Lucas Duda .000, 1 PA
Scott Hairston, 1 HBP, 1 PA
Last series results
Marlins won, 1-0, at Citi Field, May 16 (AP game recap)
Marlins 2, Mets 1 (11 innings): Reliever Burke Badenhop produced his second career hit with two outs in the 11th inning, driving in Mike Stanton with the go-ahead run. Badenhop (1-0) came to bat after escaping a two-on, two-out jam in the 10th. Stanton was already on second and Emilio Bonifacio was on first when Badenhop lined a single up the middle off Ryota Igarashi (2-1) for his first hit since June 3, 2008 and his second career RBI. Leo Nunez pitched the bottom half of the 11th for his 15th save, despite allowing a two-out triple to pitcher Jon Niese pinch-hitting because the Mets were out of batters. Stanton hit a tying homer in the seventh and Omar Infate had three hits for Florida. The game was played in a thick, soupy mist that delayed the start by more than an hour and provided a perfect accompaniment for the Mets' dismal day. David Wright had an MRI exam that revealed a stress fracture in his lower back. Top prospect Jenrry Mejia had Tommy John surgery, and starting pitcher Chris Young had shoulder surgery. The Mets even had a minor leaguer suspended for 50 games after testing positive for a banned substance. Once the game started, things appeared to be going better for the Mets. They took a 1-0 lead off Josh Johnson in the fourth inning, when Daniel Murphy singled through the right side of the infield and advanced to second on a wild pitch. He came around to score on a double by Justin Turner into the gap in right field. The Mets' aggressiveness on the basepaths cost them, though. Jason Bay led off the inning with a single but was easily caught stealing with nobody out. New York had another chance to score in the fifth, when Jose Reyes singled and Carlos Beltran lined a shot back at the pitcher that Johnson tried to knock down. The ball ricocheted off his forearm toward the left side of the infield for a hit, and the Marlins training staff came out to check on their ace. He got through the rest of the inning before he was lifted. Johnson allowed a run and seven hits in five innings.