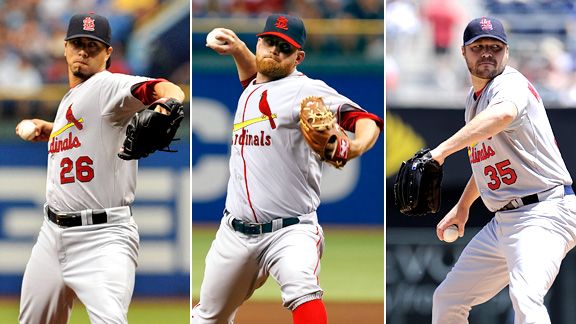 Getty Images
The Mets face (l to r) Kyle Lohse, Kyle McClellan and Jake Westbrook in a midweek series at Citi Field.
METS (47-48, fourth place/NL East) vs. ST. LOUIS CARDINALS (50-45, second place/NL Central)
Tuesday: RHP Dillon Gee (8-3, 3.76) vs. RHP Kyle Lohse (8-6, 3.32), 7:10 p.m. ET
Wednesday: RHP R.A. Dickey (4-8, 3.70) vs. RHP Kyle McClellan (6-6, 4.24), 7:10 p.m. ET
Thursday: LHP Jon Niese (9-7, 3.73) vs. RHP Jake Westbrook (7-4, 5.26), 12:10 p.m. ET
Cardinals short hops
• First baseman Albert Pujols returned from a broken left wrist on July 5 -- four weeks sooner than expected. He is hitting .273 with three homers and 10 RBIs in eight games since his activation. Pujols hoped to be a late addition to the National League All-Star roster, but NL skipper Bruce Bochy selected Pablo Sandoval and Miguel Montero to fill two late slots, citing the presence of three first basemen already on the NL roster.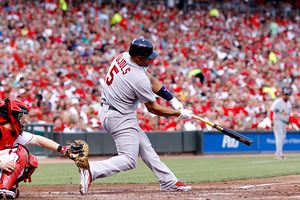 Joe Robbins/Getty Images
Albert Pujols has been on a tear in eight games since returning from a broken left wrist.
• Colby Rasmus' long-standing feud with manager Tony La Russa could lead to the 24-year-old center fielder being traded before July 31, although Cardinals GM John Mozeliak has downplayed the possibility. One ongoing point of contention is the level of instruction coming from Rasmus' father Tony, a decorated Alabama prep baseball coach. Rasmus was hitting .311 on May 13, but his average has tumbled 70 points since that point. In his past 51 games (45 starts), Rasmus is hitting .179 with six homers and 21 RBIs in 173 at-bats. Jon Jay has started three of the past seven games in center field.
• Lance Berkman, who made his sixth All-Star Game, leads the NL in homers with 25. Berkman signed a one-year, $8 million free-agent contract with St. Louis last offseason. The previous five times he was named an All-Star, all with the Houston Astros, Berkman also finished in the top 10 in the league's MVP balloting. Berkman was supposed to be the fragile member of the lineup, but he has held the Cardinals together through absences for Matt Holliday, David Freese and Pujols.
• Freese returned June 28 after missing 51 games with a fractured left hand, which he suffered getting hit by a pitch from Atlanta's Scott Linebrink. Daniel Descalso had manned third base in Freese's absence. Despite only three homers in 141 at-bats this season, Freese has displayed opposite-field power and gives the lineup depth that it lacked last season.
• Holliday, now a five-time All-Star, has missed time twice this season due to injury. He underwent an emergency appendectomy after Opening Day. Holliday then tried to nurse his way through a quadriceps injury but ended up on the disabled list and lost a month.
• Left-hander Jamie Garcia (9-4, 3.11 ERA) agreed to a contract extension that guarantees him $27 million over four years and includes team options for 2016 and 2017. In the original second-half rotation order produced by pitching coach Dave Duncan, Garcia was lined up to face the Mets. La Russa adjusted the order to take advantage of Garcia's career success against the Reds, and Garcia instead faced Cincinnati on Sunday. Garcia allowed two runs (one earned) in seven innings and suffered the hard-luck loss.
• Closer Fernando Salas has 17 saves in 20 chances since taking over the job from an ineffective Ryan Franklin, who ended up getting released. Salas' 16 saves before the All-Star break matched the franchise record, also held by Todd Worrell and Franklin.
• St. Louis' infield defense has been suspect, particularly with Ryan Theriot at shortstop, who is a downgrade from predecessor Brendan Ryan. Skip Schumaker has made strides at second base, though. Ryan was traded to the Seattle Mariners in December for ex-Mets farmhand Maikel Cleto. Theriot was tossed from Sunday's game against Cincinnati, the first ejection he could ever recollect.
• The Cardinals are shopping for pitching help as the July 31 deadline approaches. Kyle McClellan could find himself bounced to the bullpen if St. Louis acquires a starting pitcher. Jake Westbrook had a rough first half, posting a 5.34 ERA before the All-Star break. Kyle Lohse has been the Cardinals' third most consistent starter, behind Chris Carpenter and Garcia. Lohse's success is being fueled by his slider, which he struggled to throw in recent seasons as he was hampered by a forearm injury.
Matchups
Gee vs. Cardinals (career: never faced)
Dickey vs. Cardinals (career: 1-1, 7.36 ERA)
Colby Rasmus .500, 2 PA
Jon Jay .333, 1 BB, 4 PA
Skip Schumaker .333, 3 PA
Nick Punto .286, 1 K, 7 PA
Gerald Laird .286, 1 K, 7 PA
Matt Holliday .250, 1 BB, 5 PA
Yadier Molina .250, 2 RBI, 4 PA
Albert Pujols .000, 1 K, 5 PA
Niese vs. Cardinals (career: 1-0, 1.17 ERA)
Ryan Theriot .333, 2 BB, 2 K, 5 PA
Gerald Laird .333, 1 RBI, 1 K, 3 PA
Jon Jay .250, 1 K, 4 PA
Albert Pujols .250, 4 PA
Matt Holliday .250, 4 PA
Yadier Molina .000, 1 BB, 4 PA
Nick Punto .000, 2 PA
Lohse vs. Mets (career: 2-3, 5.85 ERA)
Angel Pagan .667, 1 RBI, 1 K, 4 PA
Carlos Beltran .541, 4 HR, 12 RBI, 9 BB, 5 K, 47 PA
Ronny Paulino .429, 1 RBI, 1 K, 7 PA
Willie Harris .250, 1 RBI, 2 BB, 1 K, 28 PA
Scott Hairston .143, 1 RBI, 7 PA
Jason Bay .125, 1 BB, 5 K, 17 PA
Daniel Murphy .000, 2 PA
McClellan vs. Mets (career: 1-0, 0.93 ERA)
Willie Harris .500, 1 HR, 3 RBI, 1 BB, 1 K, 5 PA
Carlos Beltran .333, 1 K, 3 PA
Angel Pagan .000, 3 PA
Jason Bay .000, 1 RBI, 3 PA
Daniel Murphy .000, 1 K, 2 PA
Ronny Paulino .000, 1 K, 1 PA
Scott Hairston .000, 1 PA
Westbrook vs. Mets (career: 0-1, 6.43 ERA)
Angel Pagan .667, 1 BB, 4 PA
Ruben Tejada .500, 1 K, 3 PA
Carlos Beltran .286, 1 K, 7 PA
Willie Harris .200, 1 RBI, 1 BB, 1 K, 11 PA
Ronny Paulino .000, 3 K, 3 PA
Last series results
Mets won, 2-1, at Citi Field, July 27-29, 2010 (AP game recaps)
Mets 8, Cardinals 2: Carlos Beltran gained a small measure of revenge against Adam Wainwright as the Mets suddenly broke loose, roughing up the St. Louis ace in a romp over the Cardinals. Shut out four times during a 2-9 road trip, the Mets came home and ended Wainwright's career-best scoreless streak at 26 innings. Wainwright (14-6) was tagged for a season-worst six runs. Jeff Francoeur hit a three-run homer and Jose Reyes added a two-run shot. Minus suspended manager Jerry Manuel, Jon Niese (7-4) and the Mets handed the NL Central leaders their fourth loss in five games. The last time Beltran faced Wainwright was the 2006 NL championship series, and the result was one of the most infamous at-bats in Mets history. And though a meeting in July hardly equals postseason drama, Beltran got the better of Wainwright this time. Beltran doubled to set up a run in the second, walked and scored on Francoeur's homer in the fourth, then hit an RBI single off Wainwright in the fifth that made it 6-1. Beltran returned to the Mets following the All-Star game after recovering from surgery on his right knee. He put on an encouraging performance in his first game at Citi Field this year, running especially well. The Mets came into the game with a 16-inning scoreless streak, facing a pitcher who had a 1.94 ERA and was trying to tie Colorado's Ubaldo Jimenez for the major league lead in wins. Plus, Wainwright had allowed just one run in his past five starts. But Beltran sliced a double down the left-field line his first time up, and a broken-bat grounder by Ike Davis stopped the scoreless streaks for Wainwright and the Mets. Francoeur put New York ahead for good at 4-1.
Cardinals 8, Mets 7 (13 innings): Albert Pujols drove in the go-ahead run with two outs in the 13th inning, and the Cardinals survived a frantic Mets comeback. Matt Holliday hit a two-run homer and finished with three RBIs, and Jaime Garcia also drove in two runs for the Cardinals, who scored six times off Mets ace Johan Santana in the first inning only to watch their bullpen let the lead slip away. The Mets scored four times in the eighth to tie the game, and that's where it stood when Pedro Feliciano (2-6) plunked Skip Schumaker and walked Felipe Lopez with one out in the 13th. Jon Jay hit into a fielder's choice, putting runners on the corners, and manager Jerry Manuel elected to pitch to Pujols rather than walk the bases loaded. His grounder through the left side brought in Schumaker with the go-ahead run. Mike MacDougal (1-0) worked the 12th inning to earn the win, with Ryan Franklin getting through the 13th for his 19th save. The game lasted 4 hours, 32 minutes, which was still pretty snappy compared to the last time Santana and Garcia hooked up, on April 17 at Busch Stadium in St. Louis. The two pitchers dueled over seven scoreless innings, and both were long gone by the time New York finally won 2-1 in 20 innings. That game lasted 6 hours, 53 minutes. The Cardinals gave themselves a big cushion in the first against Santana, who needed 38 pitches just to survive the frame. The two-time Cy Young winner allowed a career-high 13 hits, but kept the damage to a minimum the rest of the way and gave New York a chance. Garcia also had problems in the first inning, allowing a two-run double to Mike Hessman. The sensational Cardinals rookie cruised after that, until Carlos Beltran hit his first homer of the season in the sixth to get the Mets within 7-3. The rest of their rally came after Garcia left the game. Mitchell Boggs set down the order in the seventh, then allowed a leadoff single to Luis Castillo and a two-run homer to Angel Pagan in the eighth. Dennys Reyes walked Josh Thole to load the bases later in the inning, and Ike Davis hit a pinch-hit two-run single to right field with two outs that tied the game. Kyle McClellan loaded the bases again before getting Castillo to ground out.
Mets 4, Cardinals 0: R.A. Dickey took a three-hitter into the ninth inning and rookie Ike Davis hit a three-run homer in a win over the Cardinals that gave New York its first series victory in more than a month. Angel Pagan tripled and scored twice for the Mets, who took two of three from St. Louis to drop the Cardinals into second place in the NL Central, a half-game behind idle Cincinnati. New York won for only the fifth time in 18 games but improved to 28-12 in its past 40 at home. Working on three days' rest, Dickey (7-4) showed no ill effects of the sore left glute that prompted manager Jerry Manuel to pull the knuckleballer from a scoreless game at Dodger Stadium in the sixth inning his previous outing. Once he was deemed healthy, Dickey was moved up in the rotation this week so the Mets could separate Johan Santana and Mike Pelfrey, allowing 38-year-old Henry Blanco to catch both without having to play a day game after a night game. Dickey gave his team's taxed bullpen a much-needed rest in his first win since June 23 against Detroit. The Mets played at least 13 innings three times in the previous eight days, losing all three. Dickey received a big cheer when he batted in the eighth. He allowed a leadoff single to pinch-hitter Colby Rasmus in the ninth, then walked Jon Jay with one out. Manuel was booed loudly when he came out of the dugout to remove Dickey, who got a standing ovation as he trotted off the mound after extending his scoreless streak to a career-best 17 innings. Francisco Rodriguez retired Pujols on an easy fly and got Matt Holliday on a called third strike for his 22nd save in 27 attempts, completing New York's major league-high 14th shutout. Dickey threw 73 of 118 pitches for strikes in a game that took 2 hours, 26 minutes. He was 0-4 in his previous six starts despite a 2.82 ERA during that stretch. Davis also started a pair of double plays at first base and Carlos Beltran added an RBI single. The Mets had been 0-6-1 in series since taking two of three from Minnesota at home June 25-27.