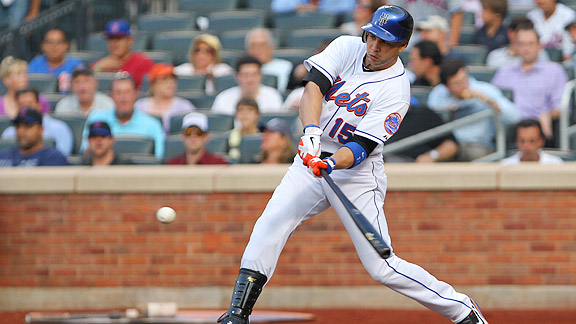 Anthony Gruppuso/US Presswire
Carlos Beltran reached base in all five trips to the plate in the Mets' 4-2 win over the Cardinals on Tuesday.
Carlos Beltran spent the last three days out of the Mets' lineup, battling a fever that he says at times reached 105 degrees. He had had trouble sleeping and felt aches all over his 34-year-old body.
Bottom line: Beltran had no business being anywhere near a baseball field.
But when Beltran returned to the Mets lineup Tuesday, it was like he'd never missed a beat.

Right Field
New York Mets
The All-Star right-fielder went 3-for-3 with two doubles and two walks against the Cardinals, reaching base all five times he stepped to the plate in the Mets' 4-2 win.
"Today was a day where I went to the plate and I was seeing the ball good and made contact," said Beltran. "I was able to get on base and help the team."
Beltran started the game with two "don't-trade-me" doubles against Cardinals pitcher Kyle Lohse, increasing his career average to .564 against the Cardinals' righty.
Lohse, recognizing that Beltran had his number, pitched around the right fielder with two men on in the fifth, walking him to load the bases. One batter later, Angel Pagan delivered a two-run double to give the Mets' a 2-1 lead.
Beltran walked again in the sixth against Lohse, putting runners on first and second with one out. Daniel Murphy made Lohse regret that decision by delivering a two-run double to put the Mets up, 4-1.
"I was happy just to be able to have quality at-bats and to be able to see the ball good," Beltran said.
At the end of the night, everyone could clearly see the difference Beltran and a healthy Jose Reyes make for the Mets (48-48).
Reyes returned to the Mets after missing 17 days with a strained left hamstring. He went 2 for 5, collecting his major-league leading 44th multihit game of the season.
The bubbly shortstop also made a game-saving 6-6-3 double play with the bases loaded and one out in the eighth on an Albert Pujols grounder the shortstop side of second base. A play earlier, Reyes made a run-saving, diving stop on Daniel Decalso's grounder to the left side.
"Our lineup certainly changes with those two guys in that order," Terry Collins said.
Problem is, Collins may not have Beltran in the lineup much longer.
The trade rumors surrounding the switch-hitting veteran seem to get stronger every day. And he seems to be increasing his value every day as well. Beltran ended the night hitting .293 with an NL-leading 30 doubles. He has reached base in 25 straight games.
Beltran is in the final year of his contract and, as ESPNNewYork.com reported Monday, the Mets are willing to pick up the remainder of his 2011 salary.
As he has all season, Beltran on Tuesday deflected questions about his future. He reiterated that he hopes to remain a Met.
But, as always, he's resigned to the fact he has no control over his future.
"I'm here and looking forward to going out and playing," he said. "Whatever happens is going to happen. It's nothing I can control now. I just have to focus on what is important and that is playing the game."