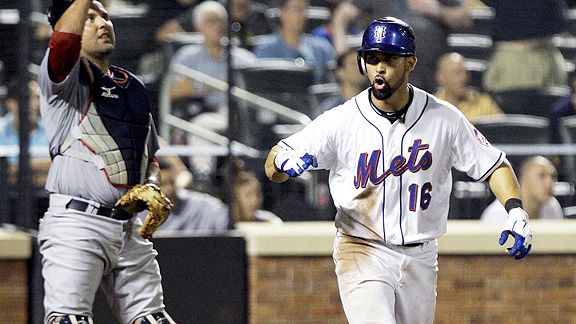 Frank Franklin II/AP
Angel Pagan delivers game-winning homer in the 10th inning of the Mets' 6-5 victory over St. Louis on Wednesday.
Angel Pagan likes to be aggressive at the plate. He's not into taking pitches.
"He's a little bit of a free swinger," Terry Collins said.
Nothing illustrated the manager's point clearer than Pagan's first swing in the 10th inning against St. Louis on Wednesday.

Center Field
New York Mets
Pagan drilled a fastball from Cards reliever Fernando Salas into the second deck in right field, setting off a wild celebration at Citi Field as the Mets soaked in a 6-5 win.
"It was the perfect pitch," Pagan said of Salas' 90 mph heater. "It wasn't up, it was right down Broadway."
No, not even spacious Citi Field could contain Pagan's shot -- the first game-ending homer of his career.
"That's all I got," he said with a shrug and smile. "So if I didn't hit it out, I mean man, I don't know what to do."
But he did, and he knew exactly what to do. After staring at the homer for a couple of seconds, Pagan rounded the bases and joined his teammates huddled at the plate.
A few minutes later, with his wife and kids celebrating in the stands, Pagan was hit with a shaving cream pie in the face by Willie Harris.
The center fielder said it tasted "beautiful."
It also had to wipe out the bitter taste in his mouth from the last 10 games. Entering play Tuesday, he had seven hits in 44 at-bats (.159) in that span.
When Jose Reyes was out, Pagan shifted to the leadoff spot. He hit just .192 in the 12 games Reyes (strained hamstring) missed.
When Reyes returned to the lineup Tuesday, Collins had a message for Pagan.
"I said, 'Hey, you're back down to where you like to be. Let's get 'er going again,'" Collins said.
And he did. Pagan started to climb out of it with a two-run double in the Mets' 4-2 win on Tuesday. And continued that climb in the bottom of the 10th on Wednesday with the second walk-off hit of his career. The other was a single on April 10, 2008.
Some speculated that Pagan would face a little retribution for standing in the box and watching his ball sail over the wall. But that's an issue for old school Cardinals skipper Tony La Russa to deal with Thursday afternoon. On Wednesday night, it was all about Pagan's game-winning blast.
"I've been struggling at the plate and I never lose my confidence," Pagan said. "I was just trying to get my pitch to hit."