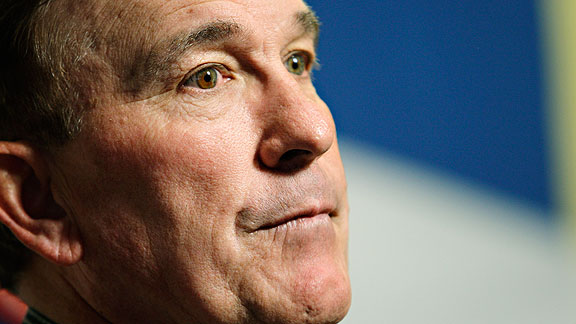 AP Photo/Frank Franklin II
Gary Carter drove and hit golf balls last week.
Gary Carter's daughter Kimmy Bloemers continued to express optimism about the progress of the Hall of Fame catcher. Carter hit 15 golf balls last week and also drove a vehicle. He is due for an Aug. 2 MRI at Duke University to determine whether cancerous brain tumors have been eradicated.
The Carter family, which was visited by Mets PR man Jay Horwitz during the weekend, expressed appreciation at the love emanating from Cooperstown during Hall of Fame weekend. Carter was unable to attend, but plans to return next year.
"Dad watched the HOF ceremony and was touched by the kind words from the inductees," Bloemers wrote in a private online journal to which ESPN has been granted access. "He wished so badly he could have been there. My mom and dad both wanted to thank the Hall of Famers and their wives for their support, love and encouragement. They can't wait to be with you all next year!"
Carter underwent his final radiation treatment and ingested his last chemotherapy pill for the time being last Tuesday. He also is being weaned off steroid pills.
As for Carter driving, Bloemers wrote: "His mind was clear and he felt wonderful. He knows that he won't ever go behind the wheel unless he is feeling terrific. It was a great moment for him!"
She concluded: "Cancer is hard to understand. Aside from having tired moments, dad is talking, walking and acting like himself (for the most part). The only sign that shows dad is not 100 percent is his hair loss. No one could believe that there is something dangerous inside his body. We recognize the cancer, but we keep a positive mindset and we pray, pray, pray!"