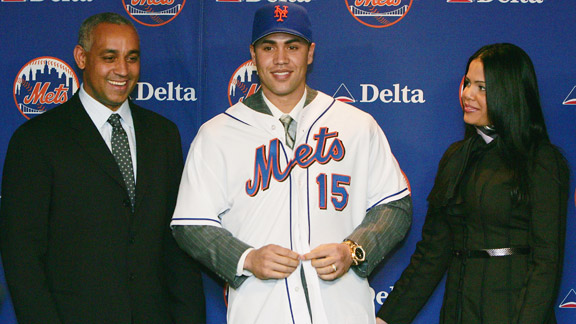 Al Bello/Getty Images
Carlos Beltran slips on his No. 15 Mets jersey at his Jan. 11, 2005 introductory press conference as Omar Minaya and wife Jessica look on.
With "The New Mets" era about to close with the trade of Carlos Beltran, here's an excerpt from the very beginning, Chapter 1 of the book I wrote about the pursuit of Pedro Martinez and Beltran and the 2005 season:
The organization had not exactly had a positive relationship with Beltran's agent, Scott Boras, dating back to ill-fated dealings over Alex Rodriguez.
Any hostility with Boras had started to thaw in June 2004, when the Mets took a Boras client, right-handed pitcher Matt Durkin from San Jose State, in the second round of the draft. Then came the ultimate olive branch, or more accurately, a shrewd business move, when Boras sent a message to (Omar) Minaya and (Tony) Bernazard saying the Pedro signing impressed Beltran.
"Let's forget about the past," Minaya replied. "You know me. I know you. If I'm going to get into the process, I'm going to get into the process to win."
Bernazard had played against Boras when they were minor-leaguers. And Beltran's mother had twice called Bernazard at the Players Association before her son was drafted in 1995, seeking advice about agents.
"When I go after something, I go after something," Bernazard said.
Relentless pursuit proved to be an understatement. Minaya or Bernazard -- the unsung hero, Jeff Wilpon called the special assistant -- phoned Boras for thirty-one straight days, a fact the agent could verify because he logs all his calls in a book. A meeting between owner Fred Wilpon and Beltran was finally set for January 3 in San Juan. Boras had wanted the sides to meet in Florida, as Beltran had done with the Astros and Yankees. Minaya insisted otherwise, figuring he could get to Beltran's heart by getting into his living room, though he had to settle for the Ritz-Carlton on the island, minus Beltran's wife Jessica, an absence that concerned Mets brass.
"We knew they were close and that she was going to be a big part of the decision-making process," (deputy Jim) Duquette said. "We thought it was bad news that she wasn't there. I think she was sick. But we were really hoping she would be there. We even considered going back down there so we could meet with Carlos and Jessica. It never ended up working out."
Still, Beltran came away impressed with the owner's genuineness and fatherly advice, despite a four-decade age gap and their disparate pasts. Wilpon had played high school baseball alongside Sandy Koufax in New York City, while Beltran revered contemporary centerfielders such as the Yankees' Bernie Williams, a fellow Puerto Rican. What struck Beltran most was that Wilpon wasn't selling against anyone, including the Yankees. His pitch dealt with the virtues of playing in New York, of the list of Hall of Fame centerfielders who had patrolled Ebbets Field and the Polo Grounds and Yankee Stadium -- Duke Snider and Willie Mays and Mickey Mantle.
"He was saying if you wanted to play for a big-market team, New York was the right place to be -- Mets or Yankees," Beltran said. "That was something as an owner you don't see happen. You don't see a guy going to Puerto Rico to recruit me and at the same time he's giving me options to go to different places. That sounds funny. But at the same time, that was what he was doing, and that's why I'm here."
Said Duquette: "Fred talked about how Carlos had to do what's best for him no matter what it is. It was classic Fred Wilpon discussing this. He's confident that this is the place, but he's not going to do it at all costs trying to convince him. He treated him like an adult. 'Hey, you've got to make a decision; do what's right for your family.' That seemed to hit home with Carlos."
Before the meeting, Boras had told his client why he ought to consider Flushing. "Carlos, this is not the Mets. This is 'The New Mets,'" the agent said. "I think you have to look at them when you meet with Fred."
"This is 'The New Mets,'" Beltran confided to Boras afterward, enthusiastically repeating the phrase the agent had planted in his head.
Still, when decision day arrived, and with the Astros set to lose negotiating rights at midnight, Mets brass had several anxious moments. In the early afternoon, Boras phoned Mets officials with bad news.
"We're having second thoughts possibly of coming here," Boras told them, bluntly suggesting they had been eliminated at one point during the conversation. Team officials suspected it might be a ruse to get them to bid against themselves. Unsure it was final, considering Boras's master negotiating skills, they held out faint hope. Sure enough, Boras called back later in the afternoon and amended his statement, exclaiming, "Okay, you're back in."
"The whole time you're wondering, 'Is this a negotiating ploy or is this really real?'" Duquette said. "It just left you skeptical, because Scott has his negotiating style and you just don't know. He's a bright guy and you just don't know if that's part of his actual style to negotiate and create a sense of urgency."
Eventually, Duquette headed home, where he received a call from a dejected Bernazard at 11:30 p.m.
"We lost him," Bernazard said.
"You've got to be kidding," Duquette replied.
Fifteen minutes later, Mike Fiore, Boras's top lieutenant, called Bernazard and told him: "You guys are the luckiest son of a guns I've ever seen."
A full 180-degree turn.
Bernazard called back Duquette.
"We got him," Bernazard said.
"What?" Duquette asked incredulously.
The Astros had refused to give a full no-trade clause. On top of that they offered less money -- $105 million.
Boras even tried to engage the Yankees on the final evening to no avail, offering to put Beltran in pinstripes for a six-year, $100 million deal. GM Brian Cashman didn't bite, the organization's money committed to pitching -- including the pursuit of Randy Johnson via a trade with the Arizona Diamondbacks, despite the aging Williams in centerfield. While impressed with Beltran, the Yankees had not valued him as a $16 million-a-year player. They didn't want to pay the 40 percent luxury tax on that amount, either, or put Beltran at a salary level comparable to Derek Jeter and Alex Rodriguez.
"They were interested," Beltran said, "but it would have been tough since, I believe, their payroll is over $200 million."
The Mets and Boras's associates worked all night to reach an agreement, with team officials concerned that unpredictable Yankees owner George Steinbrenner might change his mind if he had any chance to reflect and consider Beltran playing for seven years in Flushing. Boras halted discussions with Mets general counsel David Cohen about the final terms at 7 a.m. Pacific Standard Time that Sunday and slept off a twenty-five-and-a-half-hour day. Minaya, monitoring the situation from his New Jersey home, didn't want Cohen to stop until they were done.
"Once daylight comes, you don't know," said Minaya, reiterating that the Yankees might have become involved had Beltran remained available into the week.
The victorious Minaya then dined with President Bush, his former Rangers boss, at the White House, and even the Commander in Chief, who once had famously traded away Sammy Sosa, had taken notice of the Mets' winter.
"Keep up the good work," Bush told Minaya. "I'll be watching. Pick up some more guys."
Eight days after Fred Wilpon's visit, Beltran, who had solicited endorsements about playing in New York from Astros teammates Roger Clemens and Andy Pettitte, was being introduced as a Met, the first question coming in Spanish, another signal of the organization's new international appeal. A new mantra that would make a Madison Avenue executive proud -- The New Mets -- was born, too, after Beltran smoothly reiterated the phrase at the packed media gathering at the Diamond Club at Shea Stadium, the same location as Pedro's announcement. That is, once Beltran actually reached the Diamond Club. The news conference started a few minutes late as Beltran, his wife Jessica, Boras, Fiore, and nearly the entire Mets brain trust got stuck in a Shea Stadium elevator between the first and second floors en route to the event, though the mishap did not become public knowledge. Executive VP of business operations Dave Howard tried to pry open the doors with his hands as someone joked, "Everybody stop breathing so we don't run out of air."
Moments later, service restored, Beltran, dressed in a pinstriped suit, could utter his famous words: "I feel proud to be part of the new family, the New York Mets. The New Mets. I call it 'The New Mets' because this organization is going to a different direction, the right direction -- the direction of winning."
Throughout the season, Mets staffers would answer phones with the greeting, "New Mets." The front of the media guide would carry the slogan, with New accentuated in orange and the other words in white. And if you ever got placed on hold while calling Shea Stadium, the recording prominently included Beltran's utterance from the news conference as part of a loop.
Boras really deserved royalties for use of the phrase, but his cut of the seven-year, $119 million contract would have to suffice.
"That was kind of a theme we took in on the day of the press conference, when I said, 'Don't forget what you told me in Puerto Rico -- that this is 'The New Mets.' It really came out of our dialogue," Boras said.
Said Beltran: "That came out because this year the Mets went out and added new people; first of all, to the front office, like adding Omar Minaya and Tony Bernazard. And then they went out and hired Willie Randolph and Pedro. So that let me know they were going in a different direction. . . . I really believe now players are going to look at the Mets differently, with more respect."
"In-depth" appears Tuesdays during the regular season