Right-hander Taylor Whitenton's second full professional season resulted in his first appearance in an All-Star Game. Whitenton was a starting pitcher in the South Atlantic League All-Star Game, and is currently 4-2 with a 2.71 ERA and one save in 18 appearances (four starts) for Savannah. Four of Whitenton's first five appearances came in relief, piggybacking starts by teammate Ryan Fraser, before he entered the rotation.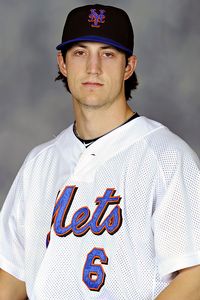 Courtesy of New York Mets
Taylor Whitenton
"I'm just trying to stay more in the zone this year, throw more strikes and force more contact with all of my pitches," said Whitenton, who went 8-9 with a 4.57 ERA in 26 starts (18 appearances) with Savannah in 2010. "I'm working on commanding all of them. I don't have complete command of them all yet. That's what I work on -- throwing all of them for strikes. That's probably the difference from last year to this year."
Whitenton, 23, was drafted by the Mets in the 39th round in 2009 out of Darton College, a two-year school in Albany, Ga. He is from Conyers, Ga. -- "maybe a four-hour drive" from his current home with the Gnats.
Whitenton's fastball sits at 90-92 mph. He also throws a curveball and changeup. He has missed two starts with a right-forearm strain, but is due to reenter the rotation Saturday at Greensboro.
He was drafted by the hometown Atlanta Braves out of high school in the 40th round, but instead signed with the junior college.
"I'm not sure if they were going to make me a shortstop, but I loved playing shortstop and they did draft me as a shortstop," Whitenton said.
Those days in the infield are over. Whitenton became a full-time pitcher during his second college season, after playing shortstop and third base as a freshman at Darton.
"I thought that was the position where I would get the furthest in baseball," he said.
Organization leaders
Average: Danny Muno, Brooklyn, .375; Richard Lucas, Brooklyn, .350; Juan Lagares, Binghamton, .349; Josh Satin, Buffalo, .322; Julio Concepcion, Kingsport, .320; Pedro Zapata, St. Lucie, .314; Brandon Brown, Brooklyn, .308; Cam Maron, Kingsport, .307; Jordany Valdespin, Binghamton, .306; Greg Pron, Kingsport, .305.
Homers: Brahiam Maldonado, Binghamton, 19; Valentino Pascucci, Buffalo, 15; Jordany Valdespin, Binghamton, 15; Allan Dykstra, Binghamton, 13.
RBI: Valentino Pascucci, Buffalo, 70; Wilmer Flores, St. Lucie, 64; Josh Satin, Buffalo, 63; Aderlin Rodriguez, Savannah, 61; Brahiam Maldonado, Binghamton, 54.
Steals: Jordany Valdespin, Binghamton, 31; Pedro Zapata, St. Lucie, 28; Matt den Dekker, Binghamton, 18; Darrell Ceciliani, Savannah, 14; Rafael Fernandez, Savannah, 14.
ERA: Darin Gorski, St. Lucie, 2.15; Jeurys Familia, Binghamton, 2.63; Erik Goeddel, GCL Mets, 2.86; Todd Weldon, Brooklyn, 2.88; Angel Cuan, Savannah, 3.02; Eduardo Aldama, Brooklyn, 3.16; Gabriel Ynoa, GCL Mets, 3.19; Brett Mitchell, Kingsport, 3.41; Chris Schwinden, Buffalo, 3.42; Jeffrey Walters, Brooklyn, 3.45.
Wins: Darin Gorski, St. Lucie, 10; Greg Peavey, St. Lucie, 9; Angel Cuan, Savannah, 9; Matt Harvey, Binghamton, 8; Brandon Moore, Binghamton, 8.
Saves: Josh Edgin, St. Lucie, 21; Dale Thayer, Buffalo, 11; Jeffrey Kaplan, St. Lucie, 10; Hamilton Bennett, Savannah, 9.
Strikeouts: Matt Harvey, Binghamton, 120; Darin Gorski, St. Lucie, 111; Jeurys Familia, Binghamton, 100; Chris Schwinden, Buffalo, 100.
Short hops
• Infielder Josh Satin made his Triple-A debut Friday, registering an infield single in four at-bats against Pawtucket. A sixth-round pick in 2008 from Cal, Satin hit .325 with 11 homers and 60 RBIs in 338 at-bats with Double-A Binghamton. He had a .423 on-base percentage, which still ranks second in the Eastern League, one point behind Portland's Alex Hassan (.424). Satin has alternated between first base and third base with the Bisons. His natural position is second base.
• Juan Lagares made his Double-A debut Saturday in left field for the B-Mets after hitting a Florida State League-best .339 with seven homers and 49 RBIs in 307 at-bats with St. Lucie. Lagares, 22, produced a five-hit game Sunday for Binghamton, relying on his compact swing. He should see the bulk of his outfield action in left field, with Matt den Dekker in center and Raul Reyes in right. That could diminish the playing time of Brahiam Maldonado, despite his long ball production (19 homers), since the B-Mets primarily play National League affiliates and will not have many DHing opportunities in the next several weeks.
• Maldonado was named Eastern League Player of the Week. He hit .450 with three homers and nine RBIs last week.
• Den Dekker -- known for speed, not power -- had four homers in a three-game stretch. The wind was blowing out, but the University of Florida product squared up the shots.
• In four professional innings with Brooklyn, fifth-round pick Jack Leathersich has struck out 10 of the 13 New York-Penn League batters he has faced. He has allowed one hit and no walks in four scoreless innings.
• Ruben Tejada opened his latest Triple-A stint in an 0-for-13 rut while exclusively playing shortstop. He is hitting .125 (3-for-24) with one double and two walks in six games since rejoining the Bisons.
• After racing to a 10-0 start in the Florida State League, left-hander Darin Gorski suffered his first loss of the season Sunday in a 3-2, seven-inning defeat against Brevard County. Gorski allowed a one-out tiebreaking solo homer to Juan Sanchez in the top of the final frame. Gorski still leads the Florida State League with a 2.15 ERA. Dunedin's Nestor Molina (9-3) ranks second at 2.56.
• Nick Evans is expected to clear waivers on Wednesday and again accept assignment to Triple-A Buffalo rather than declare free agency.
• 2008 first-round pick Reese Havens returned last Wednesday after a month-long absence for a back injury. He is playing every other day at second base.
• 2011 first-round pick Matt Harvey is 0-3 with a 7.15 ERA in five Double-A starts. He has now logged 98 2/3 innings between the B-Mets and St. Lucie this season. He may be capped at 120-130 innings.
• Newly signed center fielder Fernando Perez made his organization debut last week with Buffalo and is hitting .259 with two RBIs in nine games. The speedy Perez, a Columbia University product who has major league experience with the Tampa Bay Rays, tripled Monday and scored on Mike Nickeas' RBI to break a 7-all tie. He took over center field from Kirk Nieuwenhuis, who underwent season-ending surgery on his non-throwing shoulder.
• Outfielder Mike Baxter, a waiver claim from the San Diego Padres, a pick fueled by Paul DePodesta's former association with that club, homered on the first pitch he saw as a Buffalo Bison on Tuesday night. Baxter, now on the 40-man roster, has multiple option years remaining, so he does not need to be on the major league roster next season. After hitting .301 with 18 homers, 72 RBIs and 22 steals in the Triple-A Pacific Coast League last season, Baxter was 1-for-8 with the Padres as a September call-up. He replaced right-handed reliever Jose De La Torre on the Bisons roster. De La Rosa was diagnosed with a shoulder impingement.
• Boston College product Eric Campbell lost a 10-game hitting streak Tuesday. It was the longest streak by a Binghamton player this season. Campbell nonetheless has struggled in 2011. He is hitting .227 with two homers in 299 at-bats.
• Former UCLA right-hander Erik Goeddel, who had been out since May 23 with Savannah because of a shoulder strain, returned to pitch an inning in the Gulf Coast League on Friday.
• Buffalo DH/first baseman Valentino Pascucci is hitting .360 with five homers and 20 RBIs and has a .406 on-base percentage in 22 games since the Triple-A All-Star break.
• Brooklyn's Danny Muno leads the New York-Penn League with a .375 average. Teammate Travis Taijeron has 13 RBIs in his past five games, including a ninth-inning grand slam to lift the Cyclones to a victory. Brooklyn's Richard Lucas ranks third in the league with a .350 average. He is hitting .500 (19-for-38) in his past 11 games.
• Catcher Kai Gronauer rejoined Binghamton after missing more than two months with a hamstring strain. He and Dusty Ryan will share the B-Mets' duties behind the plate.
• Miguel Batista's fastball sat between 92-94 mph in his latest start for Buffalo. Gustavo Chacin, after a spot start in a doubleheader, has returned to bullpen duty with the Bisons.
• B-Mets left-hander Robert Carson earned his first win since June 17 on Monday. He had been 0-1 with five no-decisions in his previous six starts.
Adam Rubin's farm report appears Wednesdays during the regular season