If you're looking for devoted followers, true Mets fans, Wajih Ireifej and his 18-year-old son, Jad, fit the bill.
Tuesday night, while talking in their home in the suburbs just outside Greenville, S.C., they had an idea: Let's go see the Mets and the Reds on Wednesday and Thursday in Cincinnati.
So they drove eight hours on Wednesday, figuring they'd get their chance to say goodbye to Carlos Beltran.
"We're a couple of crazy Mets fans," Wajih said Wednesday, while waiting for a bus to take him the last two miles to Great American Ball Park.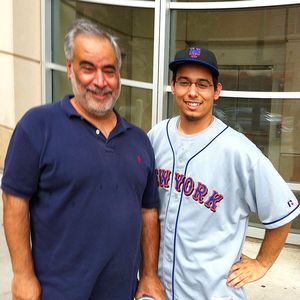 Mark Simon/ESPN
Wajih and Jad Ireifej drove eight hours to see the Mets in Cincinnati.
This is no ordinary tale of Mets fandom, though. Wajih was born in the heart of the Middle East, in Jordan, and moved to New York as a youngster. He spent most of his childhood in Yonkers and attended Manhattan College. Now he works for Entity Green, which does vocational training via funding from the Bureau for Refugee Population and Migration, which is part of the State Department.
He shuttles back and forth to the Middle East, training Iraqis ranging in age from 15 to 70, preparing them for future life when they emigrate to Europe or the United States. The family just returned after a stint there because Jad was admitted to Davidson College in North Carolina, and his sister was admitted to a noteworthy high school in Greenville.
Baseball has always been an important part of the father-son bonding experience. The two would watch games via MLB TV, with the Sunday afternoon starts fitting best because those would be the middle of the evening in the Middle East. They did get up in the middle of the night regularly to watch the World Series because they considered it important. Baseball means something significant to both.
"I became a Mets fan in the '70s because my friends were stupid Yankees fans," Wajih said with a laugh, just before seeing a picture of George Foster outside the Reds Hall of Fame at Great American Ball Park. "I grew up rooting for Ron Darling and Keith Hernandez.
"Keith Hernandez belongs in the Hall of Fame, but not for his stats. He changed the way people think about first base. That has become a defense-oriented position. It's a tribute to him. You can see it in first basemen today."
On the drive to Cincinnati, Wajih and Jad heard about Angel Ervin Santana's no-hitter, the Mariners ending their 17-game losing streak by beating the Yankees, and the likely trade of Beltran to the Giants.
"Hey, they got something for him," Wajih said. "That's better than nothing. I like Lucas Duda. I want to see him play to see if he's any good."
The two don't want the dealing to stop. They've got a few ideas of their own for Sandy Alderson and his front-office staff.
"They should trade Jose Reyes, and make whoever takes him take Jason Bay, too," Wajih said with a chuckle. "Then they should explain to Reyes when they trade him that they still want him, and they can try to get him as a free agent. Tell him, 'We'll still go after you.'"
Trades or no trades, the Ireifejs aren't the sorts of fans who will give up on the Mets. After all, they were devoted enough to make a rather lengthy trip to see these games.
"It's baseball," Wajih said. "If we're close to baseball, we're going to watch it."