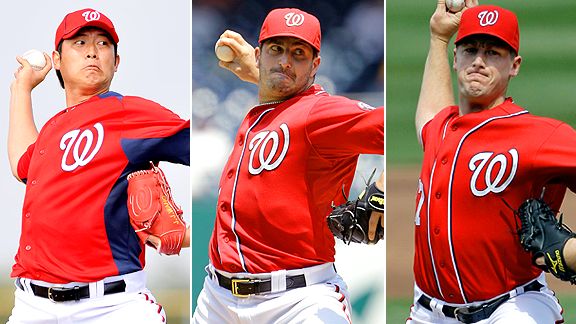 US Presswire/Getty Images
The Mets face (l to r) Chien-Ming Wang, Jason Marquis and Jordan Zimmermann this weekend in D.C.
METS (54-51, third place/NL East) vs. WASHINGTON NATIONALS (49-55, fifth place/NL East)
Friday: RHP Dillon Gee (9-3, 3.76) vs. RHP Chien-Ming Wang (0-0, -.--), 7:05 p.m. ET
Saturday: RHP R.A. Dickey (5-8, 3.74) vs. RHP Jason Marquis (8-5, 3.95), 7:05 p.m. ET
Sunday: LHP Jon Niese (10-8, 3.97) vs. RHP Jordan Zimmermann (6-9, 3.27), 1:35 p.m. ET
Nationals short hops
• Ex-Yankee Chien-Ming Wang makes his first major league start since July 4, 2009 on Friday. Wang, 31, underwent surgery two years ago to repair a torn shoulder capsule -- the same injury from which Johan Santana is now trying to work back. Wang's pitch count should be capped at 80 to 90 against the Mets. Left-hander Tom Gorzelanny (2-6, 4.46 ERA) will piggyback the start and be inserted if Wang has an abbreviated outing. Gorzelanny may be in danger of losing his rotation spot, but he is listed as Monday's Nats starter in what temporarily could be a modified six-man rotation. Washington may trade a starting pitcher. Meanwhile, nine Taiwanese television stations are expected to chronicle Wang's return to the majors. The Nats guaranteed Wang $2 million in 2010, and re-signed him for $1 million plus incentives to retain control after they sunk that money. Wang won 19 games apiece in 2006 and '07 with the Yankees. He made six minor league rehab starts and needed to be activated because that 30-day clock had expired.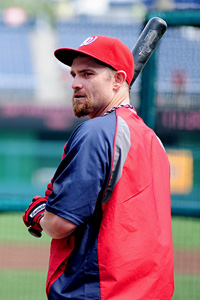 Evan Habeeb/US Presswire
The Nats acquired outfielder Jonny Gomes from the Reds this week.
• The Nats acquired outfielder Jonny Gomes from the Cincinnati Reds for minor leaguers Bill Rhinehart and Chris Manno. Gomes hit .211 with 11 homers with Cincinnati. The intention is to platoon the righty-hitting Gomes with lefty-hitting Laynce Nix in left field. Gomes went 0-for-3 Thursday against the Florida Marlins in his Nats debut. Washington GM Mike Rizzo likely will offer arbitration to the free-agent-to-be Gomes after the season. If Gomes signs elsewhere, the Nats likely will gain a draft pick as compensation. Matt Stairs was designated for assignment to clear room for Gomes. Stairs, 43, holds the major league record for pinch-hit homers.
• With the Nationals 9-17 since he took over after the abrupt resignation of Jim Riggleman, manager Davey Johnson held a close-door meeting in the midst of getting swept by the Marlins. "I have a boiling point and I'm getting closer to it," he told reporters. Under Johnson, who guided the Mets to the 1986 championship, starting pitchers tend to stay in longer than under Riggleman. Right fielder Jayson Werth also has moved to fifth in the lineup, from first or second. Washington has lost five straight, matching its season high.
• Second baseman Danny Espinosa (.233, 17 HR, 55 RBIs) is a National League Rookie of the Year candidate, along with Atlanta closer Craig Kimbrel and first baseman Freddie Freeman and the Mets' Dillon Gee.
• Michael Morse hit so poorly in March/April (.211), he lost his left-field job to Nix. But when first baseman Adam LaRoche's torn shoulder labrum required surgery after a May 21 start, Morse took over at that position and took off at the plate. Since that point, Morse is hitting .333 with 15 homers and 47 RBIs in 57 games.
• Former first overall pick Stephen Strasburg tossed a three-inning, 51-pitch simulated game Thursday in Viera, Fla., as he recovers from Tommy John surgery. Strasburg could return to the majors in September.
• Werth went 2-for-4 with two RBIs on Thursday, but his average nonetheless sits at .219 in the first season of a seven-year, $126 million contract. Werth did not produce an RBI in an eight-game stretch spanning the All-Star break. From June 18 to July 1, he also had a 12-game drought without driving in a run.
• Ivan Rodriguez has been out since July 6 with an oblique injury. Wilson Ramos handles the majority of the catching duty, with Jesus Flores -- the former Rule 5 pick from the Mets, who has been tormented by shoulder issues the past few years -- starting roughly every third game.
• Third baseman Ryan Zimmerman returned June 14 after missing two months for an abdominal injury that required surgery. He has been on a tear of late, including a 4-for-5 performance Thursday that lifted his average to .276. Since July 17, Zimmerman is hitting .372 (16-for-43) in 10 games.
• Right-hander Jordan Zimmermann has allowed six runs apiece in his past two starts, against the Houston Astros and Florida. He allowed three homers during that two-game stretch. He had allowed four long balls total in his other 18 starts this season.
• Jason Marquis is on the trading block, but the deal may wait until August, since the Staten Island native is likely to clear waivers. Marquis is making $7.5 million in the final season of his expiring two-year deal. The Nats reportedly also are trying to obtain Denard Span from the Minnesota Twins, who would be under their control longer than other potentially available outfielders such as Michael Bourn and B.J. Upton.
• 2010 first overall pick Bryce Harper was hitless in three at-bats against Mets first-round pick Matt Harvey with two strikeouts Thursday. That dropped Harper's Eastern League batting average to .239 with one homer in 20 games since skipping a level and going directly to Double-A.
• Nats farm director Doug Harris recently regretted comments he made regarding the scrutiny of Harper. In a magazine article, Harris compared the attention placed on Harper to pioneer Jackie Robinson's scrutiny. "I regret making this ill-fated correlation," Harris subsequently said in a statement.
• Getting offensive production out of center field has been a struggle for the Nats. Roger Bernadina, the primary starter, is hitting .247 with five homers in 267 at-bats. Ex-Cardinal Rick Ankiel is hitting .236. Jerry Hairston Jr., Scott Hairston's brother, started Thursday's matinee at the position.
• Left-handed reliever Sean Burnett, who came with Nyjer Morgan from the Pirates two seasons ago for Joel Hanrahan and Lastings Milledge, has allowed 17 of 36 inherited runners to score.
• Shortstop Ian Desmond still has organization supporters, but his offensive production -- .226, with a .278 on-base percentage -- has been severely lacking. Desmond has walked more and cut down on errors compared with last season. He had 34 errors in 2010, versus 16 so far this year.
• The Nats released left-hander Matt Chico and right-hander Chad Gaudin.
Matchups
Gee vs. Nationals (career: 2-0, 0.61 ERA)
Alex Cora .333, 3 PA
Jayson Werth .200, 1 BB, 1 K, 6 PA
Danny Espinosa .000, 1 BB, 6 PA
Roger Bernadina .000, 1 K, 6 PA
Ian Desmond .000, 1 BB, 1 K, 6 PA
Ryan Zimmerman .000, 1 K, 3 PA
Wilson Ramos .000, 1 BB, 1 K, 3 PA
Laynce Nix .000, 1 BB, 1 K, 3 PA
Michael Morse .000, 2 PA
Dickey vs. Nationals (career: 1-2, 4.08 ERA)
Jesus Flores 1.000, 2 RBI, 2 PA
Wilson Ramos .600, 1 HR, 2 RBI, 5 PA
Jerry Hairston .500, 1 BB, 3 PA
Rick Ankiel .357, 1 RBI, 14 PA
Jayson Werth .353, 1 HR, 1 RBI, 2 BB, 4 K, 19 PA
Michael Morse .286, 2 RBI, 1 BB, 9 PA
Alex Cora .250, 1 K, 4 PA
Ryan Zimmerman .200, 1 BB, 1 K, 12 PA
Roger Bernadina .167, 1 RBI, 1 K, 7 PA
Ian Desmond .100, 1 BB, 2 K, 11 PA
Danny Espinosa .000, 1 BB, 9 PA
Niese vs. Nationals (career: 2-0, 3.44 ERA)
Danny Espinosa .500, 3 PA
Jonny Gomes .429, 1 HR, 1 RBI, 7 PA
Ryan Zimmerman .400, 1 BB, 1 K, 6 PA
Jayson Werth .364, 1 BB, 6 K, 12 PA
Wilson Ramos .333, 1 K, 3 PA
Roger Bernadina .250, 1 K, 4 PA
Michael Morse .167, 6 PA
Ian Desmond .125, 2 K, 8 PA
Jerry Hairston .000, 1 BB, 7 PA
Rick Ankiel .000, 1 PA
Wang vs. Mets (career: 2-1, 4.57 ERA)
Jason Bay .500, 1 RBI, 1 K, 2 PA
Willie Harris .400, 5 PA
Jose Reyes .250, 1 K, 8 PA
David Wright .182, 2 K, 11 PA
Daniel Murphy .000, 2 K, 3 PA
Marquis vs. Mets (career: 6-7, 4.64 ERA)
David Wright .406, 2 HR, 9 RBI, 1 BB, 1 K, 34 PA
Jason Bay .372, 5 HR, 11 RBI, 5 BB, 7 K, 49 PA
Jose Reyes .355, 1 RBI, 1 BB, 1 K, 32 PA
Daniel Murphy .333, 1 RBI, 1 BB, 10 PA
Angel Pagan .231, 2 RBI, 4 K, 13 PA
Willie Harris .200, 1 BB, 3 K, 11 PA
Josh Thole .200, 5 PA
Scott Hairston .143, 3 K, 7 PA
Ronny Paulino .100, 1 RBI, 1 K, 10 PA
Lucas Duda .000, 1 BB, 3 PA
Zimmermann vs. Mets (career: 2-2, 4.35 ERA)
Jason Bay .500, 6 PA
Jason Pridie .500, 2 PA
Daniel Murphy .444, 1 HR, 3 RBI, 1 K, 9 PA
Josh Thole .429, 3 RBI, 1 BB, 8 PA
Jose Reyes .273, 1 BB, 12 PA
Angel Pagan .250, 3 K, 12 PA
Lucas Duda .250, 1 RBI, 1 BB, 2 K, 5 PA
David Wright .154, 1 RBI, 6 K, 14 PA
Willie Harris .000, 1 K, 2 PA
Last series results
Mets won, 2-0, at Citi Field, May 18-19 (AP game recaps)
Mets 3, Nationals 0: Jon Niese managed to shake off the heavy rain and deliver his best performance of the season. Niese pitched seven sharp innings and Justin Turner added to his surprising tear with a two-run double that sent New York to a victory. With maybe a few thousand hardy souls in the stands on another soggy night at Citi Field, the Mets' depleted lineup scratched out enough offense to help Niese (3-4) win his second consecutive start. Jason Bay had a sacrifice fly in the first inning and Turner cracked a two-out double in the sixth to chase Tom Gorzelanny (2-3) after 116 pitches. Jose Reyes singled three times, drew an intentional walk and scored twice from his leadoff spot. With deep puddles forming on the infield, Jason Isringhausen worked a one-hit eighth and Francisco Rodriguez got three outs for his 13th save in 14 chances. With two on, K-Rod retired pinch-hitter Laynce Nix and then Roger Bernadina on consecutive flyouts. New York allowed eight hits in its first shutout this year. After some torrential rain in the afternoon, the heavy stuff stopped in time to start the game on time with no more than a couple hundred fans in the ballpark. The grounds crew worked hard between innings all night to try to dry out the infield and it was absolutely pouring when Bernadina grounded out with the bases loaded to end the seventh. Still, play went on without interruption. Niese gave up six hits and one walk, striking out seven. Reyes hit a leadoff single in the first, went to third on Turner's double and scored on Bay's sacrifice fly. Scott Hairston reached on an infield single to start the sixth, easily beating a throw from his brother, Jerry, at third base. With two outs and first base open, Reyes was intentionally walked to bring up Turner. He doubled to center over the head of the speedy Bernadina, who was playing shallow. Before that hit, New York was 0-for-9 with runners in scoring position.
Mets 1, Nationals 0: Dillon Gee shut down Washington once again, tossing hitless ball until pitcher Livan Hernandez grounded a clean single with two outs in the sixth inning, and the New York Mets held on for a win. The game ended with Washington manager Jim Riggleman, catcher Ivan Rodriguez and third-base coach Bo Porter hollering at the umpires, moments after a disputed call at first base. When it was over, Nationals general manager Mike Rizzo verbally confronted the umps in a tunnel underneath the stands. Major League Baseball spokesman Pat Courtney said the commissioner's office was looking into the postgame antics. No dispute, though, that Gee (3-0) knows how to tame the Nats. In his major league debut last September, the 25-year-old righty held the Nationals without a hit until Willie Harris homered leading off the sixth. Washington, with the worst batting average in the majors, was shut out in both games of this series. The arguments started soon after Laynce Nix doubled with one out in the ninth inning. Jayson Werth followed with a hard one-hopper that third baseman Justin Turner snagged, but his throw appeared to pull first baseman Daniel Murphy off the bag. Plus, Werth seemed to beat the play. First-base umpire Phil Cuzzi called Werth out. Werth jumped up when Cuzzi made his call, and Riggleman came out to argue. Riggleman then took his beef down to plate umpire Manny Gonzalez, a minor league call-up. When Adam LaRoche grounded out with Nix on third to end it, Riggleman, Rodriguez and Porter kept up the argument as the umpires walked past Washington's dugout on the way to their locker room. Francisco Rodriguez closed for his 14th save in 15 chances, extending his scoreless streak to 18 innings. Turner hit an RBI single in the fourth for the only run.