Right-hander Zack Wheeler, the sixth overall pick in the 2009 draft, who was acquired from the San Francisco Giants for Carlos Beltran, spoke with reporters by phone an hour after arriving in Port St. Lucie. Wheeler, 21, grew up a Braves fan an hour outside of Atlanta. He expects to make his Mets debut Monday with Class A St. Lucie in the Florida State League. VP Paul DePodesta also weighed in on the trade.
Here's a transcript ...
What are your emotions joining a new organization?
ZW: "It's good. I'm looking forward to some new opportunities, and looking forward to seeing what this organization has to offer. And I think it's going to be good."
I presume there were a lot of rumors leading to trade. Were you tracking it?
ZW: "There's always been that rumor out there for a while now. It sort of died off, because I thought that I would possibly get traded for (Jose) Reyes. But that died off. And it just got brought back up. I woke up I think it was Wednesday morning and I thought my buddy, Gary Brown, our center fielder, I thought he did get traded. So I texted him. He was like, 'No. Not yet.' And so I went downstairs and started watching ESPN. And like 15 minutes later, they're like, 'Zack Wheeler is probably about to get traded.' So I was like, 'Oh, man. That's a shock.'"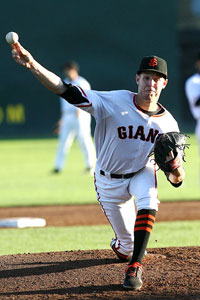 Courtesy of Tom Medina/San Francisco Giants
Zach Wheeler with Class A San Jose
Mechanically you recently made some changes because of a high walk total (47 in 88 innings this season with Class A San Jose)?
ZW: "When I first got drafted, I went to my first instructs (instructional league) and they tried to settle my motion down a little bit to make it more easier. I think I just had to think a little too much, because I was going too slow. I didn't have any rhythm really. When I broke my hands, I had to think about getting the ball up and stuff. So it was a little too much. Probably like two outings ago we went back to what I was doing in high school. And that's just a high leg kick and bringing my hands up sort of next to my head. It's all one, fluid motion, so it works out good. I just feel comfortable again. My command is there. I've only walked two guys (in 11 1/3 innings) my past two outings. I think it's working."
When will you pitch for St. Lucie, and what has the transition been like the past few days?
ZW: "I think I'll be pitching Monday down here in St. Lucie. It's been sort of like a little drag, I guess you could say, these past couple of days, just traveling and the airport and flights getting delayed and all that kind of stuff. But I got to go home (to Georgia) last night and stayed a night at my own house and see my mom and dad and my brothers. So that was nice."
What were the pressures going up in a baseball hotbed in Georgia?
ZW: "My whole family was athletic. They loved sports. I just grew up playing baseball ever since I could stand. It was really in my blood. My brothers, I was always at their practices throwing the ball around and stuff. But when it really came down to it, I just worked hard and always tried to get better."
Did you ever make it up to New York when your brother Adam pitched professionally with the Staten Island Yankees?
ZW: "I went up to Staten Island to watch him pitch. I also went to a Brooklyn Cyclones game when they played them. It was a pretty cool atmosphere up there. It was nice."
Not the Staten Island-Brooklyn game when your brother was involved in a bench-clearing brawl with the Cyclones?
ZW: "No. I didn't get to see that one. I wish."
How much do you lean on your brother, since he was a professional in Class A with the Yankees from 2001-04?
ZW: "He played four years and got some good coaching and got to talk to a few big league guys and stuff. So when I was going into high school, he was telling me all of this. And most guys in high school don't get to hear all of that stuff. So I think it sort of made me one step closer just knowing what to expect and just changing my demeanor out there on the mound. Being confident out there and not showing your emotions, that was the biggest thing he preached to me."
Paul, did you see Zack firsthand before the trade or in high school? And what were your observations?
PD: "I saw him in high school. At the time I was with San Diego. We had the No. 3 pick in the country (and took Georgia high school outfielder Donavan Tate). So I was down there in Georgia and did get to see him pitch toward the end of his senior year. In short, it was pretty electric. That night he touched 99 (mph). He came out in the first inning throwing 97, 98, and had one of those breaking balls that elicited an audible sound from the scouts the first time he snapped one off. It was a pretty good combination and certainly an exciting guy. He was right near the top of our board in San Diego, and I think was the top high school pitcher on our board. I may have gone to great lengths here to finally acquire him, leaving the organization and everything else. We're certainly glad we have him here in New York."
Paul, with his innings count (88), could he pitch in the Arizona Fall League? Or is it a pretty quick shutdown for this year?
PD: "We think there's probably another 30 (innings) to go. St. Lucie is going to be in the playoffs, so he might get another start in there. We'll see as we get closer, down the line. We think it will be already a pretty good, full year."
Zack, I presume you grew up a Braves fan. How far were you from Turner Field? And who were your favorite players?
ZW: "I was probably about an hour away from the stadium. Everybody grew up liking Chipper Jones. So that was probably my favorite player -- watching Chipper, and Greg Maddux and Tom Glavine and John Smoltz. A pretty good team growing up. I didn't go to a lot, but I went to a few."
Paul, your thoughts on the reverting back to his old delivery?
PD: "Even like you do with a draft pick, when we bring a new player to the organization, we're really going to sit back and just watch for a while. I don't think it's our job to go in there and immediately start changing things. We're going to get to know him, get to know his delivery, understand from him what feels comfortable to him and what doesn't. And then we'll see as we continue to move forward. I suspect we'll let him do what feels comfortable here for a while and we'll just sit back and evaluate and see if there's anything we can do to maybe help. I don't think there are going to be major changes."
What was it like finding out about the trade basically on ESPN?
ZW: "I was kind of shocked at first, of course. Once I started thinking about it, the Giants are pretty stacked up there. I mean they could have used me in a couple of years probably. It was fun just thinking about what I could be doing with the Mets. It's something new and they're developing a lot of young guys and they're looking toward the future. I was pretty happy about it."