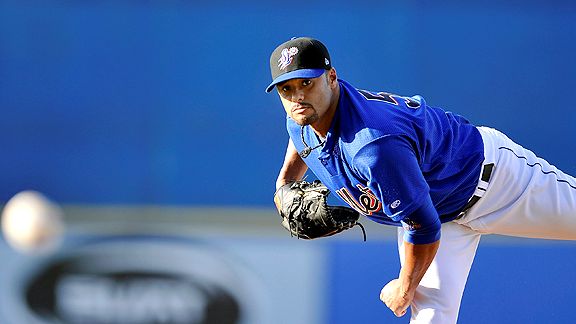 Brad Barr/US Presswire
Johan Santana threw his first rehab game Thursday night for Class A St. Lucie. It came less than 11 months after surgery to repair a torn anterior capsule. It was the same procedure Chien-Ming Wang also underwent.
David Wright noted he does not have an M.D., or any other doctor-like degree. But the Mets third baseman said there has to be a limit in comparing Chien-Ming Wang to Johan Santana.
After all, Wang's return to the majors on Friday against the Mets came on the two-year anniversary of his surgery to repair a shoulder capsule tear. In contrast, Santana made his first minor league rehab appearance with three scoreless innings for Class A St. Lucie on Thursday. And his surgery was performed on Sept. 14, 2010.
Wang allowed four first-inning runs, but settled down. He ultimately was charged with six runs (four earned) on eight hits and a walk as the Mets won their fifth straight game, 8-5 against the Nats.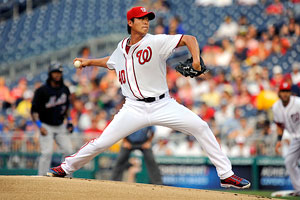 Brad Mills/US Presswire
Chien-Ming Wang returned to the majors Friday for the first time since July 4, 2009.
"I play baseball. I'm not a doctor. I'm not a surgeon," Wright said. "I had no idea that was the same surgery. I know I faced Johan (in Florida while both were rehabbing). There obviously had to be some sort of difference, because (Wang) has missed two years and Johan is pitching in rehab games right now.
"And I know Johan, he's got some life on his pitches. It seemed like when I faced him it was harder and harder. The first time I faced him it wasn't very hard. The next time it was OK. The next time it was actually pretty good stuff. I know for a fact he's on kind of the right track assuming he doesn't have any setbacks."
Wright and Jason Bay did see some signs of Wang as his former power sinker self, when the right-hander was employed by the Yankees.
"I never faced him when he was the Opening Day guy winning 19 games for them," Bay said. "I mean, I know the type of stuff he had. I think I faced him in Boston a little bit toward the end and he was a different guy at that point. But after the first inning, he got better. You could see what made him effective before. He wasn't throwing the 95 (mph). He was getting up to 93 when he wanted to. And when he got on it, his two-seamer, you saw it pounding into the ground a little bit. It's just that first inning he left a lot of balls up and flat, I think, and got behind a little bit."
Said Wright: "When you have a sinkerball pitcher, I think they almost get better the more tired they get. I think he was almost a little too fresh early. And then once he actually got a little hot, got a little tired, his ball started really sinking -- maybe not the same velocity that you saw when he was with the Yankees, but definitely the same sink and definitely the same action on the two-seamer that he was throwing. I think the more he pitches, the better his sinker will be and he'll be much more effective."
Overall, Wang expressed content with his first game since July 4, 2009.
"I feel fine about the first inning. I was a little excited and actually was a little bit too happy to get back to the mound," he said through interpreter John Hsu. "A little bit out of control, the ball wouldn't get down, so that's what happened for the first inning. But overall I feel fine."